Message From The Co-Founder: How Our Community Members Make A Difference. What happens next?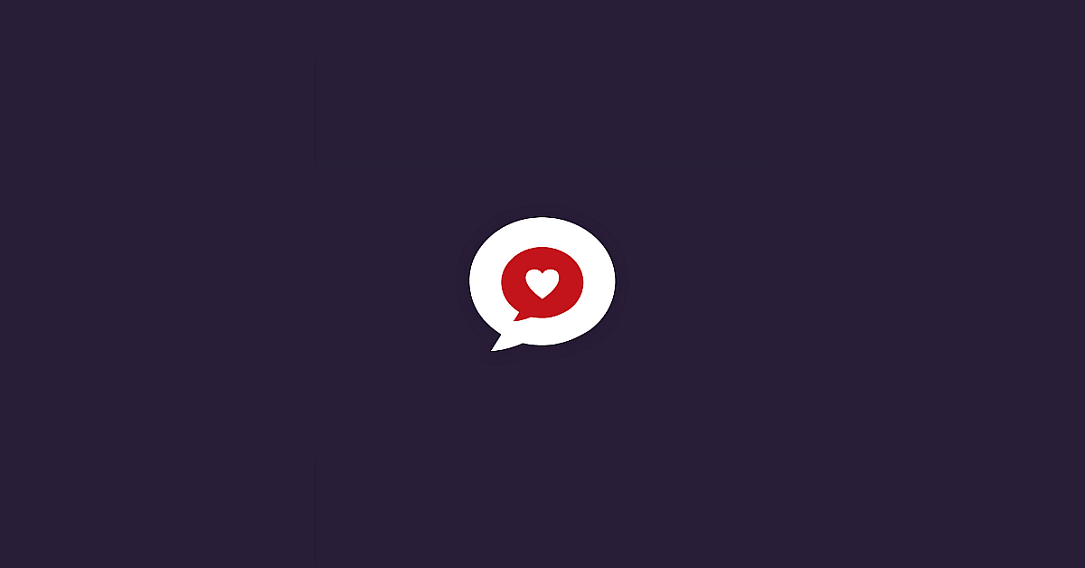 Dear Reader,
I'm so happy to see that you enjoy reading our newsletters and site and our entire team is very grateful for your continued interest in our content! Providing our readers with useful, accurate, and timely information is our core purpose and the reason why millions of readers from all over the world keep returning to Romania Insider.
For 10 years now, we've set the quality standards of independent journalism in Romania and we're the living proof that journalism can be done ethically.
Thanks to the contribution of the first few hundreds of members, we were able to publish articles that were appreciated by all of our readers, covering important topics like breaking news related to Covid-19, its impact on business, events and travel restrictions, insightful interviews, in-depth analyses and impactful new developments that shape the outsourcing landscape in Romania. These were some of the most-read articles that we were able to publish since the membership launch, thanks to the support of our subscribers to our website or to our native apps (IOS and Android):
✔  Romania keeps most international flights suspended as it replaces state of emergency with state of alert
✔  Romania lifts isolation requirements and flight restrictions for 17 European countries
✔  Two Americans get stuck in Romania during the COVID-19 lockdown: We believe Romania is a hidden gem!
✔  President announces when the COVID-19 lockdown will end in Romania
✔  Romania makes progress on the suspended railway line that will link Bucharest to its biggest airport
✔  Coronavirus state of alert in Romania: Rules for air, train travel
✔  Dacia prepares to launch second SUV model
✔  Report: Bucharest is the best city in the world for remote working
✔  Deloitte Partner: Pandemic could help Romania become an EU supply chain superhub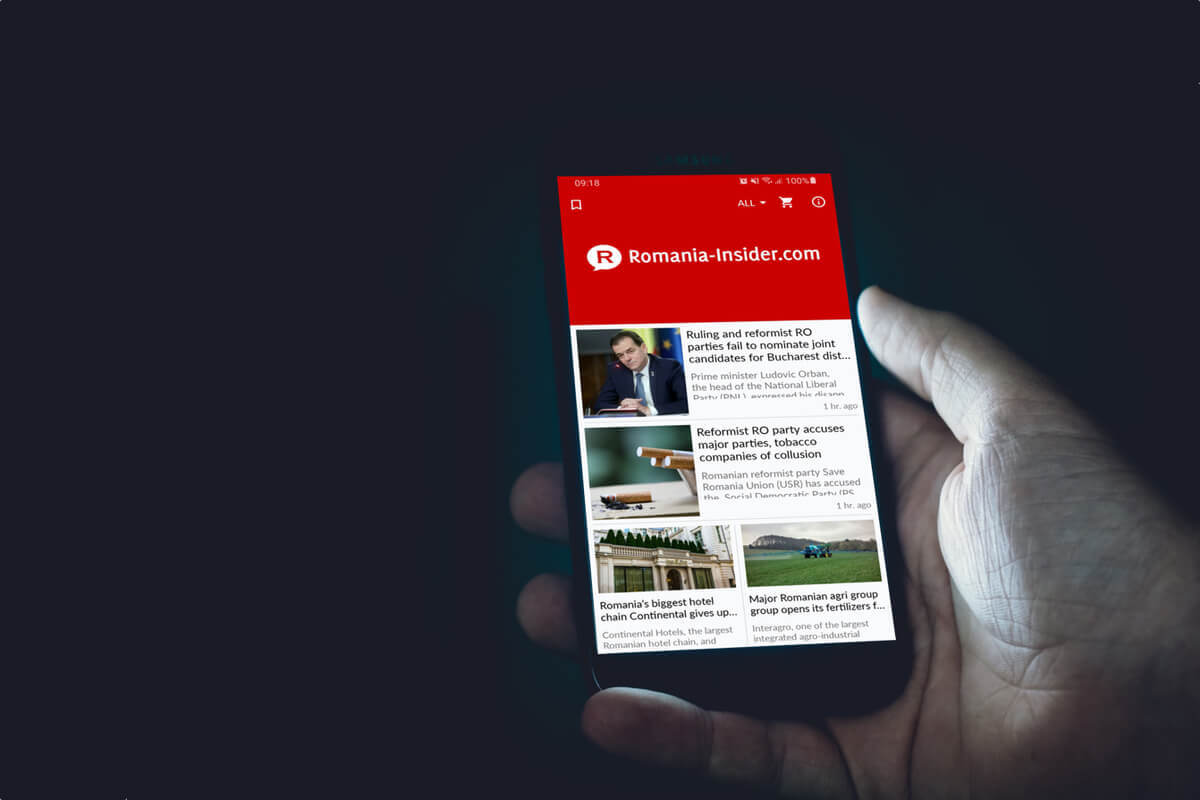 What we know is that we have thousands of people that read our news permanently and trust our objective reporting since 2010. We appreciate our advertising partners a lot, as we wouldn't be able to reach you - our readers - without them supporting us and running ads with our website!
However, we also know that we need a lot more community members (subscribers) in order to continue delivering great content. Here is what we have done so far related to reaching out to the readers of our site:
Since August 3rd, any new article published on our website contains a pop-up with the kind request to sign up for a membership with us in order to support our work. This pop-up can be removed with one click.

As of August 24th 2020, it will be mandatory to create an account with us in order to continue reading our articles. There is no need to pay for a membership right away, as we offer a 30-day free trial for everyone in order to test our services. When you sign up with our partner Steady for the free trial, you´ll be asked to include your payment method in case you continue the membership after the 30 day period. We do this in order to understand which method works better to gain more members.

All business members of the American Chamber of Commerce in Romania (Amcham Romania), British Romanian Chamber of Commerce (BRCC) and Hellenic Romanian Bilateral Chamber of Commerce (HRCC) will receive free access for the next 8 weeks to our business plan "ULTRA". This will be communicated separately via our chamber partners.
After this testing period, we will continue to deliver core news for free for everyone! The amount of free core news we will be able to offer will depend on the number of community members we will be able to attract in the medium term.
However, one thing is clear for us: We do need many more community members in order to properly continue our reporting! 
If you like our news coverage and are a frequent reader interested in catching objective news from Romania, then we need you to pick one of our plans in order to support us during these challenging times.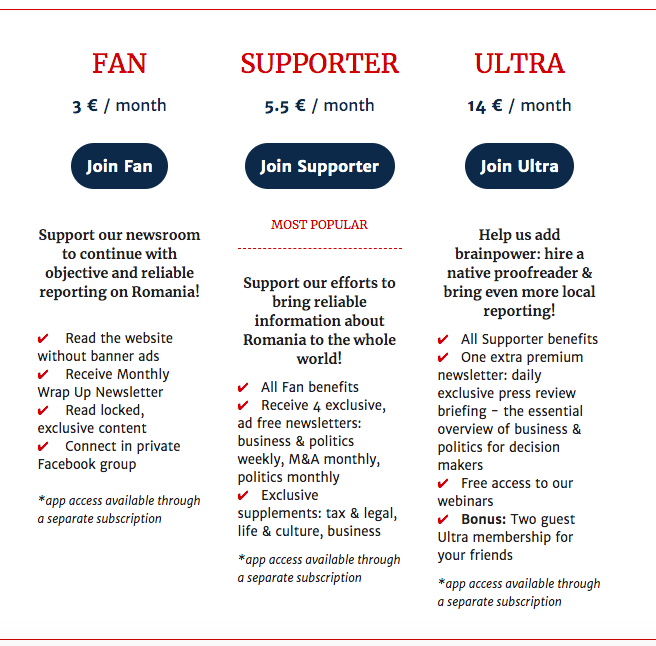 Our plans start as low as 3 EUR / month and every subscription makes a huge difference in supporting our editorial team so that we can bring more breaking news that matters and quality in-depth analyses to as many readers as possible. In return, you'll get exclusive benefits packages for each membership option:
Banner-free browsing on Romania-Insider.com, starting with the Fan membership package. As a logged-in member, you can give your attention only to what matters: you won't see any banner ads or video ads – thanks to our partnership with trusted German provider Steady, which handles memberships on our site.

Exclusive newsletters and member-only content: monthly Wrap-up newsletter, daily & weekly Business and Politics for Decision-makers, Politics monthly newsletter, Mergers & Acquisitions monthly newsletter. With the Romania Insider members-only newsletters, you will make informed decisions without relying on translators and without losing a lot of time to scan all the news. Our editors do this for you every day. With our carefully – curated daily, weekly and monthly newsletters, you can have peace of mind that you won't miss anything important for business or leisure. Leave it to our senior journalists to make the selection.

You'll be the first to read articles especially written for you, and you will be able to suggest stories for our editors.  

Access to our exclusive Facebook group, where you can interact with our team of journalists and editors and start the conversation with the media.

By joining our small-format webinars for free, you can discover insiders and kick off new business relationships.

As an Ultra member, you will be able to offer free membership to a friend: two for the price of one, and you can share all your membership benefits with someone else!
We continue to offer our free newsletters, which are supported by advertising.
As all media outlets are impacted by decreasing advertising revenues, maintaining editorial independence becomes increasingly costly. At the same time, the public needs accurate and relevant information more than ever, and relies on it for high-stakes decisions, just as it becomes increasingly hard to find it in a sea of noise and misinformation. We all need trustworthy media, independent reporting, and analysis that has integrity, authority, and is free from political bias and corporate interests. 
This is the team behind Romania Insider: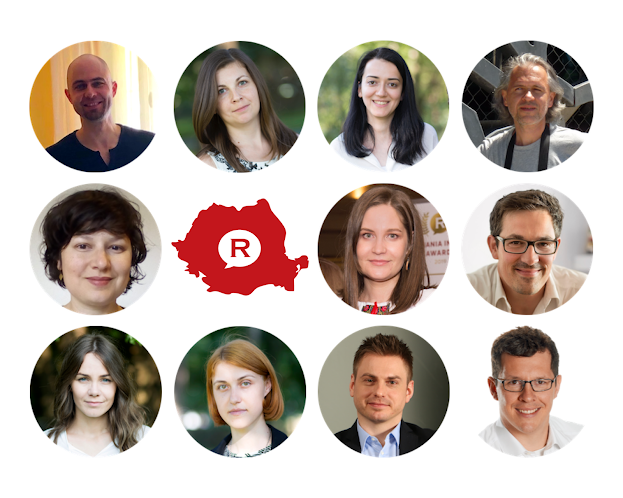 Since 2010, we've been a free, independent media voice that has offered readers from all over the world a vital connection to Romania. We're committed to staying independent from commercial and political bias. We're committed to bringing you expert analyses and quality journalism, to help you spot emerging opportunities and risks and make informed decisions.
From exclusive reports on the current COVID-19 situation in Romania to quality updates for the long term, on business, finance, politics, travel, real estate, and expat life - help us continue to deliver the content you love!
Thank you for reading this & stay safe!
Volker Moser, Co-Founder of Romania Insider
Normal