Sip by sip: Ten Bucharest tea houses for a relaxing time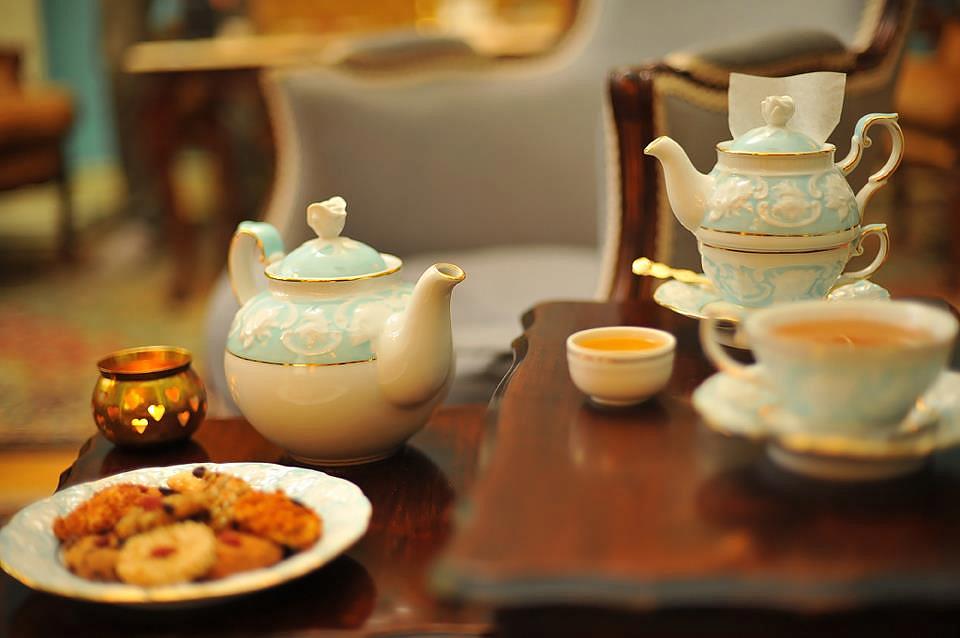 The rhythm of Bucharest life may seem at times incompatible with the time needed to savor a cup of tea. Nonetheless, the capital is not without its share of cozy tea houses, small oases away from the hustle and bustle of the city. Some suggestions of tea houses to sample below.
Bohemia TeaHouse
Across the street from the Bucharest Conservatory, this tea house has an interior garden but also a cozy attic to savor your drink. Fans of board games will find the place particularly suited.
Where: 1 Poiana Narciselor St.
Ceai la Metoc
This bohemian place is close to the Popa Rusu church. It is a fig tree garden in the capital's old Armenian quarter, with chairs and tables spread through the vegetation. You can expect all sorts of teas and sweets, and some cats lingering around.
Where: 21 Popa Rusu St.
Ceai la Vlaicu
A tradition of well-made tea carries on at this place, which describes itself as related to Metoc or Vasiliada tea houses. Over 100 types of teas can be found in the menu, with plenty of cold options for the summer months.
Where: 47 Aurel Vlaicu St.
Ceainaria 5
This cozy tea house is located inside the Doors Hostel and has a garden for the warmer season. They regularly organize Romanian-English language exchange classes.
Where: 13 Olimpului St.
Green Tea
A love of beauty is the driving force of this place, opened for those who would like to quietly savor their tea, in a non-smoking environment. The tea house has four salons: The Classic, The Japanese, The Indian and The Little Paris one. Over 100 types of teas are in the menu, alongside sandwiches, cakes, cookies or sweet jams. They also have a store for those who would like to take their favorite tea flavor home with them.
Where: 24 Dr. Burghelea St.
Infinitea
Set in the greenery-filled neighborhood of Cotroceni, this place features a classic décor, with Baroque accents, while the summer garden makes for a true escape from the season's heat. Besides the range of teas, you can sample here several types of confiture, home-made sweets and fresh fruit juices.
Where: 7 Dr. Grigore Romniceanu St.
Joie De Vivre
Also in Cotroceni, this tea house aims to be a place of harmony. Its tea menu is divided between teas for the mind and teas for the body, with plenty of options available in each category. Besides the garden, where lavender grows, you can expect to find here a Red Salon, a Moroccan Salon, and a Brown Salon, each with dedicated tea flavors.
Where: 61 Nicolae Paulescu St.
Rendez-Vous Universitate
This is a chain of tea houses which distributes locally the George Cannon Paris teas. The Universitate location is across the street from the Capsa Hotel. Besides the teas, you can sample here their own range of home-made pastries, developed under the brand of Coffet.
Where: 8-10 Edgar Quinet St.
Santhe Fitoceainarie
Here you can sip a cup of tea and do a good deed at the same time as this place is a social business employing people coming from disadvantaged backgrounds. All the profits made are reinvested to develop the business and with the hope of opening other similar venues.
Where: 104 Lipscani St.
Serendipity
This place added a bistro in 2016 so plenty of food options are available, but it also kept its wide teas selections, both brewed and cold ones. Painting and photography exhibitions and live music nights are organized on a regular basis here, while the green terrace is available for a quiet reading session.
Where: 12 Dumbrava Rosie St.
(Photo source: Ceainăria Infinitea Facebook Page)
Normal