Romanian tennis star Simona Halep ends 2017 as World No.1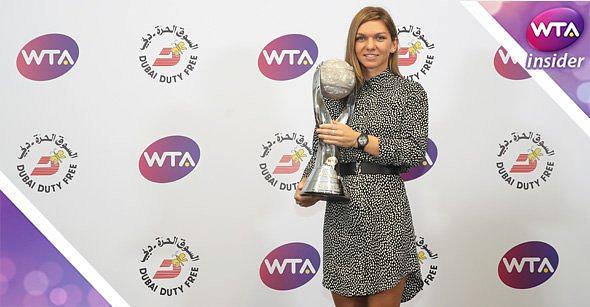 Romanian tennis ace Simona Halep received on Sunday, October 29, the WTA Year-End No.1 trophy, presented by Dubai Duty Free, as she will finish the year on the first place in the singles ranking of best female tennis players in the world.
Halep is the first player from Romania to achieve the year-end No.1 singles ranking since the beginning of computer rankings in 1975. She is also the 13th WTA player to achieve this performance.
The Romanian tennis player managed this performance after Danish Caroline Wozniacki defeated Czech Republic's Karolina Pliskova 7-6 (9), 6-3 in the WTA Finals semifinals on Saturday, October 28. Pliskova was the only one who could overtake Halep in the WTA ranking, if she would have won the title in Singapore.
Simona Halep became the 25th player to achieve the No.1 ranking on October 9, 2017, following her 27th career WTA final at the China Open in Beijing.
"I'm very proud to end the season as the WTA World No.1," said Halep, reports Wtatennis.com. "I have worked extremely hard to be the best player I can be, and it is an honor to be in the No.1 position at the end of the year."
Swiss tennis star Roger Federer also reacted to Halep's great achievement, saying that she deserves to be No.1.
"No one can take the merits of Simona Halep. She managed to achieve a life-goal dream. It's not only about Grand Slams. Halep deserves to be the world's number one and she must be respected. It does not really matter that she has not won a Grand Slam. She works a lot, plays a lot of tournaments, and I'm happy for her," Federer said, reports local Digi24.
Simona Halep, 26, entered the Top 10 for the first time on January 27, 2014, and has maintained her Top 10 status for 196 consecutive weeks. Having made her debut in the Top 5 in the spring of 2014, the Romanian has spent just eight weeks below that threshold.
The other 12 players who achieved the prestigious year-end No.1 ranking since the computerized rankings were introduced in 1975 are Chris Evert, Martina Navratilova, Stefanie Graf, Monica Seles, Martina Hingis, Lindsay Davenport, Serena Williams, Justine Henin, Jelena Jankovic, Caroline Wozniacki, Victoria Azarenka, and Angelique Kerber.
New world No.1 Simona Halep to be Romanian sports ambassador
Irina Marica, [email protected]
(photo source: WTA on Twitter)
Normal