US Ambassador: We have full confidence in Romania's Anticorruption Directorate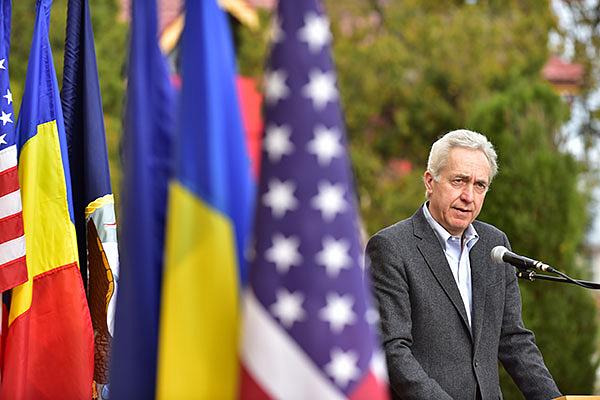 The US Ambassador to Bucharest Hans Klemm expressed late last week the "full confidence" in the country's National Anticorruption Directorate (DNA), adding that Romanian and US prosecutors "enjoy a very, very good collaboration."
"We have full confidence in, for example, the National Directorate on Anticorruption and in its leadership," Klemm said, local Digi24 reported.
"We do a lot of things under our strategic partnership but one area in which we do a specially good work is in law enforcement. Romanian and American prosecutors and law enforcement agencies in general enjoy a very, very good collaboration, and that allows us to together combat terrorism, combat cybercrime, combat trafficking, combat organized crime, and combat corruption," the Ambassador added.
According to him, this was possible only because of "the very good leadership that exists in Romanian law enforcement and among Romanian prosecutors."
The US Ambassador's statement comes amid a hard time for the DNA chief prosecutor Laura Codruta Kovesi. In late-February, justice minister Tudorel Toader announced his decision to request the dismissal of Kovesi, a request that was based on a 36-page report including 20 "facts and acts" related to the DNA chief prosecutor's activity in the last year. Most of these "facts and acts" were negative. For example, the minister accused Kovesi of disregarding the Constitution and the Constitutional Court, running the DNA in an authoritarian manner and tolerating alleged misbehavior by some of her prosecutors, and of damaging Romania's image abroad with her statements in various interviews she gave to international publications, among others.
However, a week later the prosecutors' section within the Superior Magistracy Council (CSM), the professional body that guarantees justice independence in Romania, issued a negative opinion on the justice minister's request. CSM's decision is very important, although it only has an advisory role. President Klaus Iohannis is the one who has to make the final decision.
US Ambassador Hans Klemm has been one of the most vocal advocates of the fight against corruption in Romania, and a supporter of the National Anticorruption Directorate's chief prosecutor Laura Codruta Kovesi. Moreover, back in 2014, Kovesi was given the "International Women of Courage" award by the US Embassy to Bucharest.
Irina Marica, irina.marica@romania-insider.com
Normal