Anti-corruption protest in central Romania city ongoing three days since start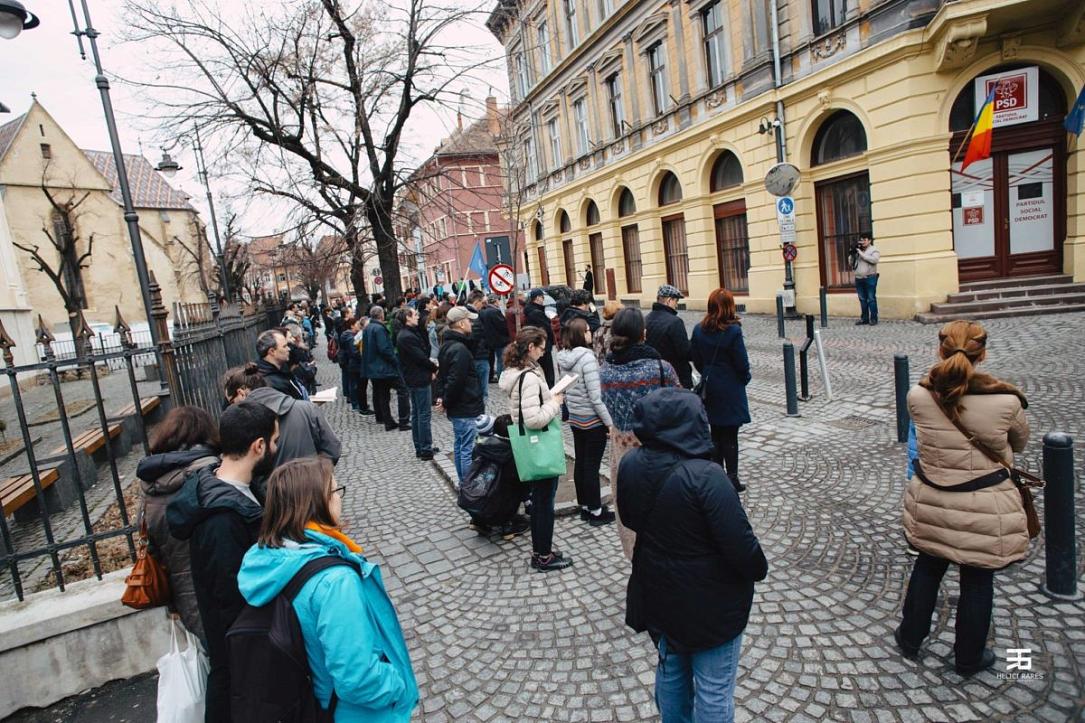 A sit-in type of protest against corruption has been taking place in Sibiu, a city in central Romania, since Monday, December 11, at noon.
The protest is taking place in front of the Sibiu headquarters of the Social Democratic Party (PSD). The protesters have established here a "corruption-free area," which they say is a way of showing concern with the way the Parliament is currently going ahead with bringing changes to the justice laws.
This Sunday, December 10, protests took place in Bucharest against the changes to the justice laws proposed by the governing coalition.
The coalition made of the Social Democratic Party (PSD) and the Alliance of Liberals and Democrats for Europe (ALDE) with the support of the Democrat Magyar Union in Romania (UDMR) voted last week a series of amendments to the justice laws aimed at changing the magistrates' status and setting up new institutions to investigate magistrate misconduct. The opposition and important figures from the justice system, including Romania's General Prosecutor Augustin Lazar, reacted to the proposed changes saying that these will result in placing the prosecutors under political control.
The protest in Sibiu takes place under the headline We see you (Vă vedem). A flash-mob has taken place every day since Monday at noon, with protesters using their phones to beam lights into the windows of the party building. They are protesting in silence.
On the dedicated Facebook page, the protesters announced they would keep the three days of national morning for King Michael I. They also said the silent, sit-in protest was interrupted last night, after 60 continuous hours of protest, but that the flash-mobs will continue in the coming days.
"It is the first national day of mourning in the memory of his majesty, King Michael, and we wish to respect this (even though, the PSD-ALDE coalition doesn't stop from destroying the independence of justice and breaking democracy in Romania by taking advantage of the moment when the attention of Romanians is on the Royal Family)," a Facebook post announced.
The sit-in protest in Sibiu has inspired a similar one on Bucharest. The protesters in the capital sat across the street from the PSD headquarters on the Kiseleff boulevard, yesterday, December 13.
Sibiu is one of Romania's most developed cities. The country's current president Klaus Iohannis was the city's mayor between 2000 and 2014. In 2007, Sibiu held the European Capital of Culture title, the first Romanian city to do so.
In 2019, Sibiu was proposed to host an EU post-Brexit summit. President Iohannis recently said an informal meeting of EU leaders will take place in the city on Europe Day – May 9, 2019.
Today's flash mob in Sibiu, where protesters are holding candles, below:
(Photo: Va Vedem din Sibiu Facebok Page)
editor@romania-insider.com
Normal