Recommerce Group refurbished smartphones sold in 30 Auchan hypermarkets in Romania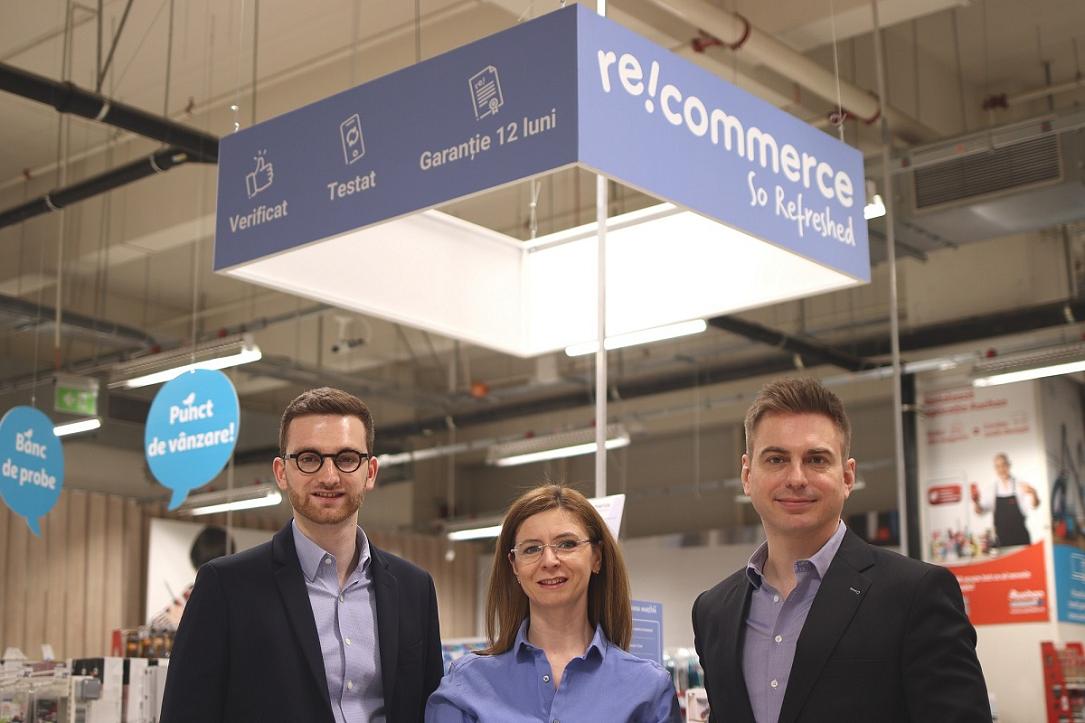 Recommerce Group has partnered with Auchan Retail Romania to sell the smartphones refurbished by Recommerce Group in 30 Auchan hypermarkets in the country.
The refurbished smartphones are sold in hypermarkets in Bucharest, Cluj, Craiova, Sibiu, Timișoara, Constanța, Brașov, Suceava, Bacău, Baia Mare, Deva, Galați, Oradea, Pitești, Satu Mare and Târgu Mureș.
They are also available online on auchan.ro.
The first partnership for the distribution of refurbished smartphones was concluded by Auchan in 2020 with the Romanian startup Fenix, which specialized in refurbishing smartphones. The startup, co-founded in 2020 by entrepreneurs Grégoire Vigroux, Adrien Arnoux, and Hector Destailleur, was acquired by Recommerce last year.
"Environmental and business sustainability is a common issue which requires a collective effort. Our strategic partnership with Auchan Retail Romania is essential in this regard and is an important opportunity for Recommerce Group to grow its business in Eastern Europe as well as the refurbished devices market in Romania. Our refurbished smartphones offer consumers many of the benefits of new phones. Our goal is to gain 2-3% of the new smartphones market, and Auchan's distribution capacity is a great way to get our devices to as many consumers in Romania as possible," said Grégoire Vigroux, Co-Founder and Senior Advisor Recommerce Eastern Europe.
"We are always open to collaborations with actors whose innovative ideas meet our constant concern for protecting the environment. We are pleased that our partnership for the distribution of refurbished smartphones is now moving to the next level, and we are confident that this will have a significant impact, both in developing the market as well as in expanding the range of environmental liability options by reusing phones and by involving consumers to actively contribute to a more sustainable future," said Tiberiu Dănețiu, Marketing Director of Auchan Retail Romania.
Recommerce Group uses patented and innovative technologies to redeem, repair, and sell used devices. Founded in 2009, the company has been present in Romania since July 2021, when it acquired Fenix.
A refurbished Recommerce smartphone is an already used one, which goes through a series of inspections made by specialists to bring it in a 100% functional and perfectly aesthetic condition. After verification, it can be purchased at a discount of up to 50% less than a new one with a 12-month warranty, covering any possible operating problems.
Recommerce has also partnered with Orange Romania and Carrefour Romania to sell refurbished phones.
The company sells refurbished smartphones in 24 European countries and over 20 models in Romania.
The global market for refurbished smartphones is growing to 351.6 million units, with a market value of USD 65 billion in 2024, according to IDC estimates provided by Recommerce. At a European level, consumers' appetite for refurbished smartphones is growing, with state-of-the-art devices being the fastest moving through the second-hand ecosystem.
(Photo: left to right Hector Destailleur (Recommerce), Anca Mihailescu (Auchan Retail Romania), Gregoire Vigroux (Recommerce), courtesy of Recommerce)
simona@romania-insider.com
Normal