Freedom House report on democracy: 2017 was a turbulent year for Romania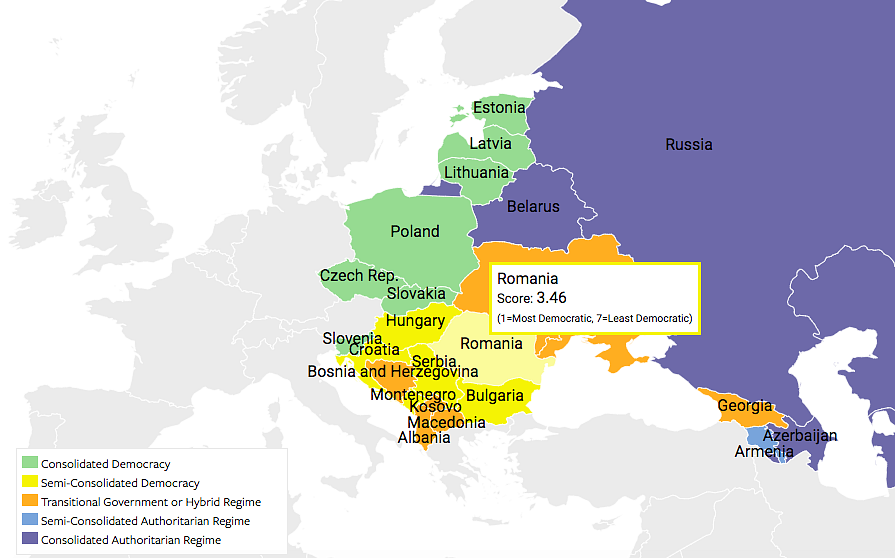 2017 was a turbulent year for Romania, with "massive street protests against government attempts to limit judicial independence and undermine the country's anticorruption framework," according to Romania's country profile in the Nations in Transit 2018, the 23rd edition of Freedom House's annual report on democracy in Central and Eastern Europe, the Balkans, and Eurasia.
Thus, Romania's democracy score in the Freedom House report declined from 3.39 in the 2017 edition to 3.46 in the 2018 one. The ratings are based on a scale of 1 to 7, with 1 representing the highest level of democratic progress and 7 the lowest.
"A new cabinet led by the Social Democratic Party (PSD) fueled significant public distrust by attempting to pass emergency ordinances in these sensitive areas immediately after taking office in January 2017. The protests halted some of the proposals in early 2017, but debates around the limits of political, administrative, and criminal liability continued throughout the year, engaging the of whole society," reads the report on Romania.
The report also points out to the high budget deficit registered by the country, which the government "hastily prepared legislation in an attempt to patch it up," and the scandals around the National Anticorruption Directorate (DNA).
The national democratic governance rating declined from 3.50 to 3.75 "due to poor governance demonstrated by sustained attempts to decriminalize corruption and infighting within the ruling coalition, as well as due to the promotion of populist policies and an escalation of illiberal discourse," according to Freedom House. Also, the Local Democratic Governance declined from 3.25 to 3.50 "due to local governments becoming less responsive to their constituents' concerns and more reliant on funding from the central government."
As for 2018, the Freedom House report says that attempts to weaken judicial independence and the anticorruption framework are expected to continue this year, "accompanied by an increasing illiberal discourse against groups that oppose those changes."
"In preparation for the presidential elections scheduled for 2019, the government's populist and clientelistic behavior will also continue, including attempts at buying influence at the local level with public funds." Moreover, the planned referendum for changing the definition of family in the Romanian Constitution, which could lead to banning same-sex marriages in the country, "could be instrumental in energizing socially conservative groups."
Most of the countries assessed in the Nations in Transit 2018 report had declines in their overall Democracy Scores, namely 19 out of 29 countries. Poland recorded the largest category declines and the second-largest Democracy Score decline in the history of the report while Hungary has registered the largest cumulative decline in Nations in Transit history, after its score has fallen for 10 consecutive years.
The full report is available here while the country profile on Romania can be found here.
Freedom House: Romania is a free country overall
Irina Marica, [email protected]
Normal