Austrian cameraman beat by riot police during Bucharest protest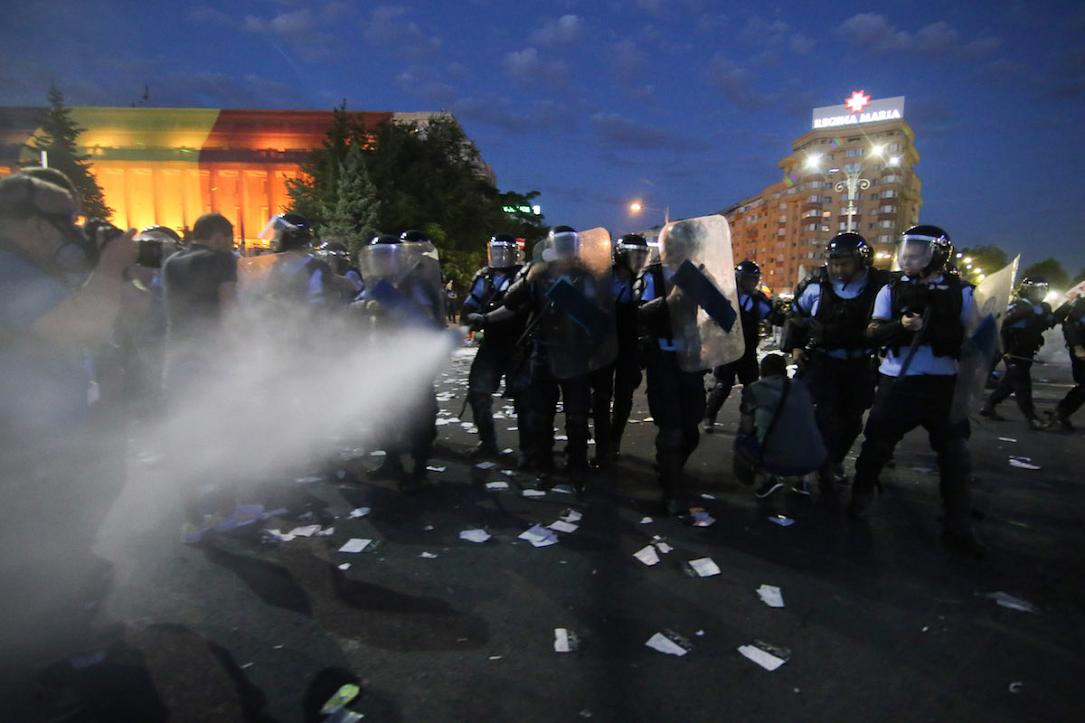 A camera operator of the Austrian public television operator ORF was beaten by the riot police during the violent clashes between the riot police and anti-government protesters in Bucharest's Victoriei Square on Friday evening, August 10. Austrian chancellor Sebastian Kurz condemned the violent incidents and asked the Romanian authorities to fully clarify these acts.
Austrian journalist Ernst Gelegs and his cameraman were in Victoriei Square on Friday evening when the violent clashed between groups of hooligans and the riot police determined the authorities to clear the square with a forceful intervention. He said that after the square was cleared, a group of gendarmes passed by them and assaulted them with no reason, although they shouted they were journalists and the camera operator had his camera with him. The cameraman took five or six hits from gendarmes before being let go, Gelegs told local G4media.ro. He added that the riot police were totally unprofessional and that he hasn't been through such incidents before although he also reported violent protests in Athens. Everywhere, journalists are protected by the law enforcement troops.
"Freedom of expression and freedom of the press are fundamental liberties of the European Union in which we believe and which must be defended unconditionally," Austrian chancellor Sebastian Kurz wrote in a Twitter post.
A Romanian journalist from online publication Hotnews.ro was also assaulted by the gendarmes on Friday evening as he was reporting about the incidents around Victoriei Square. Dozens of other peaceful protesters were assaulted with no reason and video recordings of such incidents became viral in social media.
A video overview of the violences during the protest on Friday, made by local journalists from Recorder.ro, is available here:
https://www.youtube.com/watch?time_continue=5&v=OF4fu3BS_Vc&has_verified=1
Romanian president Klaus Iohannis issued a new statement on Saturday condemning the violent incidents and asking interior minister Carmen Dan to take responsibility for them. He accused the Government of acting against the interests of its own citizens.
Meanwhile, the Interior Ministry said the riot police intervened against the dangerous hooligans who attacked the state's authority, not against the peaceful citizens. She added that no one can accuse the riot police of breaking the law and that the president was not the one to judge if the intervention was disproportionate.
Liviu Dragnea, the leader of the ruling Social Democratic Party (PSD) also accused president Iohannis of being the "political sponsor of violence and extremist behavior". He also accused the opposition parties of organizing the protests that turned violent.
Diaspora protest in Bucharest ends with violent intervention of the riot police
Diaspora protest in Bucharest: Gendarmes clear Victoriei Square, over 240 people hurt
editor@romania-insider.com
(Photo source: Inquam Photos / George Calin)
Normal