Romania may host special EU summit in 2019, one day after Brexit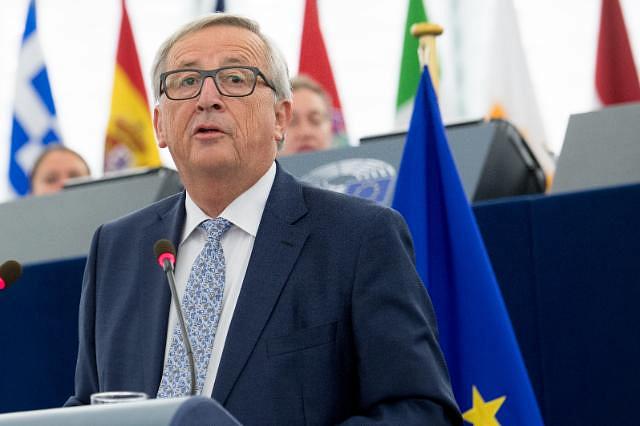 European Commission President Jean-Claude Juncker proposed the organization of a special EU summit on March 30, 2019, one day after the triggering of the Brexit Article 50, in the Romanian city of Sibiu.
Moreover, during his State of the Union speech in Strasbourg, Juncker also said that Romania and Bulgaria should join the Schengen area "immediately."
The special EU summit Juncker wants organized in Romania will be focused on drawing up the future of the European Union.
The UK will leave the EU on March 29, 2019. Thus, starting the next day, the Union will have only 27 Member States.
"I suggest that we prepare for this moment well, amongst the 27 and within the EU institutions. The European Parliament elections will take place just a few weeks later, in May 2019. Europeans have a date with democracy. They need to go to the polls with a clear understanding of how the European Union will develop over the years to come," Juncker said.
The European Commission President also called for a more united and stronger European Union. "This is why I call on President Tusk and Romania, the country holding the [EU Council] Presidency in the first half of 2019, to organize a Special Summit in Romania on March 30, 2019. My wish is that this summit be held in the beautiful ancient city of Sibiu, or Hermannstadt as I know it. It should be the moment we come together to take the decisions needed for a more united, stronger and democratic Europe."
During his speech, Juncker said that "democracy is about compromise," and "the right compromise makes winners out of everyone."
"A more united Union should see compromise, not as something negative, but as the art of bridging differences. Democracy cannot function without compromise. Europe cannot function without compromise."
He also said that a more united EU should also be "more inclusive." Thus, he told the European Parliament that Romania and Bulgaria should join the Schengen area of free movement "immediately" if the Union wants to strengthen the protection of its external borders. Moreover, Croatia should also become a full Schengen member once it meets of the criteria.
Speaking about equality between Member States, Jean-Claude Juncker said that it is unacceptable that in 2017 there are still children dying of diseases that should long have been eradicated in Europe. "Children in Romania or Italy must have the same access to measles vaccines as other children right across Europe. No ifs, no buts. This is why we are working with all Member States to support national vaccination efforts. Avoidable deaths must not occur in Europe."
Romania has been struggling with a measles outbreak since last year. The last numbers show that this virus has killed 34 people in Romania so far.
Juncker also talked about the fact that 2018 will be a special year for Romania, Estonia, Latvia, and Lithuania, as this is the year they will celebrate their 100th anniversary.
"Those who want to shape the future of our continent should well understand and honor our common history. This includes these four countries – Europe would not be whole without them."
The EC President's speech also focused on other topics such as the rule of law, trade, the euro area, and the fight against terrorism.
Irina Marica, irina.marica@romania-insider.com
(Photo source: Europa.eu)
Normal