Large disaster response exercise tests Romania's earthquake reaction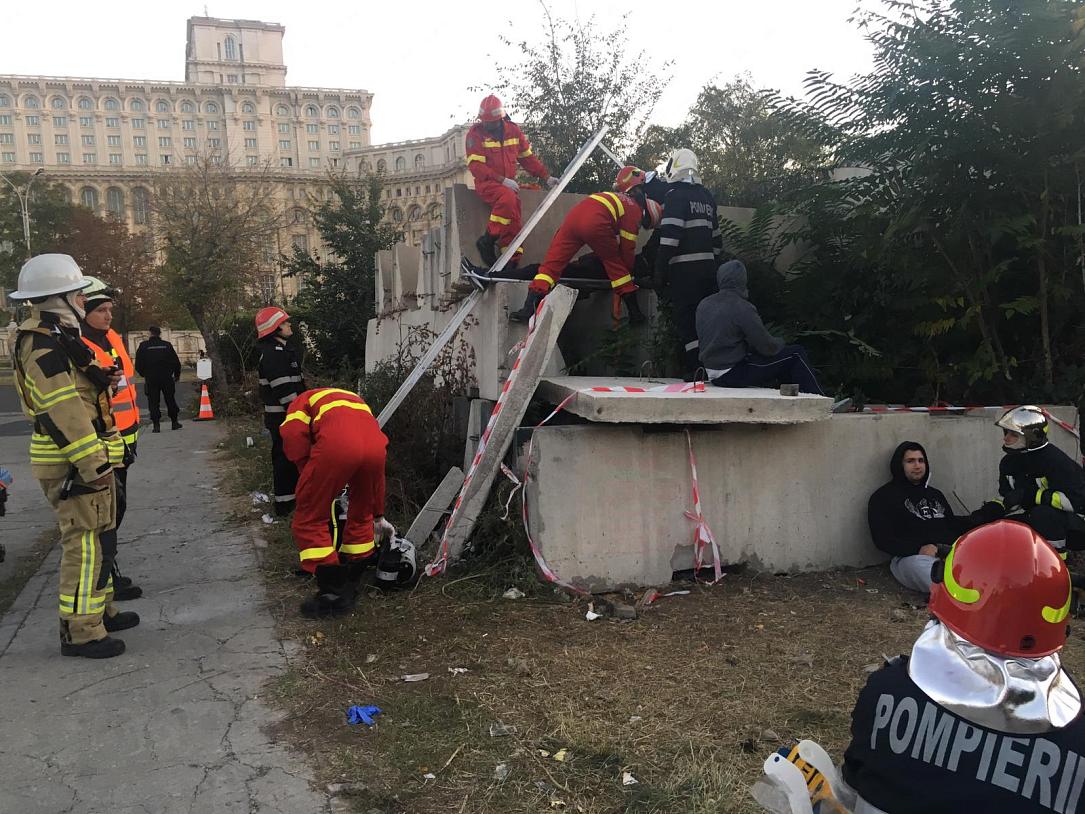 The Internal Affairs Ministry, through the Emergency Situations Department (DSU), started on October 13 a large-scale exercise involving the emergency situation structures in the country.
The exercise, called Seism 2018, simulates a 7.5 - magnitude earthquake in the Vrancea area, leading to the destruction and damage of numerous buildings of local and central public administration, of hospitals, residences, and of various types of infrastructure, ranging from transport to utilities networks. A 5.8-magnitude replica of the earthquake was later added to the exercise.
In the simulated earthquake scenario, there were more than 3,000 deaths, over 5,000 wounded and 40,000 people were left stranded. Some 35,000 people were left without electricity and 45,000 without drinking water. Over 3,900 buildings were affected, out of which 380 were completely destroyed, among them five hospitals in the capital.
In Bucharest, the exercise scenario points to the downtown area of the capital as the most affected area as it concentrates the largest number of buildings with a high seismic risk, many built before 1940.
As part of the exercise, a C-27J Spartan aircraft of the Romanian Air Forces, configured for medical evacuation missions, transferred 15 wounded in the simulated earthquake from Bucharest to Cluj. A camp was set up at the National Arena in the capital, with 10,000 camp beds. The public authorities were working to set up another two camps for the stranded on the stadia in Afumaţi and Voluntari. Each camp could accommodate 200 people.
The exercise had an international aid request component, embedded in the EU ModEX 2018 civil protection exercise. The Modex program is part of the EU Civil Protection Mechanism.
As such, a team of 168 doctors and nurses from Israel arrived in Romania this past weekend to take part in the exercise, and set up a mobile hospital. At the same time, seven ambulances from Austria, four ambulances from Italy and one from Hungary reached the country following the appeal launched by Romania, as did two medical trucks from Italy and three from Austria. A search-and-rescue team from Bulgaria, of 40 people and 10 cars, was also taking part in the exercise.
Christos Stylianides, the European Commissioner for Humanitarian Aid and Crisis Management, was in Romania on October 14 for the international part of the exercise. He visited mobile hospitals set up by intervention teams from Italy, Norway, Israel and Romania, Agerpres reported.
Stylianides called the exercise an example of European solidarity and "the largest medical exercised financed by the EU."
Capacities from across the #EU ??and partner countries are participating in #Romania ?? at the largest #medical exercised financed by the EU. @eu_modex
??????????????

European #solidarity at its finest ??@MAIRomania @JohanniterInt #EUCivPro #rescEU pic.twitter.com/gvSWwIwfnu

— Christos Stylianides (@StylianidesEU) October 14, 2018
 

"Another impressive thing here, in Bucharest, is that this is also the best organized exercise. It is an example for the entire Europe.[…] We are aware that disasters become more frequent, even though many of us do not admit this. Climate change is not very favorable. Unfortunately, this is the reality. We need to understand that we will have to deal with the phenomena. For this, Europe needs to be prepared for new challenges," Stylianides said, quoted by Mediafax.

WB grants Romania EUR 50 mln for emergency and disaster response infrastructure

World Bank lends EUR 400 mln to Romania for disaster risk management

(Photo: Departamentul pentru Situaţii de Urgenţă Facebook Page)

-->

Normal

-->