Romanian president Iohannis makes official visit to Singapore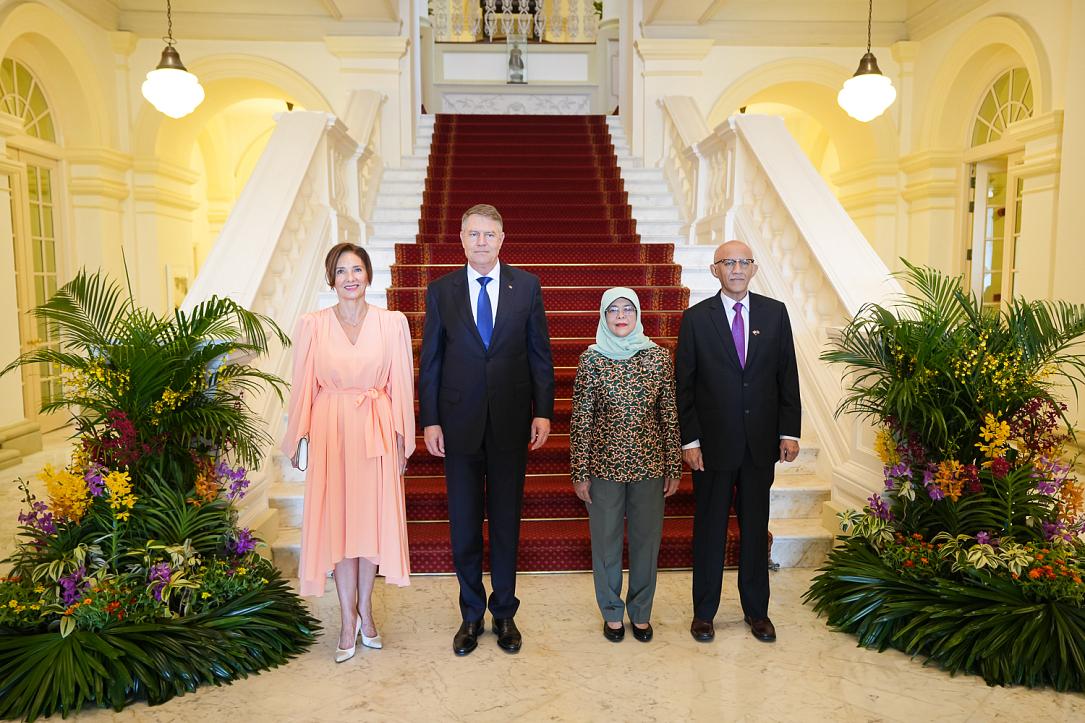 Romanian president Klaus Iohannis was received by the president of the Republic of Singapore, Halimah Yacob, at the Istana Presidential Palace, on the first visit to Singapore of a Romanian head of state in 20 years. The Romanian leader said that their discussions focused on deepening and expanding bilateral relations between Romania and Singapore.
Iohannis was accompanied by his wife, Carmen, during the visit to the Istana Presidential Palace. "Excellent discussions with the President of the Republic of Singapore Halimah Yacob on ways to deepen and expand bilateral relations between Romania and Singapore, based on the same values and principles," Iohannis said on Twitter, cited by G4Media.
Iohannis' visit to Singapore is the first by a Romanian president to the Asian country in the last 20 years.
During Friday's meeting, the president of the Republic of Singapore, Halimah Yacob, highlighted the extremely important potential of bilateral relations against the backdrop of Romania's increasing role and importance in the European Union and NATO, as well as at the regional level, including in the current geopolitical context generated by the effects of the war in Ukraine. Additionally, he emphasized the importance of increasing bilateral investments and trade, given the opportunities offered by sectors such as IT&C, cyber security, and tourism, according to the official press release from the Romanian Presidential Administration.
Romania aims to consolidate its role in the Indo-Pacific region through political dialogue and economic relations.
The state visit in Singapore marks a new stage in the relations between the two countries, "given the convergence of values and principles, [and it] being the first visit at the level of the president of Romania in this country in the last 20 years, respectively in the context of celebrating 55 years of bilateral relations in 2022," according to an earlier press release.
The main objective of this visit was to energize bilateral relations in line with their potential, especially in the economic-investment area. The state visit agenda in Singapore also included intensifying cooperation in IT, education, research, food security, connectivity, cybersecurity, high technology, combating climate change, and green transition. Romania is the third-largest IT services provider in Singapore from the European Union.
"Romania's interest in attracting Singaporean investments will be promoted with the occasion of the visit, including regarding the priority interconnection projects within the Three Seas Initiative. President Klaus Iohannis will host this year's Summit of this platform in Bucharest, alongside the Business Forum, and one of the objectives is that of increasing contributions to the Initiative's Investment Fund," the institution said.
At the same time, the president used this occasion to underline the country's contribution to global food security and present the potential that the port of Constanta and the Danube have for connecting with Central Europe and beyond.
(Photo source: Presidency.ro)
Normal