Romania's president Iohannis meets with Japanese emperor, prime minister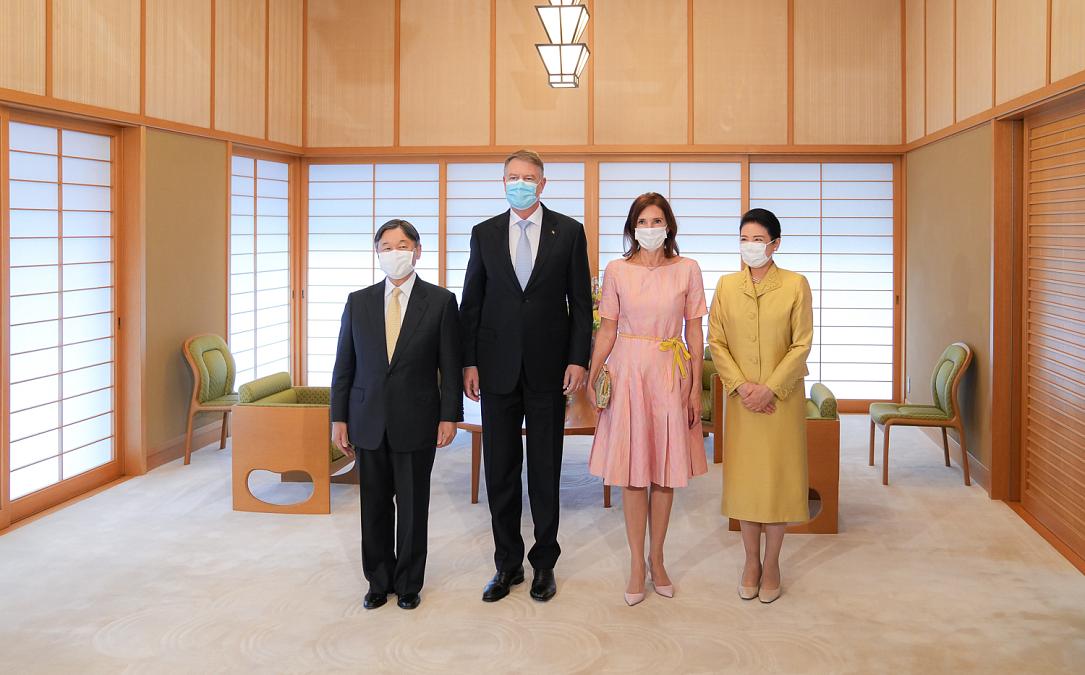 President Klaus Iohannis and his wife Carmen were received on Tuesday by His Majesty Naruhito, the Emperor of Japan, and Her Majesty Masako, the Empress of Japan, as part of an official visit to Japan and Singapore.
"An honor to meet today His Majesty the Emperor Naruhito of Japan in Tokyo. The century-long relations between Romania and Japan are stronger than ever and have acquired a strategic dimension," Iohannis said in a message on Twitter.
According to the Japanese imperial protocol, discussions do not follow a predetermined agenda, and the Emperor and Empress of Japan do not address political subjects. Relevant topics from the perspective of the status shared by the two as representatives of their country and nation are recommended. For example, issues related to Romania's identity and specificity and the contribution of Romanians to universal heritage can be addressed, as well as subjects that attest to the longstanding ties between the Romanian and Japanese people, ties which have been recorded diplomatically for over a century (102 years), according to Digi24.
Klaus Iohannis also met with Japanese Prime Minister Fumio Kishida on the same day. The two officials signed the Joint Declaration on the Establishment of the Strategic Partnership between Romania and Japan. 
"We are moving to a new stage of bilateral potential to the benefit of our countries and citizens, on three fronts: political-security, economic-financial, and cultural-scientific. Together, we are sending a strong signal today, directing our cooperation towards strategic and innovative areas," Iohannis said during the joint press statement after the meeting, according to the official press release.
"Japan is the largest investor in Romania among Asian countries. We continue to desire a substantial increase in Japanese investments in our country. We appreciate the constructive approach of Japanese companies active in the Romanian market, based on sustainability principles. A concrete example is the contribution of Japanese companies to complex infrastructure projects, such as the construction of the bridge over the Danube, at Braila. We encourage Japan to continue to be involved in connectivity projects, relevant not only to Romania but also to neighboring states," he added.
A memorandum will also be signed between the Ministry of Finance, Eximbank Romania, and the Japan Bank for International Cooperation (JBIC) during the visit, as well as a memorandum of understanding between ELI-NP Magurele, the Japanese company Okamoto Optics and the Institute of Laser Engineering at Osaka University.
On Monday, the President of Romania met with the President of the House of Councillors of the Diet (Parliament) of Japan, Hidehisa Otsuji, and the President of the House of Representatives, Hiroyuki Hosoda. On Wednesday, the Romanian head of state will meet with local authorities in Kyoto.
On Thursday and Friday, Klaus Iohannis will make a state visit to Singapore, where he will hold official talks with President Halimah Yacob and Prime Minister Lee Hsien Loong.
(Photo source: Klaus Iohannis on Twitter)
Normal