Underground Romania: Five salt mines to visit in the country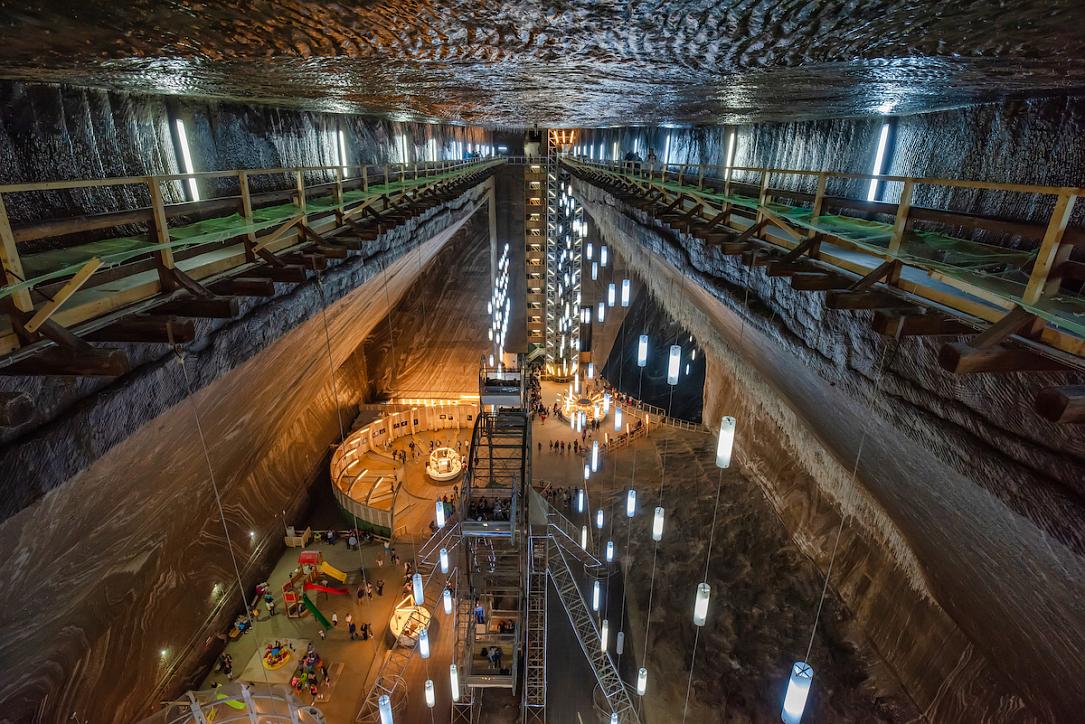 Romania has a big tourist potential, with its mountains, castles and legends, but the salt mines are the ones taking tourists to surprising places below ground, offering them unique experiences.
The salt mines in Romania have become tourist destinations quite popular among both Romanians and foreigners, especially due to their salty air believed to have therapeutic properties. But some of these places have transformed into true "small towns," offering visitors a wide variety of fun and relaxing things to do. Here's a list of five salt mines to visit in Romania:
Salina Turda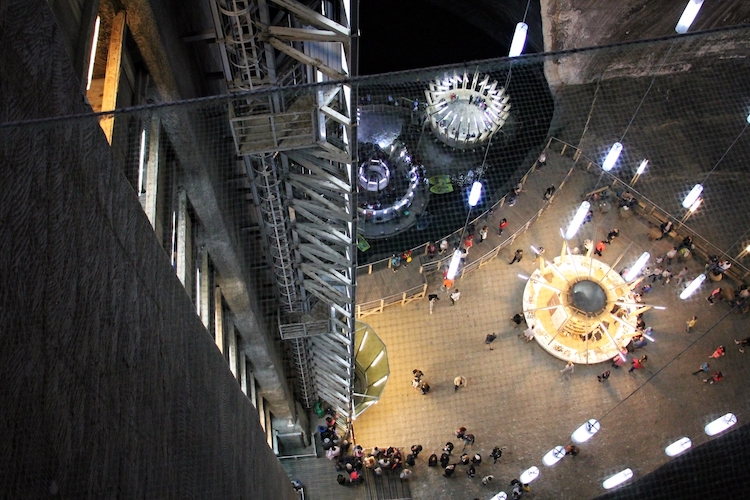 Included in early 2018 on the US magazine Smithsonianmag.com's list of "subterranean wonderlands," Salina Turda is one of the most spectacular tourist destinations revealing Romania's underground wonders, and probably one of the most beautiful such places in the world.
The salt mine, which opened in the 17th century and was from its very beginning one of the most important in Transylvania, started to decline after 1840 due to the big competition from the salt mine in Ocna Mures. It was used as a bomb shelter during World War II, and as a storage space after the end of the war. It was turned into a theme park after 1992, and now its recreation facilities include a Ferris wheel, a mini golf course, a lake with paddle boats, a bowling alley, an amphitheater, sports fields and ping pong tables.
Salina Turda is located at about 6 km from Turda, the second largest city in Cluj county, and at about 36 km from Cluj-Napoca. Now that the summer season is over, the salt mine slightly changed its visiting hours, the mine being currently open Monday to Sunday between 09:00 and 17:00 (last entry at 16:00). The entry fee is RON 40 per day per person but the pensioners, children, pupils and students benefit from discounts. Further details here.
Salina Slanic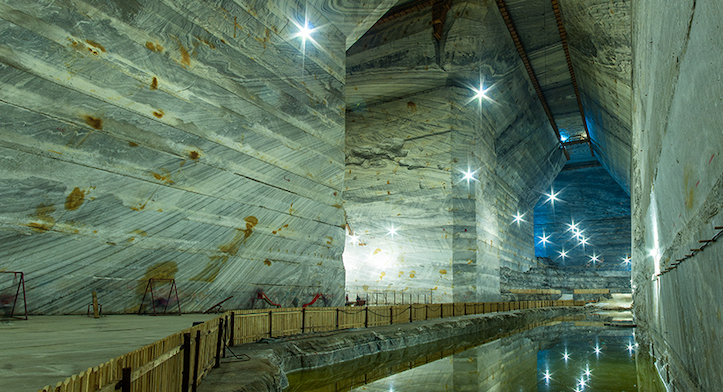 Located in a beautiful landscape in the town of Slanic, in Prahova county, Salina Slanic attracts many tourists every year, who come here mainly for the purity of the mine's air, which is believed to have healing effects.
The salt mine's history starts around 1685, the year when Mihail Cantacuzino bought the Slanic estate with the purpose of opening a salt mine here. Salina Slanic's Unirea mine opened in 1943 with a number of 15 rooms with trapezoidal profiles. The exploitation of salt from this mine was done until 1972, and after that the mine became a tourist objective. The constant temperature of 12 degrees Celsius throughout the year, the humidity of 50%, the air composition rich in sodium ions and the absence of allergens create a special microclimate efficient in treating respiratory diseases, and this makes the mine quite popular among tourists.
But there are also other things visitors can do at Salina Slanic, as there are sports fields where tourists can play volleyball or tennis, and children's playgrounds. There is a room called Genesis Hall in Unirea mine, which hosts the busts in salt of Dacia's king Decebal and Roman emperor Traian. There are also other salt sculptures in the mine, such as the bust of Romania's well-known poet Mihai Eminescu and a bas-relief of great ruler Mihai Viteazul. Plus, Supernova Planetarium, which is presented as the largest planetarium in Romania, can be found in Salina Slanic.
Minibuses are used to take tourists to Salina Slanic's Unirea mine, down to a depth of 208 meters. Salina Slanic is open Wednesday to Sunday (the last minibus takes tourists to the underground at 14:30 Wednesday to Friday and at 15:30 in weekends), and the entry fee is RON 25 in weekdays and RON 30 on Saturday and Sunday (children, students and pensioners benefit from discounts). More information here.
Salina Praid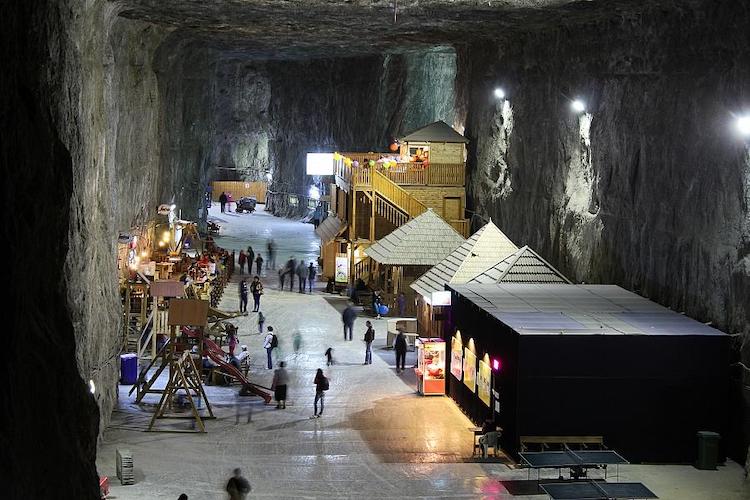 Praid salt mine in the eastern Transylvania county of Harghita is popular both among people seeking treatment for various respiratory diseases but also among tourists looking to relax and spend some quality time with friends and family for a few hours.
The salt mine attracted more than 640,000 visitors in 2017, and more than half of them were tourists. And no wonder the number continues to grow, as the mine offers a wide variety of fun options, such as Wi-Fi, playgrounds for children, a church, a 3D cinema, a coffee house and a restaurant, among other things. The average annual temperature in the underground is 16 degrees Celsius.
Buses take visitors to the entrance gate of the visiting base. Entry costs RON 30 (Monday to Friday) and RON 35 (Saturday and Sunday) per person, and children benefit from discounts.
Salina Praid is located about 70 km from the beautiful Sighisoara but Targu Mures is closer, at some 55 km. Further details here.
Salina Cacica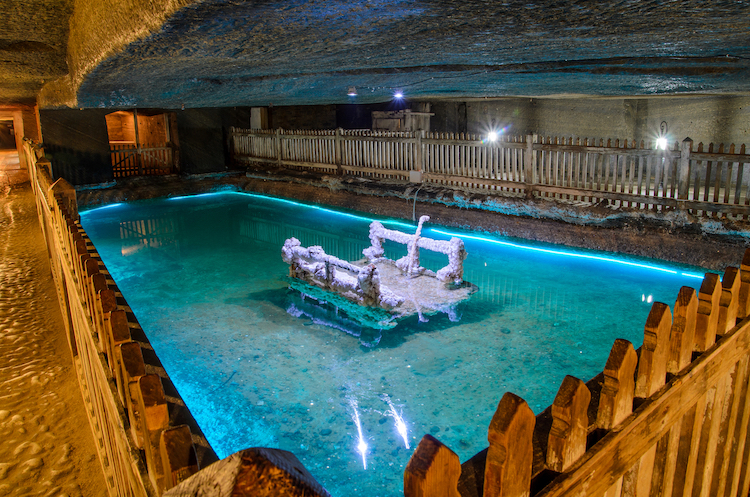 Cacica salt mine is located in the commune of Cacica, in Suceava County, 40 km from the city of Suceava and 450 km from Bucharest.
Wooden steps that are more than 200 years old take the tourists all the way down to the mine. Visitors should be very careful on these steps as they are now covered with a mineralized layer of salt. The galleries dug manually then take tourists to the St. Varvara Church and the small Orthodox chapel, the Ballroom, and the amazing underground Salt Lake. A small museum inside the salt mine presents the place's history and the miners' work.
The saline aerosols with therapeutic effects, the constant temperature of approximately 14 degrees Celsius and the beauty of the place make this salt mine a very good place for relaxation and leisure, regardless of the season. Salina Cacica is open Monday to Sunday between 09:00 and 17:00 and the entry fee is RON 15 for adults and RON 8 for children aged up to 14 years. Find out more here.
Salina Ocnele Mari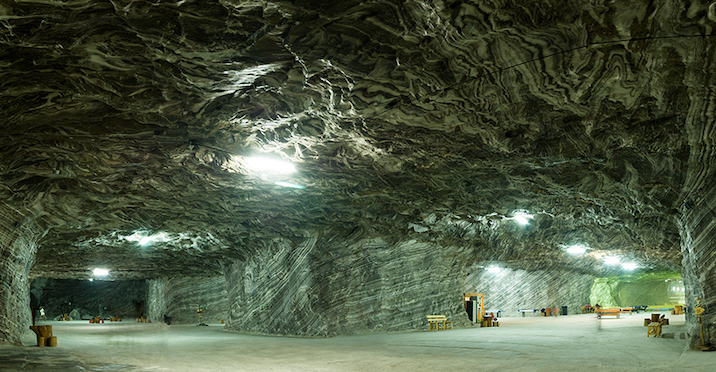 The Ocnele Mari salt mine is one of the oldest in the country. The visiting area is arranged 225 meters above sea level and covers an area of 10,000 square meters. There are plenty of things to do here, as Salina Ocnele Mari features a church, a museum, a restaurant, souvenir shops, bars, football, volleyball and tennis fields, children's playgrounds, and other facilities.

The Ocnele Mari tourist mine is located in the town of the same name, 8 km from Ramnicu Valcea, in a picturesque area near the Olt Valley. Minibuses take tourists inside the salt mine, the ride taking about 10 minutes. The microclimate is constant in the mine, the temperature being approximately 13-15 degrees Celsius, and a humidity of the air of about 50%.

The entry fee is RON 20 Monday to Friday and RON 22 on Saturday and Sunday, and the children, students and pensioners benefit from discounts. Further details here.

(Opening photo: Salina Turda; photo: 

-->

Normal

-->