101-year-old philosopher is one of the Romanian protests' loudest voices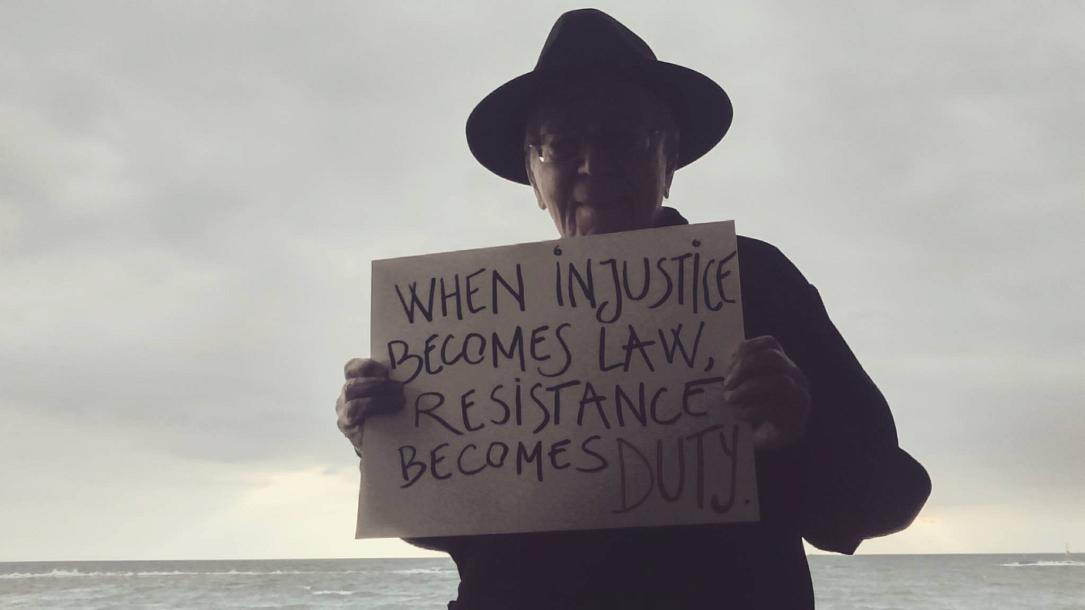 At 101, Romanian philosopher Mihai Șora is one of the most recognizable figures of the protests that have been taking place in Romania since February 2017.
He has been attending the protests in Victoriei Square regularly, and updates a Facebook page where he posts various messages inviting people to reflect on and take a stand against the recent initiatives aimed at changing the justice laws. More than 117,000 people follow Șora's updates on Facebook.
One of the philosopher's most recent updates was an ironical "activity report for the shadow state," where he outlines meeting a seven-year-old boy and his grandmother at the giraffe statue in front of the Antipa Museum, a well-known meeting place for the protesters gathering in the capital's Victoriei Square. He explained that his "citizen's consciousness" drives him to show up at protests. In reference to the Social Democrat Party (PSD) leader Liviu Dragnea calling anti-government protesters "rats," he addresses his audience with "Dragi șobo" (Dear little rats).
In another post, he urges people to take a stand against those who have been trying to monopolize the state institutions for their own benefit.
"There is no individual salvation, people! You cannot go on quietly with your life and business when a mafia group takes over, one by one, the state institutions, the history, the future and symbols of a country, it hijacks them, captures them in its implacable kneader, relying on the lack of enthusiasm and resignation of the most intelligent and most educated. Relying, especially, on the fact that the honest and the industrious will turn their back, in disgust, will abandon the country and any form of protest," another one of his posts reads.
In another update, he reports on how one of the gendarmes present at the protests in Victoriei Square addressed him with "Move further, old man!". He explains that he did not take offence with being called an old man but was worried with being surrounded by too many gendarmes. "When 10 – 15 guys (muscled, well fed and equipped) press me in my little corner, something tells me that the Romanian Gendarmerie is currently something else than what it should be," he wrote.
More recently, the day of the no-confidence motion against the government, Șora reflected on Facebook on how the idea of democracy has been degrading in Romania.
"1 year, 5 months and 22 days since we have been putting up with them. Not even a year and a half: 538 days. During this time, their only preoccupation was to save their own neck, to put away their fortunes, to degrade, with their acts and words, the idea of democracy itself."
Șora was born on November 7, 1916 in Timișoara, in western Romania. He studied philosophy at the University of Bucharest and then left for Paris, where he earned his PhD in the same discipline. He worked between 1945 and 1948 in the French capital as researcher at Centre National de la Recherche Scientifique. His essay book Du dialogue intérieur, fragment d'une anthropologie métaphysique (On Interior Dialogue. Fragment from a Metaphysical Anthropology) was published in 1947 at Gallimard, in France.
He returned to the country, initially planning only a short stay in Romania, but the authorities prevented him from leaving again. He went on to work in the book publishing sector, and he coordinated one of the most popular local book collections, Biblioteca pentru toti (Everyone's bookshelf). He also published his own work, reissued after 1990 at Humanitas Publishing House.
After the fall of the communist regime he was a founding member of the local NGO Group for Social Dialogue. He was also an education minister in the first post-1989 government.
This week, Șora underwent gallbladder emergency surgery and is now recovering in the hospital.
In 2016, president Klaus Iohannis decorated Mihai Șora with the Star of Romania National Order.
Romanian NGO, philosopher awarded the European Citizen's Prize
(Photo: Mihai Șora Facebook Page)
editor@romania-insider.com
Normal