Who is Laura Codruta Kovesi, the first Romanian who could lead a top European institution?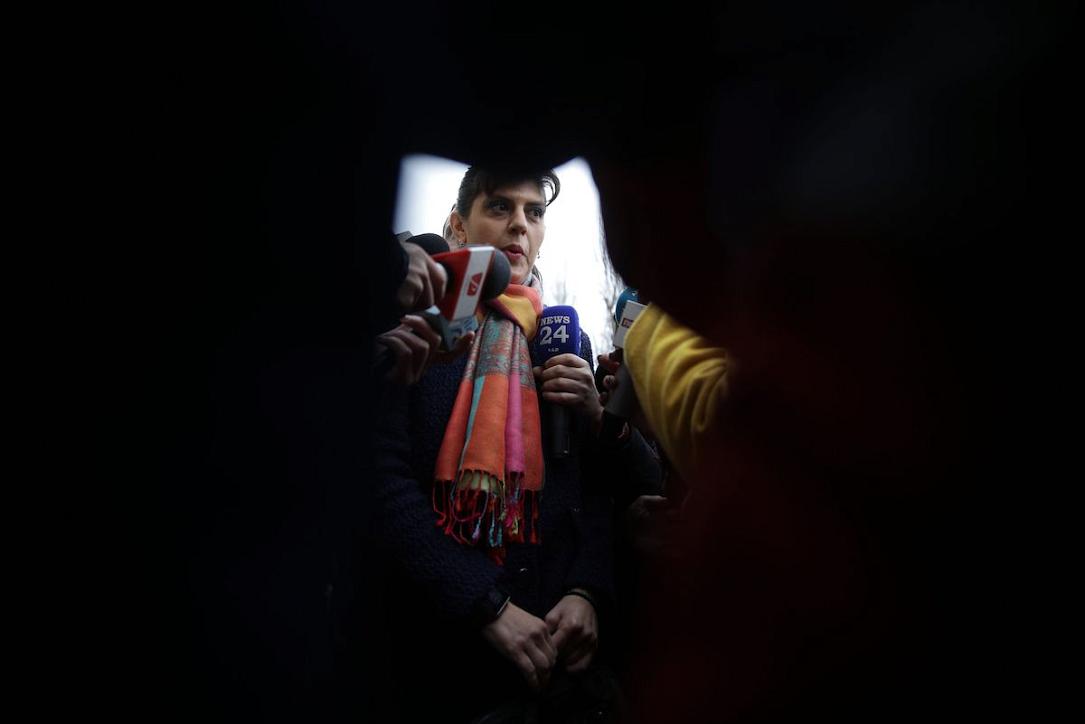 A former general prosecutor of Romania and chief anticorruption prosecutor, Laura Codruta Kovesi has high chances to get the appointment for chief prosecutor of the European Public Prosecutor's Office (EPPO), a newly-established institution that will investigate crimes against the financial interests of the European Union. If appointed, she would become the first Romanian to lead a top European institution.
Laura Codruta Kovesi, 45, was born in Sfantu Gheorghe, Covasna county, central Romania, in a region where Hungarian ethnics are in majority. She went to high school in Medias, where she also played for the local basketball team. She was drafted to the cadet women's national basketball team, which ended runner-up in the European Cadet Basketball Championship in Timisoara, in 1989.
She then went to the Law Faculty of the Babes Bolyai University in Cluj-Napoca, which she graduated in 1995. The same year, she started her career as a prosecutor at the prosecutor's office attached to the lower court in Sibiu (Judecatoria Sibiu). After almost four years in this position, she moved to the prosecutor's office attached to the Sibiu Court (Tribunalul Sibiu) and that's where her ascension started. Within four years, she became head prosecutor of the criminal investigation section in the Sibiu prosecutor's office, after which she moved to the Sibiu branch of the Directorate for Investigating Organized Crime and Terrorism (DIICOT), in December 2004. In June 2006, she became chief prosecutor of DIICOT Sibiu.
From that position, she made the leap to general prosecutor of Romania, in October 2006. Former justice minister Monica Macovei, now a member of the European Parliament (MEP), proposed Kovesi for this position and former president Traian Basescu signed the appointment.
Laura Codruta Kovesi was the first woman to become Romania's general prosecutor as well as the youngest general prosecutor. She was only 33 at that time. She got a second mandate in October 2009.
In May 2013, she was appointed chief prosecutor of the National Anticorruption Directorate (DNA), a special prosecution unit specialized in investigating top-level corruption cases. Former Social-Democrat prime minister Victor Ponta, who was also interim justice minister for a short period, was the one who nominated her for this position and president Traian Basescu signed the appointment. A few years later, under Kovesi's lead, DNA would investigate Ponta and Basescu's brother.
The National Anticorruption Directorate (DNA), an institution established in 2002, reached its peak during Kovesi's first mandate when it initiated hundreds of investigations targeting top officials. In June 2014, DNA obtained a 4-year final jail conviction against former prime minister Adrian Nastase, which brought the institution into the limelight. After that, DNA managed to put several ministers, MPs and dozens of powerful regional political leaders (county council presidents and mayors), also known as "local barons", behind bars.
DNA's results brought Kovesi a lot of publicity in international media and the support of foreign embassies in Romania, most notably from the U.S. Embassy to Bucharest. The DNA head received several decorations from foreign countries, including France, the U.S., and Sweden.
In 2016, Kovesi got her mandate renewed at the proposal of justice minister Raluca Pruna. President Klaus Iohannis, also a supporter of Kovesi's activity, signed the appointment.
Her fortunes started to change in 2016, as the Social Democratic Party (PSD) rose to power again and its leaders started a campaign against the DNA. They accused the institution of abuses and acting on political command. They also suggested that Kovesi was part of the so-called shadow state, an occult power structure that aimed to take control of political power in Romania. PSD leader Liviu Dragnea, convicted in for electoral fraud in 2015, following a DNA investigation, and targeted by several other corruption investigations, became Kovesi's main opponent.
The PSD-ALDE ruling coalition started changing the laws of justice and the criminal codes to make it more difficult for prosecutors to investigate politicians in power, and the DNA immediately reacted saying that this would make the fight against corruption less effective in Romania. Street protests against the ruling coalition and in support of the DNA started in February 2017. The European Commission and foreign embassies also reacted, affirming their support for the anticorruption institution.
A long war started, during which the ruling coalition slowly imposed its changes, in stages, while also continuing to discredit the top judiciary institutions that opposed these changes, namely the DNA and General Prosecutor's Office. Politicians accused DNA of abuses and illegal cooperation with the Romanian Intelligence Service (SRI) as well as pressures over judges for favorable sentences.
In 2017, DNA was also hit by the first internal scandals. Leaked recordings in which Kovesi was allegedly asking the prosecutors to go after the prime minister and to move faster with big corruption cases. DNA said at that time that the recordings were edited and taken out of context. However, more scandals followed as prosecutors from the local DNA unit in Ploiesti, who had been the most active in investigating top politicians, were accused of pressuring witnesses and fabricating evidence.
In February 2018, justice minister Tudorel Toader started the procedure for dismissing Kovesi from DNA's helm. He presented a report that included mostly accusations against Kovesi, many of which were based on media reports, and only briefly tackled her activity at DNA's helm. The report accused Kovesi, among others, of damaging Romania's image abroad by talking about the widespread corruption in the country and the ruling coalition's efforts to weaken the fight against corruption in her interviews with international media.
President Klaus Iohannis delayed answering the justice minister's request for almost six months, but the Constitutional Court forced him to sign her dismissal, which he did in July 2018. After her dismissal from DNA's helm, Kovesi moved to work in the General Prosecutor's Office.
In December 2018, she submitted her candidacy for the position of chief prosecutor of the new European Public Prosecutor's Office (EPPO). Immediately after this, the ruling coalition in Bucharest renewed their attacks against her, trying to block her appointment. However, the selection board made of international specialists placed Kovesi at the top of the tree-candidate list forwarded to the EU Council and European Parliament.
Meanwhile, the newly-established section for investigating magistrates in Romania officially announced that it was investigating Kovesi for abuse of office, bribery and false testimony, in a case related to the extradition from Indonesia of an investment fund manager convicted for fraud. The case started from a complaint against Kovesi filed by former MP Sebastian Ghita, who ran away to Serbia in December 2016, amid several DNA investigations targeting him.
The Romanian Government and justice minister Tudorel Toader lobbied against Kovesi in the EU Council, where she lost the initial vote in favor of the French candidate. However, the European Parliament's CONT and LIBE committees voted for Kovesi, keeping her in the race for the appointment, which will be decided following negotiations between the European Parliament and the EU Council.
editor@romania-insider.com
(Photo source: Inquam Photos / Octav Ganea)
Normal