Refreshing destinations: Five salt mines to visit in Romania to escape the summer heat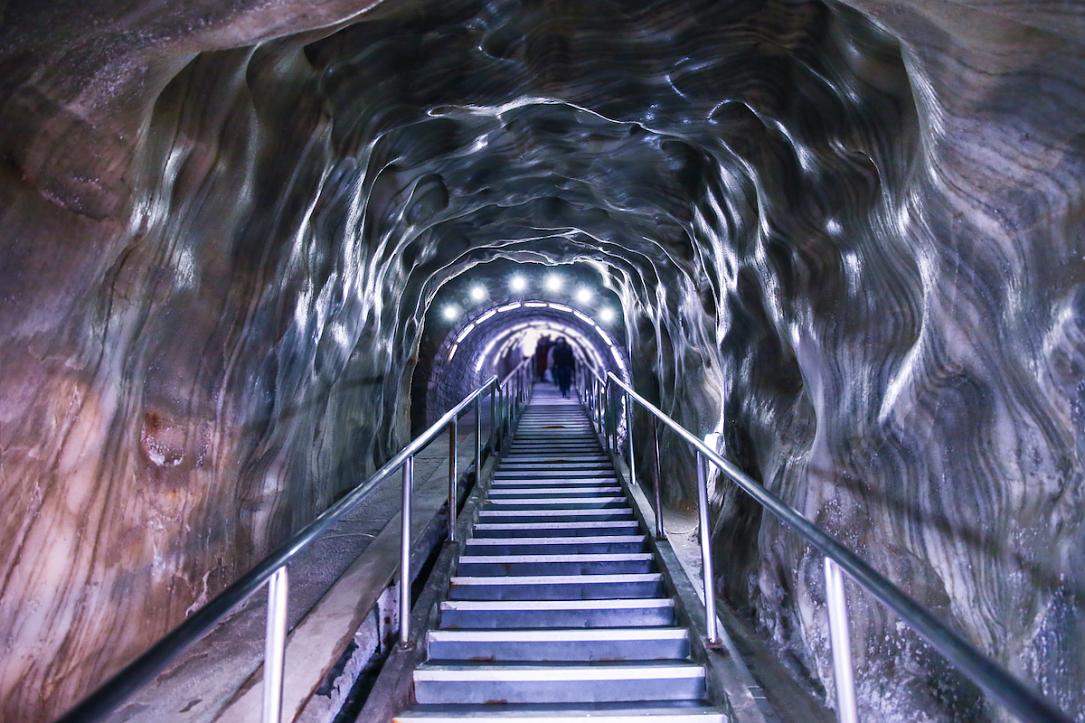 Many say summer is the best season of the year. However, some days are just too hot, with temperatures going over 30 degrees Celsius in Romania. Luckily, the country also has many refreshing destinations for those looking to take refuge from the heat and get a breath of fresh air. And the salt mines' unique underground worlds are definitely an option to consider.
Turda Salt Mine
Located about 35 km south of Cluj-Napoca, Turda Salt Mine is one of Romania's most important tourist destinations and one of the world's most spectacular underground sites carved by human hands. Many foreign publications have been recommending it to their readers over the years. In 2018, for example, the US magazine Smithsonianmag.com included the Turda Salt Mine on its list of "subterranean wonderlands."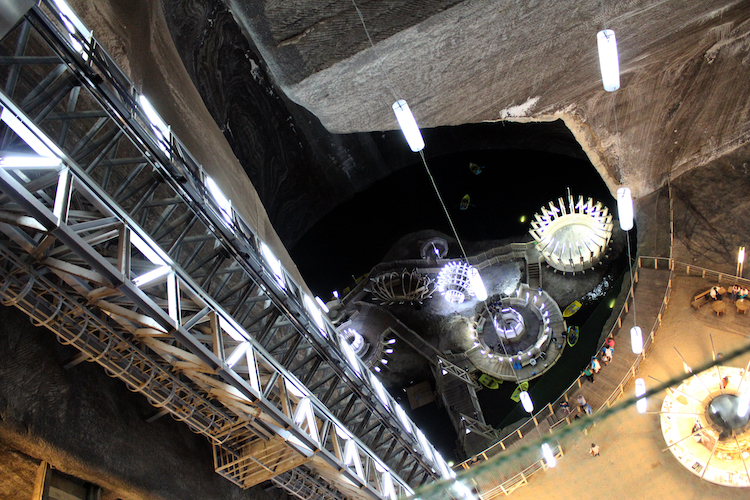 Fun fact: according to its website, should it come to it, the salt from Turda Salt Mine could cover the salt requirement for the entire Planet for 60 years.
For now, however, Turda Salt Mine is basically a small town with plenty of recreation facilities, such as a 20-meter high panoramic wheel, a mini-golf course, a lake with paddleboats, a bowling alley, an amphitheatre, and a sports field. 
The salt mine is located close to the city of Turda and can be easily reached by car. It is open Monday to Sunday from 09:00 to 19:00, and the entry fee is RON 50 (Monday-Friday) and RON 60 (Saturday-Sunday). The pensioners, children, pupils and students benefit from discounts. 
Further details here.
Praid Salt Mine
With an average temperature of 16 degrees Celsius throughout the year, the Praid Salt Mine is another refreshing attraction for a summer escape. Located in the eastern Transylvania county of Harghita, this place is popular among people seeking treatment for various respiratory diseases and tourists looking to relax and spend some quality time with friends and family.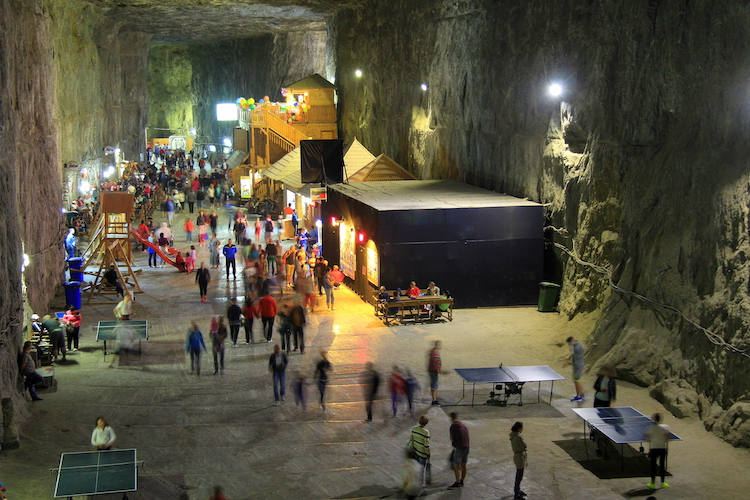 The mine offers a wide variety of fun options, such as Wi-Fi, playgrounds for children, a church, a 3D cinema, a coffee shop and a restaurant, among other things.
About 400,000 people visit this underground attraction every year, and most come here in the hot summer months.
The Praid Salt Mine is located about 55 km from Targu Mures. Buses take tourists to the entrance gate of the visiting base, down to a depth of 120 meters. The mine is open from 8:00 to 18:00, and the entry fee is RON 35 (Monday to Sunday). Children, students, and persons with disabilities benefit from discounts. 
Find out more here.
Slanic Prahova Salt Mine
This is probably the best choice for tourists from Bucharest, as the mine is located just about 100 km north of the capital. And its constant temperature of about 12-13 degrees Celsius and humidity of 50% makes it the perfect choice for the summer months.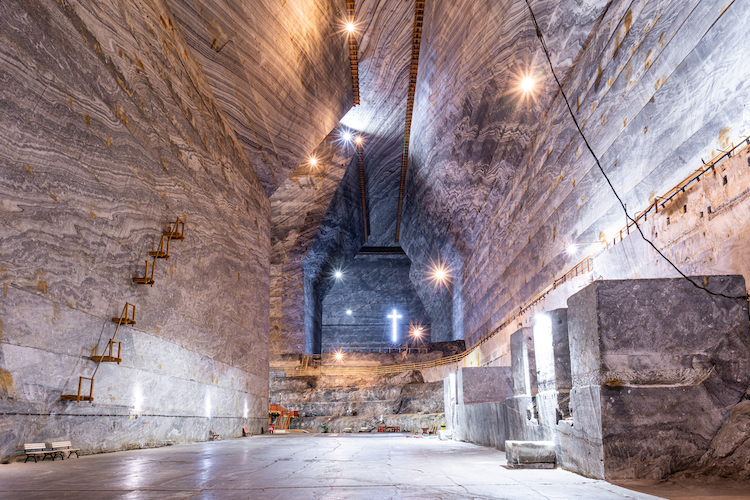 The mine is located in a beautiful landscape in the town of Slanic, Prahova county, and is mainly known for the air's purity, which is believed to have healing effects. The air composition rich in sodium ions and the absence of allergens create a special microclimate efficient in treating respiratory diseases.
Minivans take tourists to Salina Slanic's Unirea mine, down to a depth of 208 meters. And there are plenty of things to do down there, the facilities including sports fields where tourists can play volleyball or tennis, and children's playgrounds. Plus, visitors can also take pictures with the salt busts of Dacia's king Decebalus and Roman emperor Trajan, or other historical and cultural figures.
The Slanic Prahova Salt Mine is open Tuesday to Sunday (the last minibus takes tourists to the underground at 15:30 Tuesday to Friday and at 16:30 on weekends), and the entry fee is RON 28 on weekdays and RON 33 on Saturday and Sunday (children, students and pensioners benefit from discounts).
More information here.
Targu Ocna Salt Mine
Situated in the eastern region of Moldova, not far from the city of Bacau, the salt mine in Targu Ocna is located at a depth of 240 m. It is a perfect place for relaxation and leisure, regardless of the season, but especially in summer due to its constant temperature of approximately 12-13 degrees Celsius. It is also popular among tourists seeking treatment for various respiratory diseases.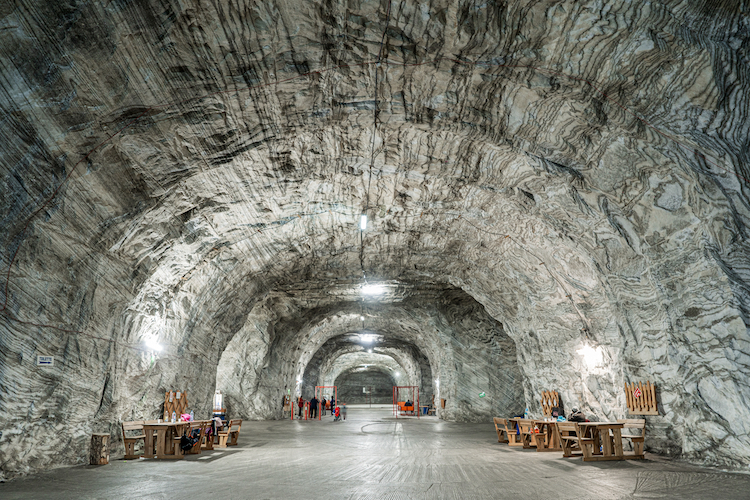 Down there, children can have some fun at the playgrounds equipped with swings or slides, while the adults can play pool, table tennis or mini-golf. Or share the experience with their virtual friends using the Wi-Fi service available inside the mine. There are also an Orthodox church and a medical office.
Until the end of September, the Targu Ocna Salt Mine is open between 08:00 and 16:00 (the last entry at 15:00). Adults have to pay RON 30 to enter the mine, while the fee for children, pupils or students is RON 15 per day. Further details here.
Targu Ocna is located some 60 km from Bacau or Adjud and some 130 km from the popular mountain resort of Brasov.
Ocnele Mari Salt Mine
This mine, which is one of the oldest in the country, is one of the top tourist attractions in Valcea county. It is located in the town of Ocnele Mari, 8 km from Ramnicu Valcea, in a picturesque area near the Olt Valley.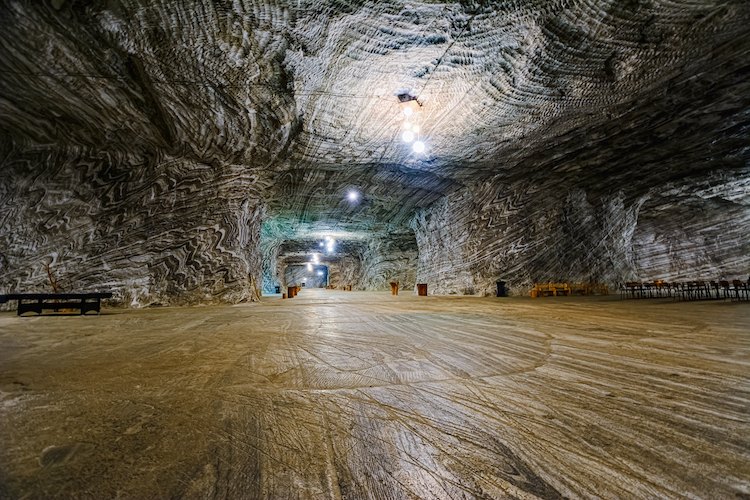 Similar to the other mines on our list, this one also offers a wide variety of options for relaxation and leisure. It includes a church, a restaurant, souvenir shops, football, volleyball and tennis fields, children's playgrounds, and other facilities. Plus, there's the salty air known for its therapeutic health benefits. 
Minivans take tourists inside the salt mine, the ride taking about 10 minutes. The microclimate is constant in the mine, with a temperature of approximately 13-15 degrees Celsius and a humidity of the air of about 50%.
A 15-minute drive from Ramnicu Valcea, the Ocnele Mari Salt Mine is open daily from 09:00 o 17:00 (last entry at 16:00). The entry fee is RON 30 per person per day, and the children, students and pensioners benefit from discounts.
Find out more here.
newsroom@romania-insider.com
(Opening photo: entrance to the Turda Salt Mine; photo by Vesasebastian/Dreamstime.com)
Normal