Screening of French drama 120 BPM in Bucharest cinema, stopped by protest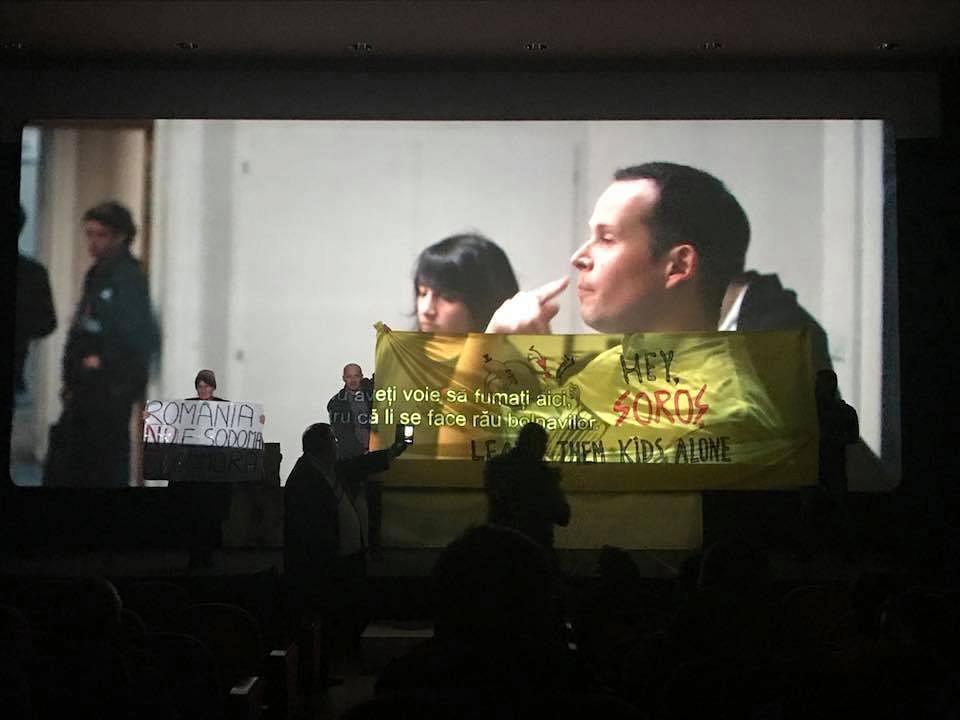 A group of protesters, most of them carrying signs and religious icons, stopped on Sunday evening the screening of the French drama 120 BPM (120 Beats Per Minute) at the cinema of the Romanian Peasant Museum in Bucharest.
The film, which won the Grand Prix award at Cannes, is about homosexuality and the AIDS epidemic. It is set in France in the 1990s. (view trailer below)
The protesters said the main theme of the movie is not suitable for the museum's cinema, which they consider to be a "sacred" place because it focuses on the Romanian peasant. They carried signs that said "Romania is not Sodom and Gomorrah" or "Soros, leave them kids alone," and sang religious hymns. They said the film will destroy the lives of young people in Romania, and that this screening was possible only because of the money from Hungarian-American investor George Soros.
On the other hand, those who were in the cinema said the protesters' action was wrong, and asked them to pay their tickets. The scandal continued until the Police showed up. The screening wasn't resumed.
Tudor Giurgiu, one of the most well known Romanian film directors of the moment, also wrote about the incident on his Facebook page: "I never thought something like this can happen to me. A gang of extremist Christians interrupted the screening of the 120 BPM movie at the Peasant's Cinema. The Grand Prix winner at Cannes 2017 is sabotaged with a cheap happening / circus, by ladies with icons and young men with glassy eyes. I've heard religious songs and I still find it unreal that this can happen today, in Romania."
Voodoo Films, the film distributor, announced on Facebook that the screening would be resumed for all those who have paid the ticket for Sunday's projection, which had been interrupted. The date of the screening is yet to be announced, and the spectators are asked to keep the tickets.
https://www.youtube.com/watch?v=2fhO2A4SL24
Irina Marica, irina.marica@romania-insider.com
(photo & video source: Tudor Giurgiu on Facebook)
Normal