Romania's former prince Nicolae, high officials react to King Michael's death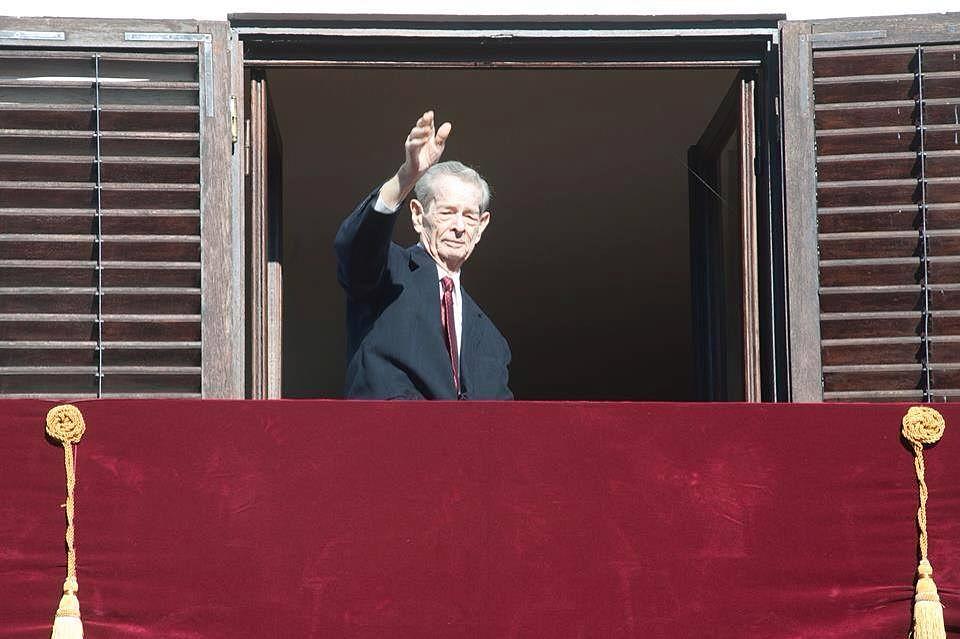 Several high-ranking officials in Romania, including President Klaus Iohannis and Prime Minister Mihai Tudose reacted to the sad news that King Michael I, Romania's last monarch, has died.
Nicolae, the disinherited grandson of King Michael, also posted a message on Facebook: "A mourning that will leave Romania without tears." He also announced that he would attend the funerals to be organized in Romania, according to the local media.
President Iohannis was in a meeting with the Ambassadors of EU Member States accredited to Bucharest when he learned the sad news. All those participating in the meeting took a moment of silence. After the meeting, the President said: "King Michael was one of the greatest personalities of Romania, and he wrote Romania's history with capital letters. It is a great loss for Romania and for Romanians. Condolences to all members of the Royal House."
Iohannis told journalists that Romania would organize all funeral ceremonies "as appropriate," and that there will also be several days of national mourning in the king's memory.
Prime Minister Mihai Tudose also expressed his condolences in a Facebook post. He wrote: "The Romanian people is grievingly saying goodbye to King Michael, a model of morality and dignity for the Romanians, a personality that has marked the history of Romania. We will miss him forever, especially next year when we celebrate the centenary of the Great Union in 1918, a moment of special significance for our nation. His Majesty's memory will always remain alive."
Liviu Dragnea, the leader of the ruling Social Democratic Party (PSD) and the president of the Chamber of Deputies, also reacted to the king's death. "I am deeply saddened by the news of King Michael's death! His long suffering could not alleviate the shock of this news. This is the most palpable evidence of the presence of King Michael in our souls, of his importance to us, the Romanians. The void he leaves behind is huge. The King's contribution to the Second World War and the safeguarding of the Romanian destiny is also huge. King Michael fought for a united, democratic and European Romania, which respects its own tradition and its own national values. His political will is clear and we only have to follow it, regardless of political beliefs! God rest his soul!," his message reads.
Calin Popescu-Tariceanu, the leader of junior coalition partner ALDE and president of the Senate, said: "With deep regret I learned of the disappearance of His Majesty King Michael I. Today is a sad day for the Romanian people. […] King Michael remains a symbol of patriotism, of love for the country and the people. We will keep his memory alive and miss him truly. In these difficult moments, my thoughts are with the Royal Family, to which I send sincere condolences."
Bucharest mayor Gabriela Firea also expressed her condolences through a message posted on her Facebook page: "He left us, but the spirit of King Michael will still be a moral compass for the generations to come." She also said that she would propose city councilors to name Victoriei Square after King Michael.
Other high-ranking officials who reacted to the death of King Michael and expressed their condolences are former President Traian Basescu, Ludovic Orban – president of the National Liberal Party (PNL), former PM Dacian Ciolos, former Prime Minister Victor Ponta, and several ministers and former ministers. Actors, writers, and other personalities in Romania also reacted to the sad news.
King Michael of Romania died on Tuesday, December 5, at around 13:00, at his private residence in Switzerland. He was 96 years old. He was seriously ill, suffering from cancer.
Romania's Royal Family announces its succession line
Irina Marica, irina.marica@romania-insider.com
Normal