Movie premieres this week: Antichrist, If I Want to Whistle, I Whistle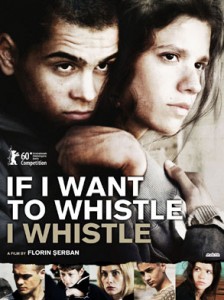 Opening in Romanian cinemas this week:
If I Want to Whistle, I Whistle - with Ada Condeescu, George Piştereanu, directed by Florin Şerban. The Berlin film festival awarded movie is finally opening in theaters in Romania - the movies focuses on the life of a young imprisoned who falls in love with a student. On at Cinema City Cotroceni, Cityplex, Hollywood Multiplex, The Light Cinema, Movieplex, Studio (English subtitles).  Romania Business Insider recommendation.
Antichrist - with Willem Dafoe, Charlotte Gainsbourg. Directed by Lars von Trier.  A grieving couple retreats to their cabin in the woods, hoping to repair their broken hearts and troubled marriage. But nature takes its course and things go from bad to worse.   The Sunday Telegraph labeled the movie as "the  most shocking movie in the history of the Cannes Festival. On at Cinema City Cotroceni, Hollywood Multiplex.
Previews on April 1st
The Princess and the Frog - cartoon; On at Cinema City Cotroceni, Hollywood Multiplex, Movieplex
She's Out of My League - romantic comedy; On at Cinema City Cotroceni, Hollywood Multiplex, Movieplex, Starplex
The Road - adventure; On at Movieplex
Normal