Momsi: The Romanian app for moms developed by a dad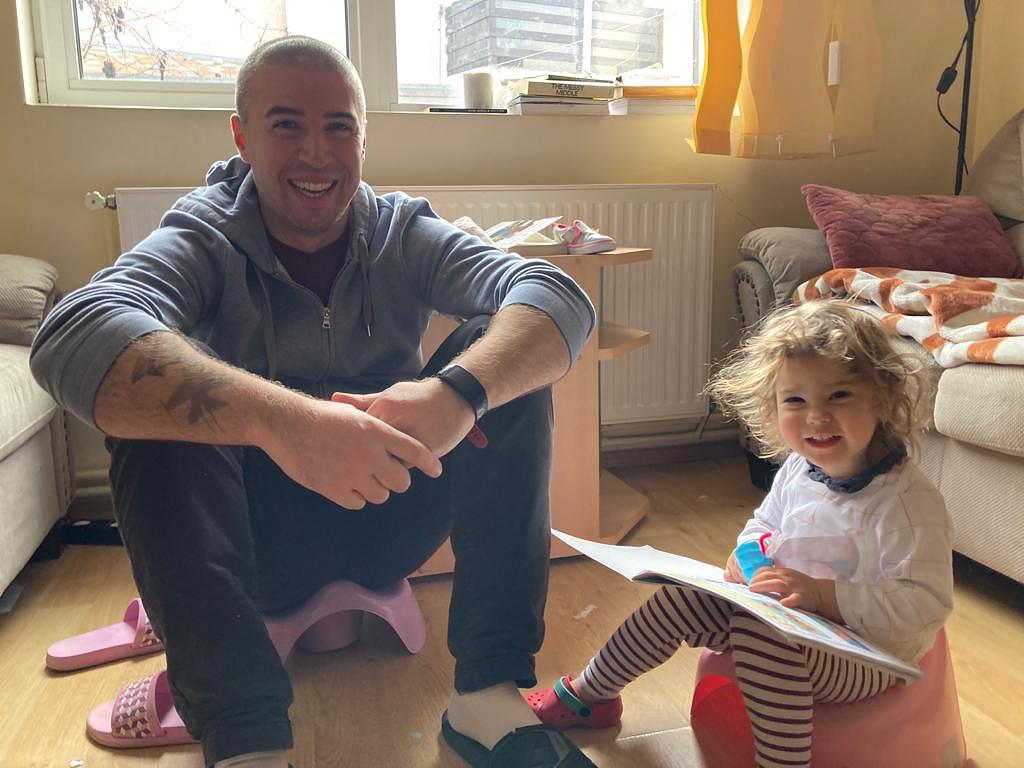 Currently available in six countries, Momsi is a Romanian app that helps moms find other mom friends, socialize outside the virtual world, get advice and support, or even buy or sell children's items. It is the project of Ionuț Țurlea, a dad who experienced firsthand the joy but also the many challenges of being a new stay-at-home parent.
You can read this article and support us to write more such interviews by getting a Romania Insider membership. With our Premium membership, you will access all our exclusive articles and also get seven premium newsletters.
"Momsi is not a family app and not at all an app for dads. It is strictly for moms because mothers need security and privacy." - Ionuț Țurlea, founder & CEO of Momsi.
Ionuț Țurlea has a curious mind and plenty of energy. He likes to listen to music and go to concerts, has a few tattoos, and is attracted by the psychology-psychotherapy domain. He also enjoys meeting new people and creating authentic connections, and tends to question the things he does or that just happen so that he can see the big picture and connect the dots.
Ionuț started working at a young age but has always dreamt of building his own startup and making a difference. And after trying jobs in various fields, from insurance to HoReCa, he decided to join a startup for a change. And then another, and another… He worked with startups for about 12 years, gaining valuable experience to start his own entrepreneurial project - Momsi, the first Romanian application dedicated exclusively to moms.
Momsi - how it started
The story of Momsi started from a personal experience - the moment Ionuț's baby daughter was born. As a stay-at-home dad, Ionuț got to experience firsthand the joy and beauty of being a new parent but also all the fears, insecurities, struggles and isolation a mom feels in those first months after the baby comes into the world. 
The new parents faced a difficult moment just a few months after the baby was born when Ionuț's wife had to undergo medical treatment and couldn't breastfeed anymore. She was also not comfortable with giving the baby formula, so they had to figure out a way to find breast milk. A rather impossible mission in Romania, but the two young parents were lucky enough to meet a mother from the same neighbourhood who agreed to share some of her stored breast milk with them. 
"For one week, our baby received breast milk from another mother, and I found it to be an amazing thing," Ionuț told Romania-insider.com.
That's when all sorts of questions started popping into his head: "what does a mother do when she needs help?", "how do we replicate the luck we had for other mothers?", "who is more likely to help a mom if not another mom?" And the answer was a tech app that moms could turn to when in need. 
Ionuț Țurlea thus started researching the market and the competition and released a Beta version of Momsi in March 2020, just before the COVID-19 lockdown. The project started with a personal investment of EUR 22,000, later joined by a EUR 85,000 financing from a union of business angels.
The early version of Momsi gathered a community of 1,600 moms, which came to validate the product's value. In late March this year, the Beta version was replaced by an official & updated version, which attracted a community of 2,500 moms in just two weeks. And things can only move forward from here, as Ionuț is already planning to draw a pre-seed investment of EUR 500,000 for expansion and product and team development. He set a target of 100,000 users for the first year.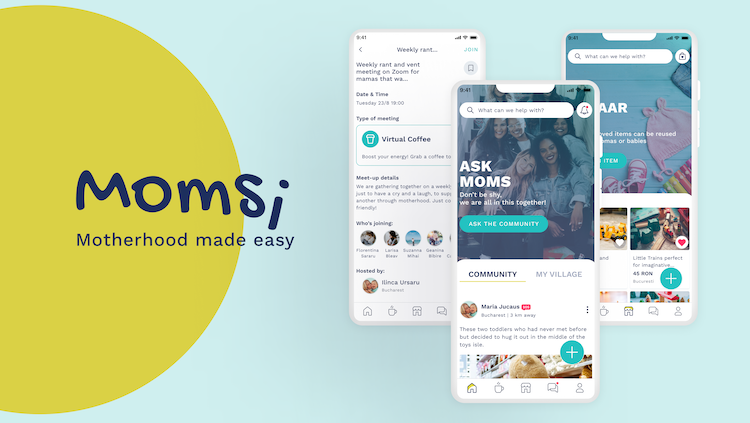 What exactly is Momsi and how does it work?
Momsi is a social app & marketplace for moms that can be downloaded for free from the App Store and Google Play. It is currently available in Romania, Poland, Ukraine, Hungary, Slovakia, and the Republic of Moldova, in English and the languages spoken in the six countries. 
The app encourages moms to get offline and meet other moms in real life, as one of the problems it targets is the isolation women usually experience after their baby arrives. 
"Momsi is a social app & marketplace with a focus on real-life interactions. And this is also what makes it different from the so-well-known mom groups on Facebook. Social media groups are large groups of 2,000 to 100,000 members, where the focus and type of support that mothers receive are usually based on content, advice and answers. So the type of interaction is mainly content-based. With Momsi, we try to encourage mothers to go out, to meet other moms outside," Ionuț Țurlea explained.
Plus, if a mother has an emergency or simply needs a helping hand with something, she can enter the application and ask for the help she needs from other mothers nearby. Moms can also use this tech tool to anonymously talk about sensitive topics or struggles or access the mom-to-mom marketplace to sell, buy, or donate baby items.
To use the app, moms have to go through a sign-up process, which means they have to share information such as the children's age and their approximate location. A selfie is also required to validate that the account holder is a woman and is a real person.
In the next step, the app shows suggestions of mothers who live nearby and have children of similar age. The user mom can now add other moms in her personal village (more generally said, her own group) and start making mom friends.
"This way, micro-communities are created based on location. Groups of 5 to 30 mothers (or even more if there is a high density of mothers in a neighbourhood or area) who share these essential elements: they live in the same area and have kids of similar age. And if a mother has an emergency, she can post a help request in her village, on the feed of her group," Ionuț said.
There are two feeds in the app - a general one where there are posts from mothers from all over the country and a more private one in the user's own village.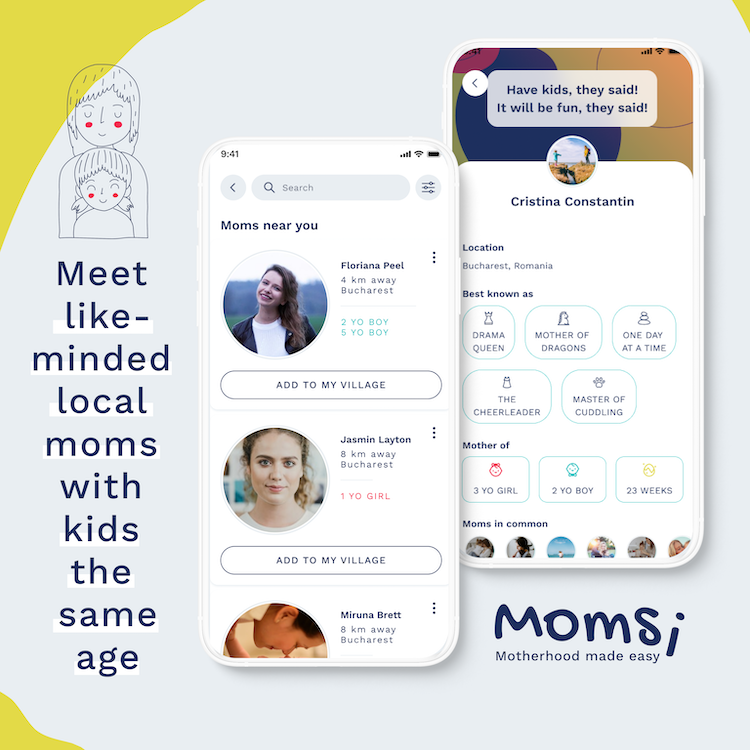 Mothers can also create meetups in the app, which they can share only with the moms in their village or make visible to everyone. A feature that has been used many times so far and which helped moms create genuine friendships.  
"Meetings have already happened. And somehow, the peak in terms of personal satisfaction, but also as an entrepreneur, was when I got feedback from moms who met other moms via the app and saw each other at the cafe or in the park, and it was a wonderful, safe experience from which they left with a positive vibe," Ionuț mentioned.
Then, there's also a marketplace where mothers can buy, sell or donate things they need or don't need for themselves and their children. From clothes and toys to strollers or other items, moms can also use Momsi as a trading platform. 
Plus, user moms should also know that they can turn to Momsi to talk about more sensitive topics they wouldn't usually feel comfortable discussing elsewhere. And they can do it anonymously, without the fear of being judged.
"There are all kinds of situations that unfortunately should not exist but do exist, and the mothers need to talk about them, to receive advice, guidance without feeling judged or uncomfortable. And then this option to post anonymously in the application is very welcome and appreciated," the Momsi founder explained.
Momsi is also a tool for the Ukrainian moms fleeing the war
Most of the people fleeing the war in Ukraine are mothers with children. Thus, one of the reasons for launching Momsi in the six countries neighbouring Ukraine was to give yet another tool to the Ukrainian mothers trying to integrate into new countries. With Momsi, they can try to find other moms from Ukraine and create their own villages, their own micro-communities within the communities where they end up. 
Ionuț told us that in Romania, for example, mothers from Ukraine settled in Cluj-Napoca and used the app to find other moms nearby and make this whole experience easier.  
Future plans
In the medium and long run, Ionuț Țurlea aims to make the application available in the EU, not only regionally, but also in the US. Other countries in Europe, such as the UK, as well as Asia or New Zealand, are also on the list of potential future markets.
For this (and more), the Romanian entrepreneur hopes to raise EUR 500,000 in pre-seed funding. This would help him reach the target of 100,000 users in the first year. 
Ionuț is also looking to bring new members to the Momsi team, opening jobs for positions such as chief technology officer or chief product designer.
Medium- and long-term plans also include the introduction of subscriptions. Businesses will also be able to offer their services within the app, but not in the form of ads. They will be visible on a map, which moms can check if they need to find products for children or playgrounds or child-friendly venues nearby.
However, according to Ionuț, these revenue channels, especially the subscriptions, will be introduced later rather than sooner. Until then, mothers can enjoy the app and all its features free of charge.
Irina Marica, irina.marica@romania-insider.com
(Photos: courtesy of Ionut Turlea)
Normal