Romania's ruling coalition leader wants more radical amendments to justice laws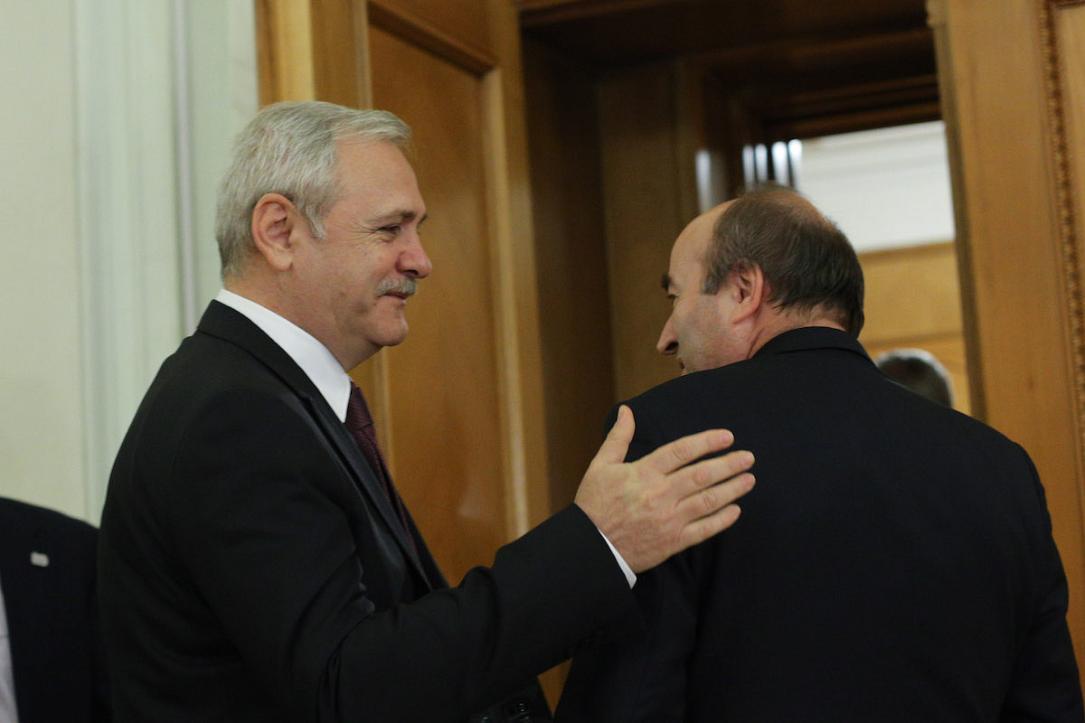 The leader of Romania's senior ruling coalition party - PSD, Liviu Dragnea (picture, left), suggested he and his colleagues were not satisfied with the activity of justice minister Tudorel Toader (picture, right) and "this has to be sorted out one way or another next week," local Hotnews.ro reported.
The Chamber of Deputies deferred the final vote on a simple motion submitted by the opposition parties against the justice minister after the MPs of the Social Democratic Party (PSD) left the meeting. The President of the Chamber of Deputies, Liviu Dragnea, suspended the meeting and deferred the vote. A simple motion can be passed with the majority of the MPs attending the meeting (as opposed to the majority of all MPs in the Chamber), but it does not have as an effect the immediate dismissal of Minister Toader.
The "lack of satisfaction" mentioned by Dragnea, and visible from his comments, is reportedly related to minister Toader not having passed a clear government ordinance to allow the retrial of all cases judged by the panels of five judges at the High Court or involving evidences obtained as an effect of the protocols signed by the National Anticorruption Directorate (DNA) with the intelligence services, according to Hotnews.ro. The Constitutional Court's decisions allow those indicted in such cases to scrap the sentences, but the procedure has to be done case-by-case and can't be done for cases already judged.
PSD also expects the justice minister to pass by emergency ordinance several changes to the Criminal Codes, according to PSD MP Florin Iordache, Toader's predecessor at the helm of the Justice Ministry. Iordache attacked Toader during the debates on the motion against the justice minister criticizing him for having adopted the emergency ordinance (OUG) 7 that changed the justice laws without taking into account the magistrates' suggestions.
PSD is also unhappy with Toader's decision to give more powers to the special section investigating magistrates, which is under the minister's direct control and has been trying to take over from the National Anticorruption Directorate (DNA) a case file targeting PSD leader Liviu Dragnea.
Notably, Tudorel Toader was appointed by the junior ruling party, the Alliance of Liberals and Democrats (ALDE), but the justice minister portfolio initially belonged to PSD. Some political commentators believe that Toader's recent actions are aimed at helping ALDE leader Calin Popescu-Tariceanu fight off pressures from PSD as the Senate has to vote on waiving Tariceanu's immunity to allow his prosecution by DNA.
editor@romania-insider.com
(Photo source: Inquam Photos / George Calin)
Normal