Largest pilgrimage in Romania brings tens of thousands of people to Iasi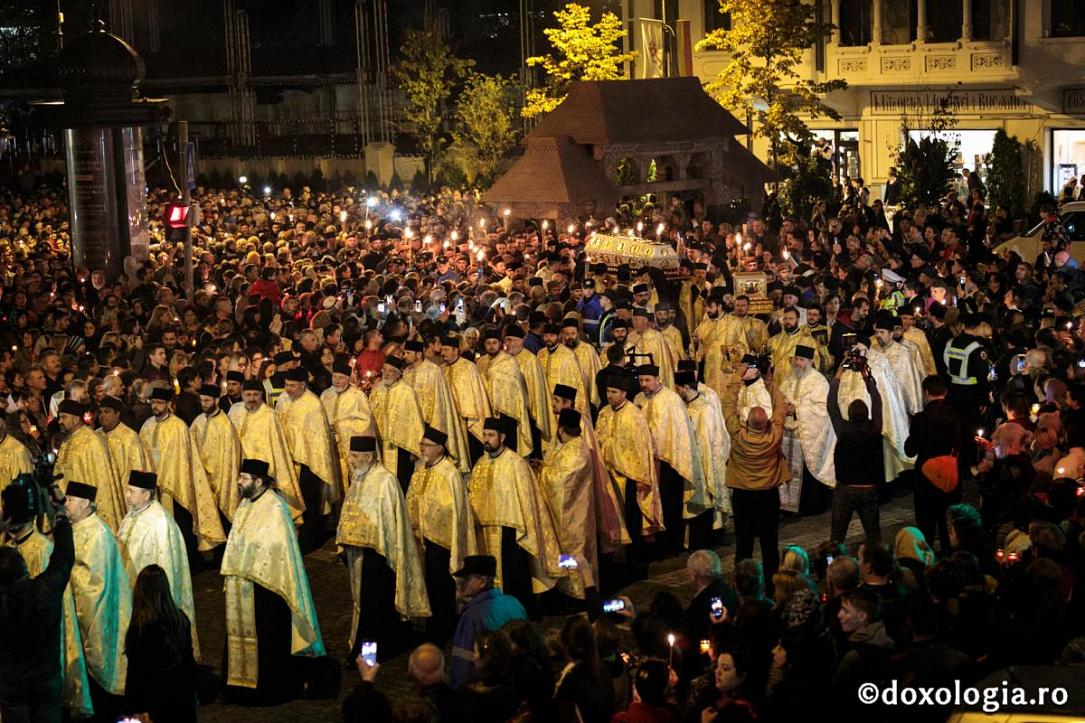 The largest pilgrimage in the country, which brings tens of thousands of people to the eastern Romania city of Iasi, started on Tuesday, October 10.
People go to the cathedral in Iasi every year around this date to pray at Saint Parascheva's relics. They usually spend hours in queues that can span over several kilometers.
Pilgrims from all over Romania and from abroad go to Iasi by car, or by train, to pray at the Saints' relics and attend the religious processions. Some of them, such as the inhabitants of Voluntari, a city near Bucharest, go there in organized groups. This year, about 150 buses took approximately 6,000 pilgrims from Voluntari to Iasi.
St. Parascheva's relics were taken out of the Metropolitan Cathedral in Iasi on October 10. After a short religious procession, they were placed outside, in the courtyard of the church. Around 55,000 people have already prayed at St. Parascheva's relics in just three days. The pilgrims had to wait up to five hours to get to the relics.
Hundreds of police officers and gendarmes are ensuring the public order around the Cathedral.
Saint Parascheva is considered the protector of Moldova and Bucovina regions and Christians believe in the miraculous powers of the relics. She is celebrated every year on October 14. The Holy Liturgy is also scheduled for Saturday, October 14, and will be held in front of the Metropolitan Cathedral. After the religious mass, the pilgrims will receive food from the local authorities. For example, the Iasi City Hall is preparing around 60,000 sarmale (pickled cabbage leaves stuffed with a mix of rice and seasoned minced meat) for the pilgrims.
Saint Parascheva lived in the first half of the 11th century and was born at Epivata, nowadays Boiados in Bulgaria. Her entire body preserved and wrapped, placed in a casket with a glass top, is on display at the Iasi Metropolitan Cathedral. The Saint's relics were brought to Iasi in 1641, during the reign of the ruler Vasile Lupu.
Religious Romania: Churches and monasteries that attract the largest crowds of pilgrims every year
Irina Marica, [email protected]
(photo source: Doxologia.ro; photo by Oana Nechifor)
Normal