Japanese PM Shinzo Abe invites Romanians to visit his country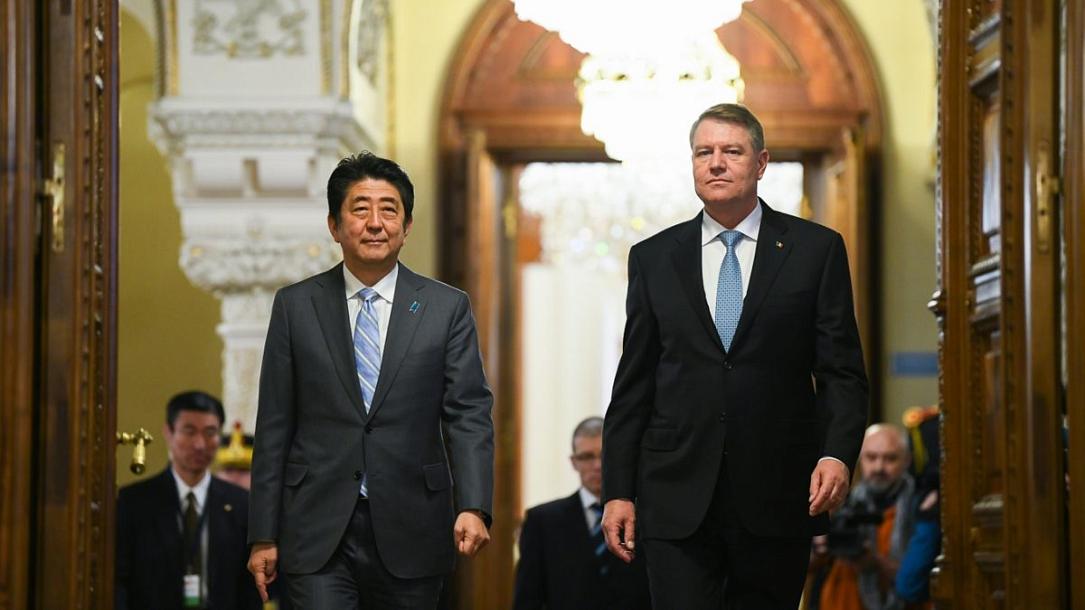 Japan has lifted the visas for Romanian citizens who want to visit the country, Japanese prime minister Shinzo Abe (picture, left) said on Tuesday after a meeting with Romanian president Klaus Iohannis (picture, right) in Bucharest.
"To encourage and consolidate the exchanges and cooperation in terms of human resources, we have recently decided to lift the visas for Romanian citizens who come to Japan and I hope more Romanians will come and visit Japan," Abe said, reports local News.ro. He didn't go into details.
Romanian citizens have been able to visit Japan without visas since September 1, 2009, if they stayed in the country less than 90 days. The Japanese authorities initially approved this measure for two years but have prolonged it since. At the end of December 2015, Japan expanded this measure until end-2018, according to available information.
Japan's prime minister Shinzo Abe visited Romania on Tuesday, January 16. This was the first visit of a Japanese PM to Romania in 100 years. He came with a delegation of CEOs and vice presidents of Japanese companies in various sectors, such as infrastructure, automotive, and IT, to discuss new business opportunities with the authorities in Bucharest.
Unfortunately, the Japanese PM had to cancel his scheduled meeting with the Romanian PM as Mihai Tudose resigned on the evening prior to his arrival the country. Romania's missed opportunity was best reflected by Euronews.com, which wrote "Anyone there? Shinzo Abe picks worst moment to visit Romania".
"Japan's prime minister travelled 8,700 kilometres to make a historic visit to Romania — only to find his opposite number wasn't there to welcome him," reads the Euronews article.
The Japanese PM and his wife took the opportunity to visit Bucharest's Dimitrie Gusti National Village Museum.
"Then, to avoid embarrassment for Abe, a meeting scheduled with Romania's president Klaus Iohannis for Wednesday was brought forward 24 hours," according to Euronews.
Iohannis said Romania and Japan wanted to strengthen their relations by launching a Strategic Partnership in the near future. Shinzo Abe added that the relations between the two countries are centered on business and that's why he came to Bucharest accompanied by the heads of some important Japanese companies. He added that consolidating the infrastructure was the most important theme for Romania's economy and that Japan was involved in this sector by helping with the project of the subway line between Bucharest and its main airport.
Normal