Declassified document: Army provided food, clothing to miners in 1990 Bucharest riot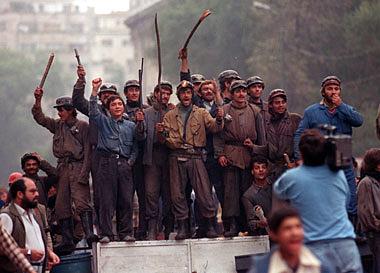 A document declassified this year by the National Defense Ministry shows the army provided food and clothing to the miners who were involved in the Bucharest events of June 13 – June 15, 1990, PressOne reported.
The June 1990 event is also known as the "miners' riot" and involved miners coming from Valea Jiului to supress the peaceful protests in Bucharest's University Square against president Ion Iliescu's political regime. Four people were killed and 1,388 were injured during the violent events while 1,250 were illegally held.
The document quoted by PressOne is an address sent on June 18, 1990 by the commander of the Army Services, general major Ionita Botos. In the document, he is requesting from general Vasile Ionel the approval of food and hygiene items to be distributed to the civilians "who have helped reinstate the order and quiet in the country's capital" between June 14 and June 17, 1990.
General Vasile Ionel was at the time the first deputy of the National Defense Minister. Ionita Botos was the uncle of general Ilie Botos, Romania's former general prosecutor between 2003 and 2006, and currently a deputy general director of the Army's General Division of Information, PressOne reported.
The Defense Ministry publicly funded food for the miners, the document shows. They received meat cans, sausages, bacon, butter, eggs and other food items. The miners also received hundreds of pairs of overalls, boots, underwear and socks, toothbrushes and personal hygiene products.
The total cost of these items stood at 866,000 old lei. The sum converts to some EUR 670,000, according to Press One estimates.
The case of the violent crackdown of the anti-government protests reached trial more than 25 years after the events and former President Ion Iliescu was sent to court in June 2017. The prosecutors investigating the case officially indicted him for crimes against humanity. Iliescu is believed to have called the miners to attack the protesters in Bucharest.
Former Prime Minister Petre Roman, the deputy prime minister Gelu Voican Voiculescu, and former Romanian Intelligence Service (SRI) director Virgil Magureanu were also sent to court on the same charge of crimes against humanity. Other former officials involved in the crackdown were sent to court, including local media mogul Adrian Sarbu, PM Petre Roman's chief of staff, and Miron Cozma, the leader of the miners' union.
Normal