Interview
#GirlsCode: From designing an app that impressed Steve Jobs to building the next Romanian unicorn in US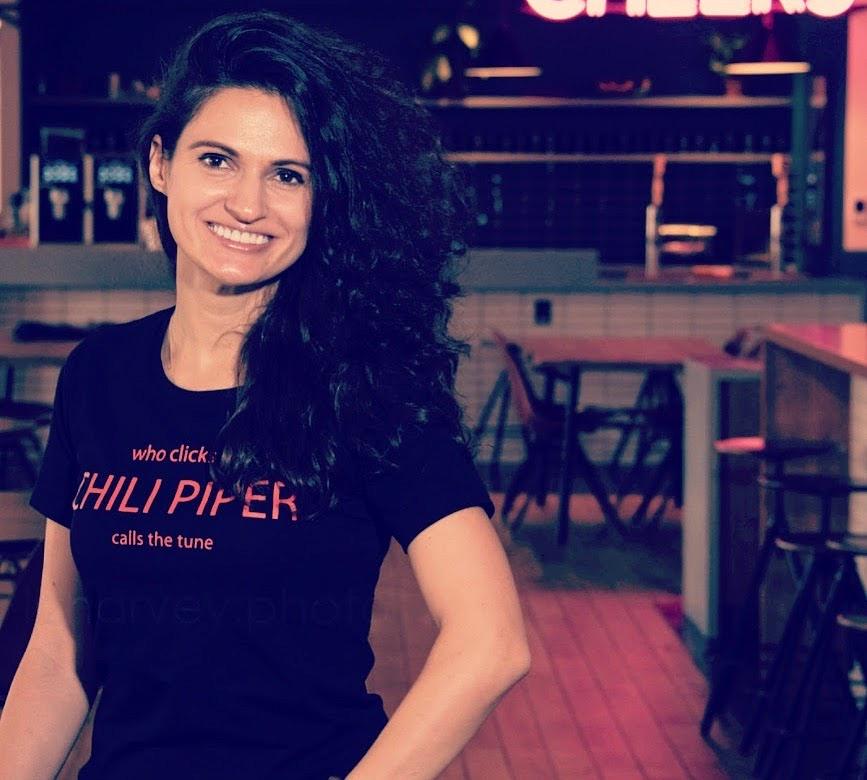 Alina's early love for maths later turned into a love for new technologies and the goal to create the "killer app" that make people's lives better. She moved from Romania to the US at a young age and, after working for big companies and adding new and valuable experiences to her career, she decided to follow her entrepreneurial passion. She started Chili Piper, a startup that helps companies get more value from sales prospects and increase revenues. The company raised USD 18 million in August this year and aims to reach unicorn status as soon as possible.
Alina Vandenberghe grew up and went to school (and university) in Bucharest, but started to build her successful career in the US, where she moved in 2008. She worked for big companies, earning valuable experience, and doing amazing things. In 2010, for example, Steve Jobs selected a news app she had designed as one of the few apps he showed during a demo for the iPad launch.
But she realized one day that "big, long meetings" are not for her, and that she needs to spend her time "creating software that's creating value in the user's life," as she told Romania-insider.com in an e-mail interview.
In 2016, Alina Vandenberghe and her husband Nicolas Vandenberghe launched Chili Piper - a suite of automated scheduling tools that help companies' revenue teams convert more potential customers into qualified meetings, faster. And success came quickly, as the startup became cash positive within six months after launch. The company also saw its team growing from five to almost 60 employees, while adding Spotify, Airbnb, and Monday.com to its list of clients.
The last few months have also been great for Chili Piper: not only that the startup celebrated the USD 5 million in annual recurring revenue (ARR) milestone, but it also closed a USD 18 million Series A funding round with Base 10, Flashpoint, and Gradient Ventures, Google's AI investment arm. The co-founders are now looking to hire "super-talented people" to help Chili Piper reach unicorn status as soon as possible.
In the interview with Romania-insider.com, Alina Vandenberghe talks about her journey from Romania to the US and her amazing career experience, about Chili Piper, how it's like to be a Romanian entrepreneur in the US, and what she misses most about Romania. Read the full interview below:
Please tell us a bit about your background
As a child growing up in Bucharest, I loved two things at school: painting (because of my mom) and mathematics (because of my dad). I was good at nothing else. Terrible in sports and mediocre in all the other subjects, but good enough to get by. Eventually, the love for mathematics grew stronger than anything else, and I decided to pursue Politehnica Bucharest thinking that I would figure out what to do with those interests and educational background.
Tell us about your 'journey' from Romania to the US - how did it happen, how do you like it there
I came to the US full time in 2008, freshly armed with my Politehnica degree and the many diverse professional experiences born out of necessity as a student in Romania - from selling cosmetics to modeling to technology research.
When I first put my hands on an iPhone, I understood that mobile was the future, and that's where I decided to focus my career. I quickly landed an internship at Thomson Reuters, under one of their mobile product managers. I barely understood what a product manager did at that time, but I loved the opportunity of being able to create things.
At Thomson Reuters, the little push of luck I needed came. In the early days of 2010, I was summoned to a basement looking office by our General Manager, together with my favorite iOS developer. We were NDA-ed to secrecy regarding a brand new prototype device chained to the room's table. Two months later, Steve Jobs selected the news app I had designed as one of the few apps he showed during a demo for the iPad launch. My career curved into a hockey stick matching the iPad's unexpectedly booming sales.
From there, I was fortunate to climb the Corporate America Ladder much faster than expected, from intern to Senior Vice President in six years. My annual compensation reached more than twenty times the combined income of my parents back in my hometown of Bucharest, so you can imagine how their jaws dropped upon the news that I was giving it all up to start my own company!
Please tell us briefly what Chili Piper is and what it does. What's its story? How did you come up with this idea, and why did you choose this niche?
As I was working for all these big companies, I realized pursuing these high-powered corporate positions is not me, not what I enjoy. Big, long meetings are not for me, I have to spend my time creating software that's creating value in the user's life. The lucky part is that I don't feel like I'm working when I do. It more or less feels like I'm on vacation every day.
Putting a large company between my users and me seemed suboptimal, both organizationally and financially. Around the same time, my husband Nicolas and I had many discussions about how the world of sales technology is likely to be completely reinvented by the new generation of software. Nicolas had jumped and started a company with some strong technology foundations and decent user adoption but was still struggling to design the "killer apps" that users love that make legendary companies. Was that destiny calling me?
A few weeks in, we uncovered a use case we could easily solve for - the distribution of meetings within revenue teams (I explain more on that below). As soon as I jumped in and started Chili Piper, I immediately felt like a fish in the water as if entrepreneurship was always written in my DNA.
Our current product at Chili Piper is pretty simple. If you are a company that sells to other companies, you usually have a "contact us" page on your site. After someone comes to your website, they usually have to wait hours or days before you get back to them because you have to figure out first who should talk to that person and whether that person is qualified to buy from you. In the meantime, your prospect changes their mind or maybe buys from your competitor. Most companies lose about 60-70% of their inbound prospects this way, which is crazy.
So what our tool does is simple: you insert a little Javascript on your form that qualifies and distributes the prospect to the correct rep in your company. All our clients see double digits increases in their revenue from it immediately.
Chili Piper was launched about four years ago. When did your business become profitable, and how did it grow since then (in terms of revenues, profit, client companies, employees)? Do you also have client companies from Romania?
We became cash positive within six months after launch. At that time, it was just five of us working in the company. Now we are almost 60 employees and serve cool clients like Spotify, Airbnb, and Monday.com. We just celebrated our $5M in annual recurring revenue (ARR) milestone last month (ARR means recurring revenue on an annual basis).
We do not yet have clients in Romania, but we are targeting that region of the world soon when we will launch a different version of our product in a few months that could cater better to the local market.
Chili Piper has just raised USD 18 million in a Series A funding round. What will you invest the money in, and what are your plans for the future?
We'd love to hire super talented people that could help us reach unicorn status as soon as possible. Ideally, we would find more of these candidates in Romania as I think schools here prepare for a really good work ethic and great engineering talent. More about the roles we currently have open on our site in the careers section. They can work from the mountains, from the sea, or from wherever they want. This would be the case even when the pandemic is over as Chili Piper is a globally distributed company.
How do you define/measure the success of your business?
We succeed in building a strong business that's made of culturally diverse people that are having fun. Life is too short to not have fun, and it's a shame to overlook the joy of working on hard problems.
How is it like to be a Romanian entrepreneur in the US? Do you have any tips for Romanians who dream of launching a startup in the US?
I would say my background comes with some benefits: I don't take things for granted because I know what poverty looks like in its real sense. And I am used to working harder than anyone else on my goals because I've been trained that way in school.
I don't know that entrepreneurship is for everyone, though. You have to be comfortable with a higher level of risk than most people. In theory, it all sounds wonderful - you have passion and talent, and you don't fit within your current ecosystem - just go off on your own. Simple. Except you have to earn money by building a business. That takes more than passion and talent. Just like Aurel Vlaicu had to experiment with the laws of aerodynamics to get his plane to take off, the laws of product market fit, growth hacking, and organizational design will get you on the way to your dreams of weightlessness.
That being said, the US is a better medium for any kind of dream as the economy is streamlined at a completely different level. I can't wait for Europe and Romania to evolve in the same direction when it comes to a flourishing economy.
What about the Romanian startup ecosystem? How would you compare the challenges of launching a company and raising financing in Romania compared to the US?
For sure, doing business in Europe is very different from the US. Our European clients take much longer to make a decision to purchase a software tool. They are very cautious with any kind of spending or hiring. Same with Venture Capitalists. When the global pandemic hit, we were advised to take drastic actions in our spending immediately because of the way markets operate in these regions. Operating in Europe and in Romania is much harder for a startup. It takes more resilience and more patience.
What do you miss most about Romania?
This is something I have a hard time describing in words, but homelands always have the power to "call us." If a long time goes by and I don't visit (like it's the case now), I miss it dearly, and I can't really explain why. There's some magnetism of some kind that's not very rational. I can have the same food prepared by my Mom in New York, and I see my family on video, yet being there has a different feeling altogether.
Irina Marica, irina.marica@romania-insider.com
(Photo source: courtesy of Alina Vandenberghe)
Normal