Winter travel planner: The Transalpina Ski Resort in Romania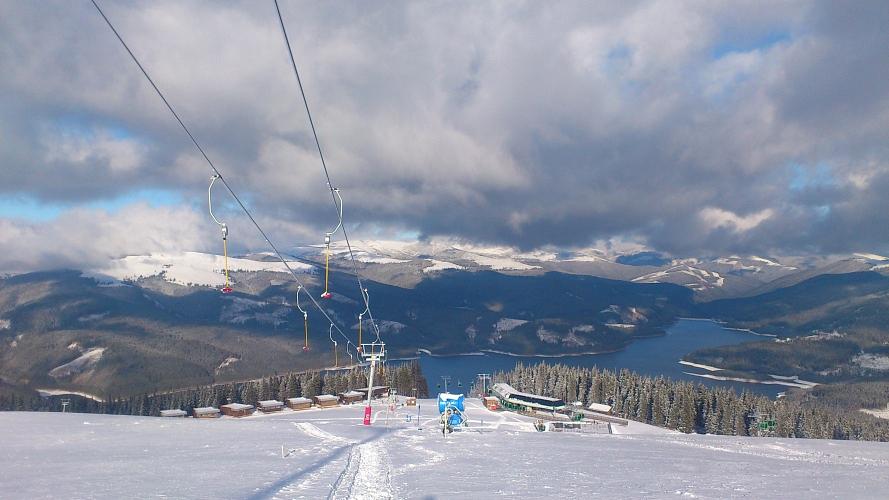 You might want to put Romania on your list of winter holiday destinations, especially if you are a fan of winter sports. Romania's Carpathian Mountains offer a wide range of ski resorts, with the ones on Prahova Valley being the most popular.
However, the Transalpina Ski Resort could turn out to be the perfect choice, mainly because it's less popular and thus less crowded, but also because of its beautiful landscapes.
The resort is located in Voineasa, Valcea county, near the Vidra Lake, some 300 km away of Bucharest (between 4 and 5 hours of driving). To get there, you take the route to Sibiu, but when you reach the town of Brezoi (between Ramnicu Valcea and Sibiu), you turn left. The ski area is close to Transalpina, the highest road in Romania, hence its name.
The Transalpina Ski Resort has a total of seven ski slopes. Three of them are for beginners, being included in the very easy category: one with a length of 350 m, another one with a length of 675 m, and a third one with a length of 120 m.
There are also three ski slopes in the easy category: two slopes with lengths of 730 meters each, and another one which is 1.23-km long. If you are a more experienced skier, you can try the slope with medium difficulty, which has a length of 2.25 km.
The resort also has several cable transport facilities, including two gondola lifts, a chairlift, and two drag lifts.
The prices are also lower compared to those in the Prahova Valley. A one-day skipass costs RON 85 (some EUR 18), a skipass to be used after 12:30 has a price of RON 55 (EUR 12), a 7-day skipass costs RON 450 (EUR 100), a 3-day skipass is RON 210 (EUR 46), and a 2-day skipass has a price of RON 150 (EUR 33).
You can also choose one of the skipasses with 50 points (EUR 22) and 25 points (EUR 11). In this case, you should know that a climb with the gondola lift costs 10 points, a climb with the chairlift has a value of six points, and a climb with the drag lifts costs between three and four points (depending on which one you take). The points are valid for a period of 30 days.
The students and children benefit from discounts. The transport system works daily between 09:00 and 16:00.
There are also two places where you can have hot drinks and eat something before having some more fun on the slopes, as well as parking.
Find more information and see live images from the resort here.
You can find accommodation near the ski resort, the prices varying from RON 70-80, to some RON 150 per night. There are several guest houses nearby, such as Transalpina Lac, Hanul Haiducilor, and Vilele Vidra.
Local authorities plan to expand Romania's Transalpina Ski Resort
Irina Popescu, irina.popescu@romania-insider.com
(Photo source: Trans-alpina.ro)
Normal