Thousands rally in Bucharest, other Romanian cities for night protests against changes to criminal law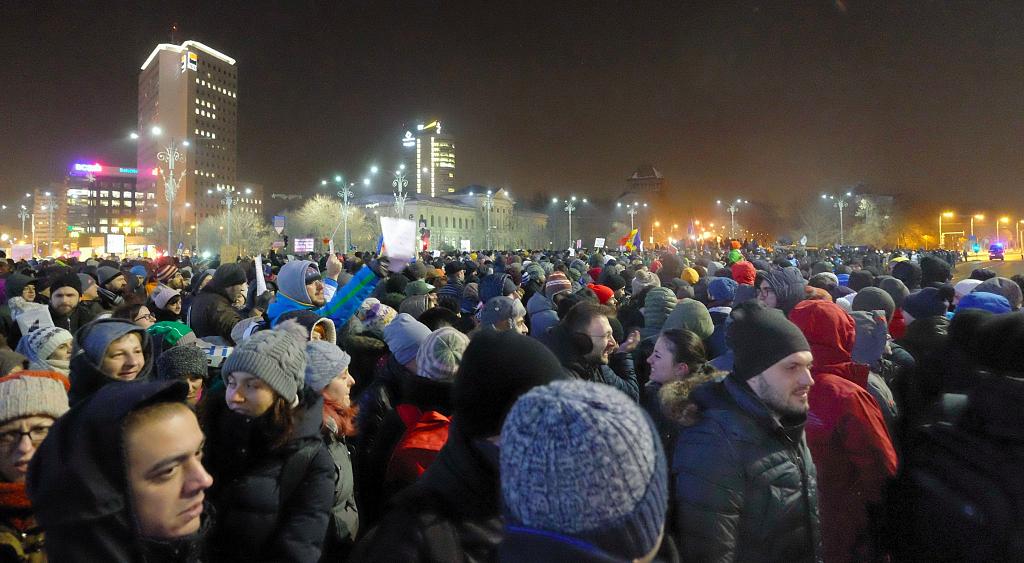 Hundreds of people started pouring in Bucharest's Victoriei Square, to protest in front of the Government's building, after the cabinet unexpectedly approved an emergency ordinance to change the criminal law on Tuesday evening, January 31.
Update February 1, 2017 --> Largest street protest in 25 years takes place in Romania (photo gallery & live updates here)
The ordinance partly decriminalizes some major corruption offences, such as abuse of office and conflict of interest, and makes denouncements valid only if made within six months after the crime.
By midnight, some 4,500 people gathered in front of the Victoriei Palace, asking for the Government's resignation. Hundreds also went to the streets in Cluj-Napoca, Sibiu, Timisoara, Brasov, and Iasi. The people shouted "Thieves!", "PSD, the red plague", "Traitors", and "You won't get away with this", and seemed determined to continue the protests until late in the night, according to local Digi 24 news station.
Most of the protesters are young people who have mobilized on Facebook. They are angry that the Government has ignored the 90,000 people who marched in Bucharest and other big cities on Sunday against the initiative to change the criminal law.
The protests were peaceful, the same as the ones in the previous days.
Update 0:15 - Some 10,000 people are protesting in the Victoriei Square, according to News.ro. All the streets leading to the square were blocked.
Update 0:50 - The number of protesters in Bucharest reached some 12,000. There were also 5,000 people gathered in Cluj-Napoca, 3,000 in Sibiu, 2,000 in Timisoara, and 1,500 in Brasov, according to Digi 24 news station.
Update - The protest in Bucharest ended after 2:00 AM.
Hundreds of people started rallying in front of the Government's headquarters in Bucharest for new protests on Wednesday morning.
editor@romania-insider.com
Normal