Summer special: Seaside resorts in Romania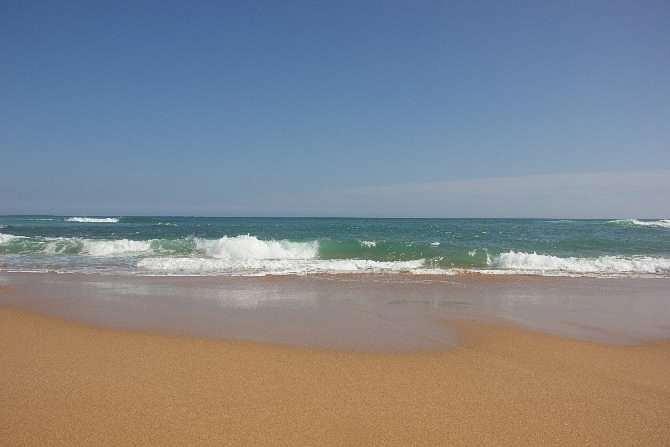 Romania is a country that has it all: mountains, forests, hills and plain lands, lakes and the sea. Although the country still has some work to do when it comes to promoting its natural beauties, all these places usually speak for themselves.
The Romanian Black Sea coast has a lot to offer, from noisy, modern beaches, to ancient monuments and quiet beaches. The Black Sea resorts stretch from the Danube Delta in the north, down to the Bulgarian Black Sea Coast in the south. Everyone can find the perfect place on the Romanian coast: there are expensive modern beaches, but also places for families, students, or those who just seek peace and quiet.
If you want to spend your summer holiday in Romania, here's a list of local seaside resorts:
Constanta is the city capital of Romania's Constanta county, and the most important city in Dobrogea region. Besides the country's main port, the city also hosts an international airport and a large train station. Its historical monuments, ancient ruins, the grand Casino, touristic port, museums and shops make Constanta the main point of the Black Sea coast tourism. Tourists are also attracted by the city's beaches and clubs. Constanta City Tour buses take tourists from the city's train station to the barrels area in Mamaia.
Mamaia is one of the most important and most expensive seaside resorts in Romania, which usually attracts rich young people who want to spend the summer holiday partying. The resort's nightlife has options for everyone: there are restaurants and cafes, terraces, pubs, and luxurious clubs that stay open all night long. You can also do several water sports here, such as sailing, water skiing, windsurfing, scuba diving, and swimming. There is also a large number of shops and boutiques in Mamaia, which sell clothes, shoes, souvenirs, and traditional products. In terms of accommodation, prices are usually high in Mamaia, especially in the high season. The resort hosts a large number of hotels, from 2 to 5 stars, usually located near the beach. The season starts on May 1 and lasts until end-September.
Eforie is a Romanian seaside resort located in Constanta county, near Techirghiol Lake. It is divided into two parts: North Eforie and South Eforie. The small towns usually attract families with children, as they are a little bit more isolated and quiet than Mamaia. People also go here for spa treatments. The mud from the lake is used, together with the salty water, in the treatment of many health conditions such as rheumatism, or dermatological and metabolic disorders. The accommodation prices are also lower in Eforie, compared to Mamaia for example.
Mangalia is a city and a port located at some 45 km south of Constanta. Besides its beaches, the resort is also known for hosting one of the largest music festivals in Romania - Callatis Festival. Some other tourist attractions of the city are the Scythian tomb discovered in 1959 where archaeologists found unearthed fragments of a papyrus in Greek, the ruins of the Callatis citadel, and the Archaeology Museum. People also come here to treat several disorders, such as rheumatic disorders and skin problems.
Popular among young people, Costinesti is great for those who want to party on a low budget. The resort usually attracts students, due to the large number of attractions and low prices. There are also plenty of villas, guesthouses, and hotels that offer quality accommodation services at fair prices.  One of the resort's main tourist attractions is the shipwreck of a Greek cargo ship. Located at some 30 km south from Constanta, Costinesti can be accessed by car or by train.
Vama Veche is another popular resort among young people. Located at the border with Bulgaria, this resort attracts a large number of students every summer, especially during the May 1 mini-break, which also marks the beginning of the summer season. Young Romanians and foreigners are not only attracted by the long parties on the beach, concerts and other events but also by the low prices. Tourists can stay in hotels and guesthouses, but can also bring their tent and camp on the beach or in locals' gardens. Despite its new commercial look, the resort's spirit is all about 'freedom and having fun'.
Neptun, which is named after the  Roman sea god Neptune, is one of the largest resorts in the southern part of the Romanian Black Sea coast. It is a popular place for families, as it is not as noisy as Costinesti or Vama Veche. Romania's President has a holiday villa at Neptun, which has direct access to the beach as well as a pontoon for boats. Access to the area surrounding the villa is restricted. Neptun is very close to other resorts such as Olimp, Jupiter, Venus, and Saturn. Some of these resorts, however, are in bad condition due to lack of investments in modernising the hotels.
Although most people link seaside resorts to lying in the sun during the day and partying through the night, Romania also has quieter beaches, perfect for those who just want to relax and have a break from civilization.
2 Mai, located just 4 km from Vama Veche, is a small resort with cozy, peaceful atmosphere that usually attracts middle-aged tourists. It doesn't have modern accommodation facilities, but it offers tourists some quiet time at the seaside. You can stay at the small hotels located near the beach, find a room in locals' homes, or spend your holiday in a tent. There are also restaurants, cafes, and clubs.
Gura Portitei in the Danube Delta is a great place for those who enjoy peace, fresh air, crystal clear water, and open space. There is also a wide range of recreation facilities, from daily trips on the Danube channels to renting rowboats, motorboats, hydro bikes, ski jets, tennis and volley grounds, as well as fishing. You can't reach it by car. To get there, you have to drive to Jurilovca village and then take a passenger ship or a motorboat to cross the Golovita lake.
Sfantu Gheorghe beach is another quiet place in the Danube delta. Located at some 3 km from Sfantu Gheorghe, this is one of the few virgin beaches in Romania, where you can spend some quality time with your family. You can also camp here, the only problem being the long distance to the water and food supplies in the village. From Sfantu Gheorghe, you can walk to the beach (a 20-30 min walk), or you can take a tractor with a trailer specially arranged to transport people.
Those who want a quiet holiday at the beach can also choose Corbu or Vadu beaches in Romania. Although they are not easily reachable, the beaches offer clean water, sand and the sun, all you need for a relaxing time. To get to Corbu and Vadu, you have to drive past Mamaia and Navodari. We've previously written about these beaches here.
Irina Popescu, [email protected]
Normal