Spring tradition in Romania: Martisor, the changing of seasons symbol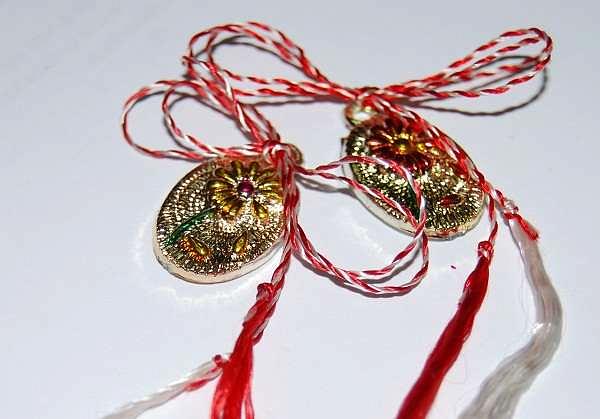 Romania marks the changing of seasons and welcomes spring in its unique way. The Martisorul (trinket in approximate English) is a small symbolic item that men offer to women between March 1 and March 8 as a sign of love and respect, but also to mark the beginning of the new season.
They are usually small items, such as handmade jewelry, flowers or small cards, tied with a red and white entwined cord.
Most Romanian women expect to receive something like this on March 1, so men shouldn't forget to buy one for their wives, girlfriends, women colleagues or friends. It's a special tradition in Romania so it shouldn't be hard to find a martisoare trader to buy them from, as they are present almost everywhere on the streets. You can also buy them from most hypermarkets, supermarkets and shopping centers.
If however you choose to offer a more personal object as a gift, such as a special flower or a jewelry, don't forget to tie the red and white cord to it, as this has a special meaning. The red is said to represent the spring and the heat, while the white represents the winter and the cold.
Women too choose to exchange martisoare in this period, but this is not a must. Some of them decide to offer these small gifts only to close friends and family.
The tradition of martisor is said to have originated from Roman times. Initially made just from two red and white twisted threads of wool, the martisor has evolved to nincorporating a small piece of jewelry, a flower, or a handmade item attached to the red-white string.
The name martisor is the diminutive of mart, the old folk name of March (Martie in Romanian).
Some of Romanian women wear these small symbols all March, as it is believed that the one who wears the red and white string will be strong and healthy in the year to come. On the last day of March, they tie the red and white string to a branch of a fruit tree, as it said to bring wealth.
However, mostly in urban areas, the martisor lost some of its talisman properties and became more of a symbol of friendship, love or appreciation.
On March 8, Romanians also celebrate the International Day of Women. It's the day when, as a sign of love, respect and gratitude,  women usually receive flowers and gifts.
Women's Day is the last of a series of celebrations that start on February 14 with Valentine's Day, and continue with Romania's own lovers' day Dragobete on February 24 and Martisor Day on March 1.
A short guide to Romania's spring symbols 'martisoare': where to buy them in Bucharest?
Irina Popescu, irina.popescu@romania-insider.com
Normal