Skiing in Romania's Bucovina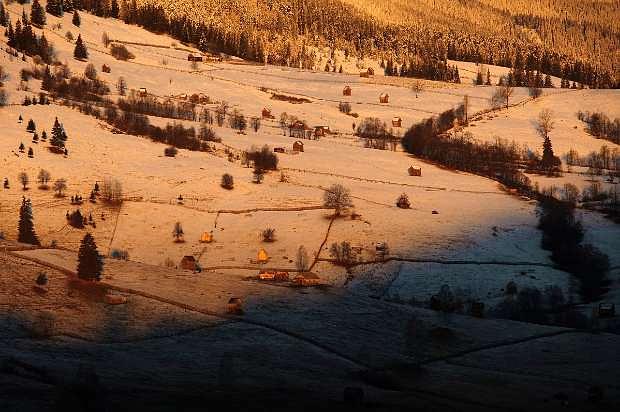 It's winter and the ski resorts around Europe are hosting enthusiastic skiers on holiday, as we speak.  But very few people outside Romania are aware of the fact that you can ski in Romania, so as a foreigner you can easily feel like a pioneer.
I was born in the very north of Sweden, in Lapland and I have been skiing since I was 5 yeas old; I am 42 now. I have enjoyed skiing in Scandinavia,  the French and the Italian Alps.
I have been rediscovering Romania in the last two and a half years, and last year the Carpathians were calling me.  Mi-e dor de munte : I long for the mountains.
I wanted to try skiing in Bucovina. A friend of mine helped me  finding a small, friendly place, where it would be easy to go skiing with my two children aged  5 and 8. We decided on Vatra Dornei in Bucovina. Bucovina, because my soul spoke to me !
We flew to Bucharest and drove to Bucovina, via the land of Fagaras and the beautiful town of Sighisoara.  We choose a longer route because  we wanted to see those places too, and to meet with friends in Mandra.
It was cold and the sky was crisp and clear. I went with no expectations. Some Romanians said to me " Oh, but nobody speaks English up there, and the slopes and resorts are not so developed, don't come back  disappointed".
I decided to go with only one thing in my mind: curiosity !
We arrived at a wonderful pension  in Poiana Negrii, owned by a very hospitable couple. We started the day with a traditional Romanian breakfast.   My children loved the pancakes ( clatite ) and I had tocinei  cu smantana, potatoe pancakes.  Many of the products they used were from their own farm. I could come back only for the food ! Romanian food is tasty, varied and delicious !
We skied in Vatra Dornei, which is a medium-sized ski resort. My children had private tutors who both spoke English. They were extremely friendly and helpful. We rented all the equipment from  a ski shop by the slope,  and all went very smoothly. The temperature was pleasant in February and on the side of the slopes I could see farmers working their land. That made me smile.
When we came back from skiing we could enjoy a delicious dinner, all made from natural products. We enjoyed homemade sausages  and with them, cheese, onions and bread. Their sarmale were out of this world! Those who know me, know that sarmale is one of my favorite Romanian foods.  In addition we had Ciorba de fasole cu costita afumata. That is bean soup with smoked bacon. I drank visinata and zmeurata. Good times ! 
Close to the pension was a Village Museum. What was so special about it was that it was the home of a three-generation family. The grandparents had collected items throughout their whole life.
There were everyday objects made of ceramics that the grandfather had collected, and beautiful wooden items of which most he  had made himself. There were also IE's, traditional skirts, vests ( bandite)  and table cloths, that the grandmother herself had made throughout her life.
My children and their grandson played together in the afternoons and I could listen to the stories that the grandfather told about the  objects he showed me.
The soul of Bucovina  are the mountains, the peasants and their animals, the soil, the color and folklore and indeed the stories. So skiing in Romania was more than just a skiing holiday. It fed my spirit!
By Yvette Larsson, guest writer
(Opening photo: Copyright Vlad Dumitrescu; inside photos by Yvette Larsson)
Normal