The Romanian whose life looks like a movie script: from robber and jail breaker to endurance runner and hero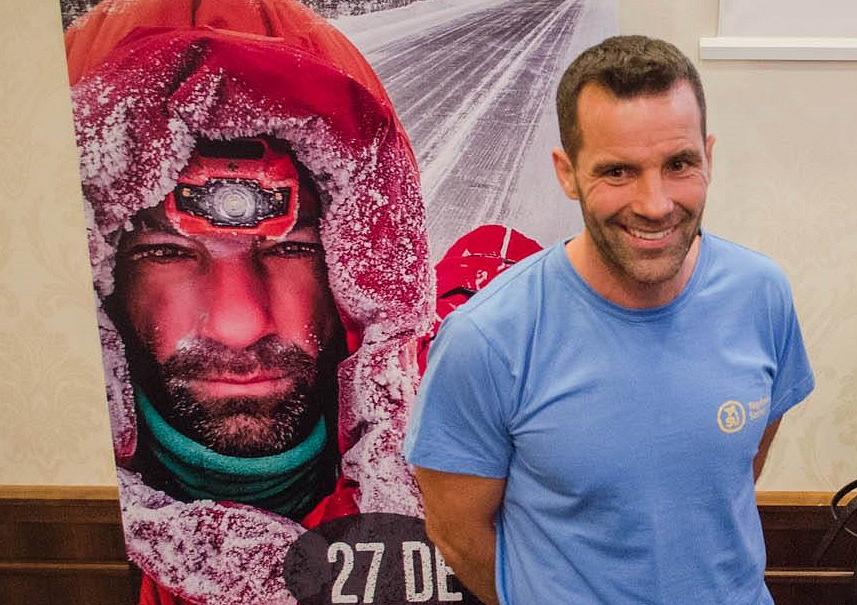 Romanian ultra-marathoner Tibi Useriu became a local hero in his home-town of Bistrita and in Romania in March 2016 when he finished first one of the toughest races in the world, a 560-kilometer race across the Arctic Circle called the 6633 Ultra.
The 42-year old athlete became an inspiration for many Romanians for his formidable will, which helped him endure wind and temperatures as low as -50 degrees Celsius in the wild Canadian north.
But his life story is even more amazing and could easily be mistaken for a Hollywood movie script. Tibi Useriu tells it all in his autobiography 27 de pasi (27 feet), a 200-page confession of how a series of bad decisions in his youth took him to a white prison cell, where he buried the best ten years of his life, and how he managed to recover from that through sport. His comeback started in the 27-foot prison yard where he was allowed to walk every day for a few minutes.
"People know me as an endurance runner. What they don't know is the story of my parallel life. I was, by turn, servant at shepherds in the Bargau mountains, swineherd in the Romanian army, political asylum seeker in Berlin, pizza maker in an Italian restaurant, bodyguard to a Serbian underworld leader, witness in a gambling hall in Gran Canaria, and armed robber," Tibi Useriu writes in the foreword of his book, according to Mediafax.
"I've broke out of two European prisons, but not from the third. Hunted by Interpol, I became a client of a maximum-security prison. Thus, for almost 10 years I missed my youth, locked completely alone between four very think white walls," Useriu continues.
In the book, Tibi Useriu tells how he and two partners started robbing jewelry stores in Austria using methods they had seen in American movies such as Heat, a famous action film starring Al Pacino and Robert De Niro. They used stolen cars and guns that they were "ready to use". He was 22.
"Back then I was living a whole different life, within my own life. I was a robber and, according to the judges, I was a very dangerous gang leader. After many years, from the prosecutors' files, I would rediscover my life path – for example that I had been betrayed by a strand of hair mixed among some diamond gold jewels," Useriu writes in his book, according to Mediafax.
He was caught three times, but managed to pull two escapes. The third time, he was sent to a maximum-security prison in Germany. He was 25 and he was sentenced to 23 years in prison: 13 years in Germany and over nine in Austria. In prison, he became inmate number 2,800 and spent almost ten years in a small cell. In the solitude of his jail cell he dreamed of running for the first time.
Tibi Useriu got out of prison seven years ago and managed to put his life back on track. His brother, Alin Useriu, who manages the Tasuleasa Social association, one of the biggest NGOs in Romania, helped him rehabilitate. Now, they run the association together.
Tibi Useriu says he wrote the autobiographical book to give both a negative and a positive example to the young people who look up to him and to remind them not to get carried away in the wrong direction. He says the book also shows how someone can change if he sets his mind to it.
"The past must understand that it can't have the last word in a man's life. It's just a part over which everything, anytime, can be rewritten," Useriu says.
His autobiographical book 27 de pasi can be purchased from the Tasuleasa Social website. The book is currently available only in Romanian.
In two weeks, Tibi Useriu will fly to Canada, where he will run again in the 6633 Ultra and try to defend last year's victory. He also aims to break the competition's record, set in 2007 by famous British athlete Mimi Anderson, who completed the 566-kilometer race in 143 hours and 25 minutes.
"Ice Man" Tiberiu Useriu, winner of the world's hardest ultramarathon, gets a hero's welcome in Romania
editor@romania-insider.com
(Photo source: Tasuleasa Social on Facebook)
Normal