Romanian Prime Minister defies his party leadership after losing political support: I won't resign!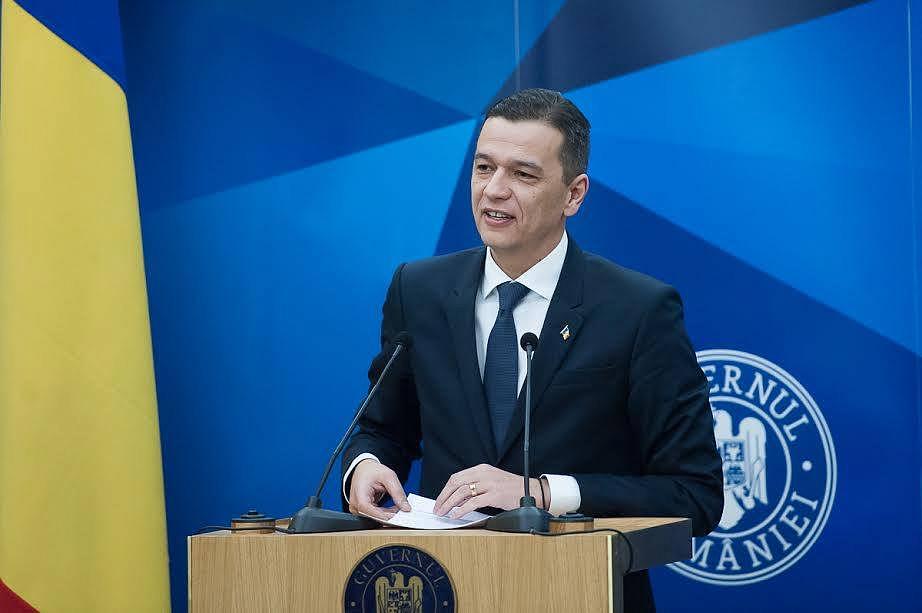 Romania's Prime Minister Sorin Grindeanu took a firm stand against his party leadership on Wednesday evening saying that he won't resign despite losing political support for his cabinet. Earlier in the evening, the leader of the Social Democratic Party (PSD) Liviu Dragnea announced that all the Government's members handed in their resignations and called on Grindeanu to step down.
PSD's executive committee decided on Wednesday evening to withdraw political support for Sorin Grindeanu's cabinet, after less than six months of activity. All 68 of PSD's executive committee members voted for this decision. Moreover, the PSD leaders also voted a decision saying that any PSD member that would accept to join a new cabinet led by Grindeanu would be excluded.
The official reason for asking Government's resignation is the unfulfillment of the projects included in the governing program, based on an internal analysis made by a PSD committee.
Coalition partners ALDE also withdrew their support for the cabinet.
In a long press conference, PSD's Liviu Dragnea and ALDE's leader Calin Popescu Tariceanu tried to justify their decision to withdraw support for a cabinet they voted less than six months ago. They tried to place the blame on Grindeanu for all of his cabinet's unfulfillments and suggested that the PM failed to coordinate his ministers properly.
Sorin Grindeanu's answer came shortly after that. During a one-hour press conference from the Government's headquarters, which ended at midnight, Prime Minister Sorin Grindeanu broke down the arguments for his cabinet's dismissal. He challenged the evaluation of his cabinet's activity and the party's leaders, appealing to the hundreds of thousands of PSD members in what some would call a declaration of war to PSD leader Liviu Dragnea.
During his speech, Grindeanu emphasized that he has been a PSD member for 21 years and that the executive committee that voted to withdraw political support for his cabinet was not the same as the whole party. He added that the hundreds of thousands of PSD members were what made the party so powerful.
"This is Romania's Government, not the (PSD) executive committee's Government," said Grindeanu. "I have been trying to understand why this fury to change this Government after six months, a cabinet that has performed well and has had results," he added.
"I've been trying to understand why Mr. Dragnea has been talking about dismissals and Government reshuffles in the past month. Why put pressure on your own ministers, who you named there? Maybe there is one answer: one man's wish to have all the power. I couldn't find another one," Grindeanu said.
He also presented some of the accomplishments during his mandate, such as the fact that Romania had the highest economic growth in the EU in the first quarter, and also listed some of the rpojects in the Governing program that his cabinet had implemented. He said that 54 of the 97 projects that were supposed to be carried out in the first half of this year, according to the governing program, have been implemented and only 9 haven't been started.
The internal evaluation presented in the party's executive committee meeting showed that the Government led by Grindeanu only achieved 13% of the provisions in the governing program, according to sources quoted by the local media. The PM dismissed this evaluation and repeatedly mentioned that the man who presented this report was former finance minister Darius Valcov, who resigned after being investigated for corruption.
Grindeanu said that he was in no way involved in this evaluation, which he doesn't find fair. "This evening was the first time I saw this evaluation made by Darius Valcov, who is not even a PSD member as far as I know. Nobody knows who was part of the famous evaluation committee besides Mr. Valcov," said the PM. "This is why I think that what happened today with this evaluation was only a pretext for them to say that I must resign," he added.
However, Sorin Grindeanu said he was willing to resign in certain conditions. His main condition was that President Klaus Iohannis would guarantee somehow that he would name a PSD member to replace him. He added that he didn't want his party to lose the Prime Minister's seat.
He also said that his resignation should be accompanied by that of Liviu Dragnea from PSD's helm, as it was Dragnea who named all of the ministers in his cabinet and thus he should also share the responsibility of the failed objectives. He added that he wouldn't accept the same conditions if he were proposed the PM seat again.
When asked if he would adopt emergency ordinance 13 again, if he were in the position to do it, Grindeanu answered that he would certainly adopt ordinance 14. Emergency ordinance 13 was the infamous bill that changed the Criminal Code and partly decriminalized abuse of office, at the end of January, sparking the biggest street protests in Romania's recent history while ordinance 14 repealed ordinance 13.
Many believe that justice was the main reason why Liviu Dragnea and the other PSD leaders insisted on changing the Government. After the scandal related to the changes to the Criminal Code, the Government has been more cautious in its approach and passed the responsibility to the Parliament.
The recent change in Grindeanu's relationship with PSD leader Liviu Dragnea won him many fans outside his own party. Some of the people who protested for over a month in front of the Government's headquarters in Bucharest asking for his resignation after the ordinance 13 scandal went to the square on Wednesday evening to show their support for the PM.
Political scandal in Romania's governing party reaches climax today: PM may be excluded from the party
editor@romania-insider.com
Normal