Romania travel: Five reasons to visit Mediaș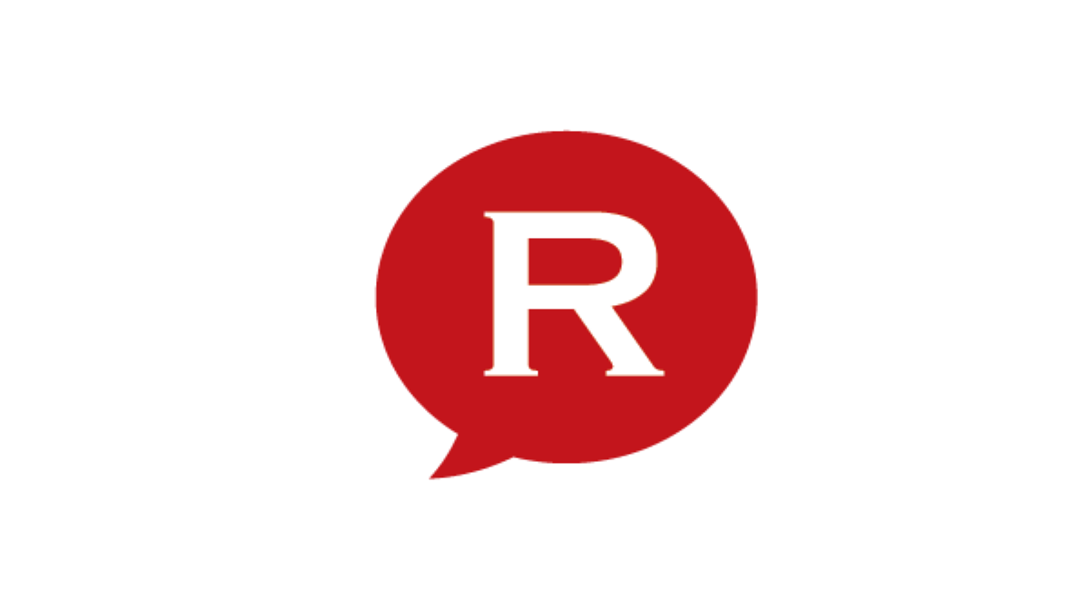 In an area replete with Saxon heritage, the town of Mediaș is somewhat of a hidden gem. The neighboring Sibiu and Sighisoara more often find a spot in travelers' plans but those who take the time to visit this small, 750-year-old town are well rewarded.
Discover a wealth of architectural styles and historical monuments
The Old Town of Mediaș has often been called an open-air museum because of the many historical buildings and monuments it hosts.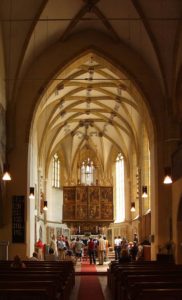 The altar of the St. Margaret Church by Pudelek (Marcin Szala)/ Wikipedia
The fortified St. Margaret's Church is one of the town's landmarks. It was built in the 15th century by the Transylvanian Saxon community. It is a Lutheran church, featuring a Gothic winged altarpiece, dated between 1480 and 1520 and adorned with eight painted panels depicting the passion of Christ. In addition to various wooden and painted epitaphs that decorate its interior, the church also hosts a collection of Anatolian rugs from the 16th to 18th centuries. Its tilted tower, known as the Trumpeters' Tower, is eight meters high.
The Franciscan Monastery is another religious monument in Mediaș. It was built in the 15th century and, in time, it also served as a hospital.
Visitors can also stop by the 18th century house of Lutheran pastor and historian Stephan Ludwig Roth; the 16th century house of the Schuller family, an edifice that throughout its history hosted an inn and a pub but is today used as a cultural venue; the house of the Rosenauer family, involved in the wine-making trade; or the Piarist School, where a school led by the Piarist Order functioned until 1790.
See how the town defended itself centuries ago
In addition to a well-preserved historical center, Mediaş retains many medieval fortifications that were built to defend the prosperous medieval settlement.
The town's medieval towers also worked as defense bastions and their names speak of the manufacturing and trade activity on site, as is the case with the Tailors' Tower, the Wheelers' Tower or the Blacksmiths' Tower. Other towers, such as the Tower of the Bells or the Rope Markers' Tower, had several openings that were used to throw projectiles or hot water at attackers. The latter later became a "lard tower" as people used to store here the smoked lard.
Another landmark tower in town is the inclined Trumpeters' Tower, the tower of the St. Margaret church. As it was built to rival the highest ones in the region, it soon became an observation point from where the town's trumpeter announced the dangers that threatened the residents.
The Cutlers' Bastion and the Furriers' Bastion add to a longer list of the town's defense constructions.
Explore mysterious symbols and emblems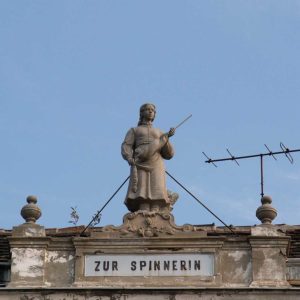 Zur Spinnerin Photo: Daniel Tellman/ Wikipedia

Mediaş is a town that invites travelers to discover its secrets. Many of its constructions carry the symbol of the wine-making tradition in the area - the grape- but there are also signs of the times when witches were hunted and weavers were spinning "the thread of life." At the same time, numerous figures represented on the buildings of Mediaş are angels, muses or Fates. One of these figures is the Spinner (Zur Spinnerin), a statue place on one of the town's monument buildings in the George Enescu Square.

 

Get to know its industrious side

In between the 14th and the 19th centuries, Mediaș had a well-developed guilds activity. The first to be established were the ones of the tailors and of the cloth makers, in the 15th century. By the end of the 17th century the town had 33 guilds. Those visiting the Mediaș Municipal Museum can discover many of the objects, flags, seals and items that were the property of the guilds, in addition to collections of old books and paintings, and Romanian, German and Hungarian popular costumes. An important item of the museum is the silver seal of the "Medias fair" dating from 1448.

In the 19th century, the first plants started to appear on the surroundings of the medieval burg. The first plant, established in 1881, manufactured leather items. In 1985, a factory that produced the Sibiu salami was established in the town, also known for the production of methane gas. To mark the importance of the gas exploitation in the area, a Natural Gas Museum opened there in 2010.

Try the local wines

Mediaș is located in the Târnavelor Valley region, a landmark wine-making area that used to carry the old designation of Wine Land or Weinland, as it appears on the 16th century map of Saxon humanist Johannes Honterus. The area's vine-growing tradition is captured in the town's coat of arms, which features a golden vine with three red grape bunches.

The locals also like to reference the mention made to the wine called Golden Mediasch in Bram Stoker's novel Dracula. The wine was said to "produces a queer sting on the tongue, which is, however, not disagreeable."

For those looking to sample Romanian and international wines, Friends Wine&Coffee is a good stop in town. The tasting bar and store regularly organizes tasting sessions, many held in English or German. More about the venue here. Among local wine markers, producer Jidvei has a large vineyard in the Târnavelor area. And as a first this year, beginning September 21 Mediaș is hosting the wine festival Winefest Mediaș, combining wine tasting and live music concerts. Traditional food from the Mărginimea Sibiului area, cauldron-cooked food, pies and elder flower juice are also on the menu, the organizers announced.

How to get there:

From Bucharest, Mediaș is a five-hour drive away taking either the E81 or the DN1/E60. The town is only 55 km north of Sibiu, which can be reached faster by plane.

(Opening photo: a view of the Trumpeteers' Tower by GazMetanMedias/ Wikipedia)

editor@romania-insider.com

Normal

-->