Romania to buy 24 second-hand aircrafts from US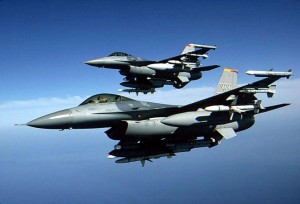 Romania will buy 24 second hand F16 aircrafts and technical assistance for USD 1.3 billion from the US state, the Romanian authorities have decided, but the decision still needs Parliament approval. Romanian personnel will be also trained in US military bases. The second hand aircrafts have been used by the US aviation in operations such as Iraq and Afghanistan and are still fit for 10 to 15 more years of flying. The first such aircrafts will be delivered in Romania in 2013.
The acquisition is part of a strategic partnership between Romania and the US. This is the first stage of an acquisition process which further includes another 24 F16 aircrafts, with a final stage in buying 24 F35 aircrafts. The configuration of a F16 aircraft allows Romania to keep its engagements as a part of the NATO. The Romanian De fence ministry considered five new models of aircrafts and one second-hand.
Lockheed Martin will be the supplier of aircrafts and additional services in the contract between Romania and the US. The company's representative in Romania is Jean Adrian Iacob.
Normal