Romania-Insider.com guest writer of the month: Paul Sinka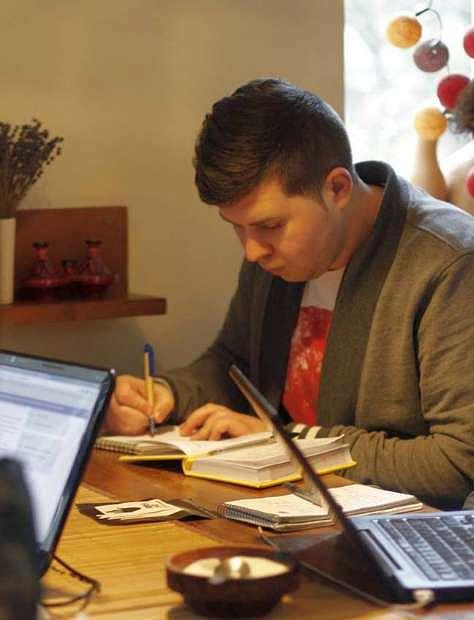 Paul Sinka is the guest writer of February 2014 on Romania-Insider.com. To be part of our guest writer program, sign up here. Every month, we reward the most active guest writer of the previous month by posting a story about them.
Paul Sinka is a young multilingual journalist from Western Romania. He was born in Arad and graduated the local Aurel Vlaicu State University with a Bachelor of Communication Sciences in 2008, but lives in the town of Pecica, located about 20 kilometers distance from Arad and 25 km from the Hungarian border.
Speaking and writing in Hungarian, Romanian and English, he comes from a mixed Romanian-Hungarian family and lives in a multi-ethnic and multicultural environment.
His passion for writing and reporting started at a very early age: as a middle school student, in the 7th grade, he began to handcraft "his own" newspapers in the summer with articles written by himself and photos cut out from magazines.
In 8th grade he was selected to write for the youth section of the local publication "Jurnal Pecican".
A few years later, at the age of 17 he became the youngest local correspondent for a Romanian county daily newspaper, covering the town of Pecica for the second biggest newspaper in Arad, "Observator Arădean".
During high school he won several county and regional journalism prizes for feature and comment writing in Arad and Timişoara.
For the "Observator" he first covered local news from Arad County's villages, then crime reports and healthcare sections.
Later he moved to the regional Hungarian language daily newspaper "Nyugati Jelen", which is published in five counties from south-western Romania: Alba, Arad, Caraş-Severin, Hunedoara and Timiş.
As a reporter and editor, Paul continued to cover healthcare, but also topics like agriculture, environment and wrote several feature reports too.
"After nine years of journalism as a reporter and editor I still get excited when I find a good story like it's my first article to be published. I strongly believe in the power of words and images if they are chosen correctly" he says.
In 2007 he started his own blog about local news from Pecica, which became popular after only a few months.
Five years later, in collaboration with NewsAr Media Agency, he launched a local online newspaper called Pecica News, read mainly by local residents and people who live abroad, but are interested in what is happening in their hometown.
The newspaper covers all the local topics and is open for citizen journalism, being a sort of a local online forum.
Additionally, Paul works as a communication adviser for the mayor of his hometown, being responsible for the image of the town and institutions in regional press and social media.
Over the years he honed his skills in storytelling, citizen journalism, photojournalism and social media.
He also worked in desktop publishing - DTP for local publications in the field of culture, religion and classified advertisement and created the design for billboards and visual identity of many local events.
As a freelance reporter, he likes to take the "old fashioned" approach, 'human' journalism in a new media package.
In March 2014, he was selected as one of the four journalists to cover the city of Krakow for the "EU-topia: time to vote" project by Cafebabel.com pan-European news, feature and opinion magazine.
He spent five days in the former capital city Krakow to document his story about a local organization that offers alternatives for youngsters living in poor neighborhoods or coming from troubled families.
The article will be translated and published in six languages in mid- March.
Paul Sinka has a blog called "Transylvanian Stories" and you can follow him on Twitter, Instagram, Pinterest and Flickr.
Photo by Pablo Garrigós
Normal