Protests in Romania: Messages projected on museum building in Bucharest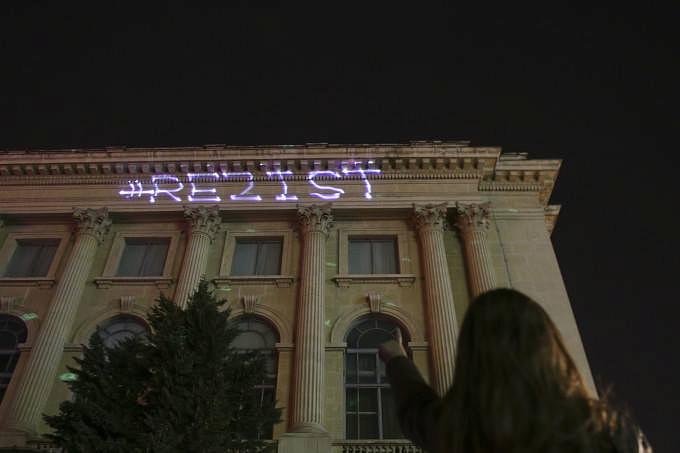 Several messages of protest were projected on Sunday evening, April 15, on the facade of the National Art Museum in Bucharest.
The new protest was organized by local organization Coruptia Ucide, as a response to the police's decision to detain and fine a man who projected the #rezist message on the same building during the International Lights Festival – Spotlight, which took place in the capital last week.
The incident occurred on Friday evening, when the man projected the #rezist message on the Art Museum's building from the eighth floor of a building nearby. Somebody called the police, who came and decided to detain and then fine the young man. According to police officers, the man refused to ID himself and used an insulting language.
On the other hand, the organizers of the Sunday protest said the police intervention violated the freedom of speech. They also explained that the young man who projected the message has been participating in many of the street protests organized in the past year against the ruling coalition made up of the Social Democratic Party (PSD) and the Alliance of Liberals and Democrats (ALDE), as well as those against the Bucharest mayor.
"The main question here is: how is it possible for someone to call the police, with so much excitement, to ID and fine a citizen attending a City Hall event, a festival of lights – with lights! What reason other than to censor the message?," reads the presentation on the protest's Facebook page.
The protesters who gathered in front of the Art Museum on Sunday also projected messages such as #rezist (#resist – a message that became a symbol of the protests in Romania) and #vavedem (#weseeyou).
Big protest against Romania's governing coalition planned for May
Irina Marica, irina.marica@romania-insider.com
Normal