News from Companies
One United Properties partners with Veolia Romania for EUR 6.7 mln investment to implement sustainable energy solutions at One Lake Club and One High District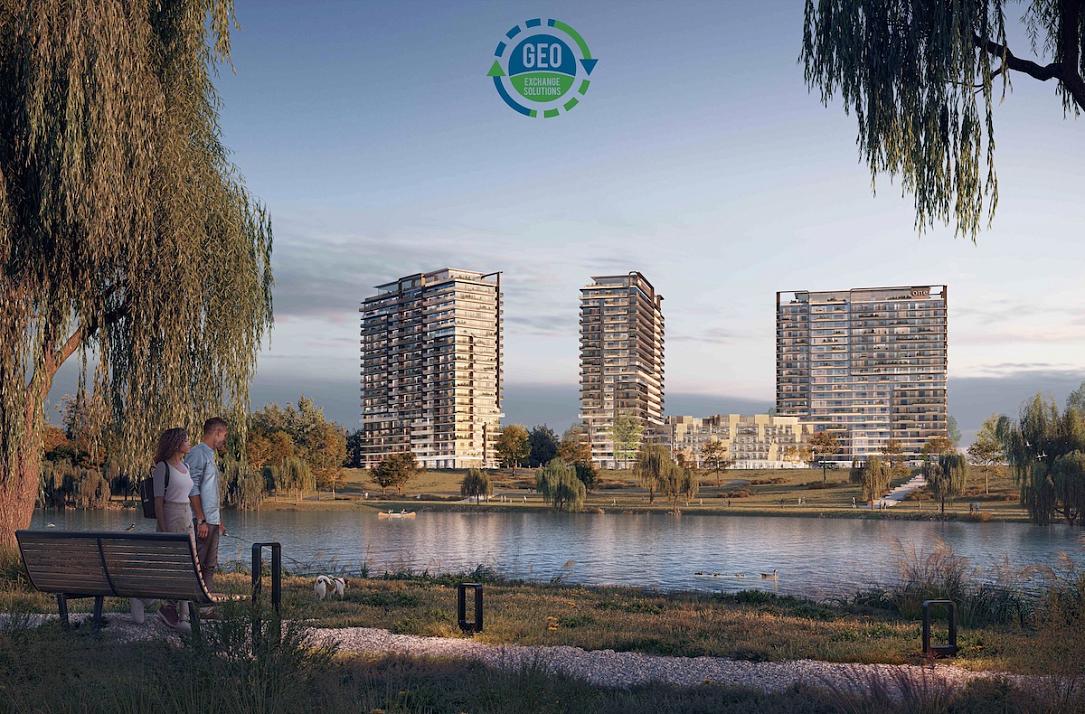 One United Properties (BVB: ONE), the leading green investor and developer of residential, mixed-use, and office real estate in Romania, continues the partnership with Veolia România Soluții Integrate (VRSI), a company member of Veolia Romania, with an agreement to implement innovative energy solutions for two other developments in its portfolio: One Lake Club and One High District. The value of the investment amounts to EUR 6.7 million. This agreement is included in the partnership that the two companies announced last year, which entails that VRSI will invest capital in implementing energy efficiency solutions at One United Properties' developments.
"We continue to develop the city in a responsible way and integrate the latest solutions in terms of sustainability and energy efficiency for the buildings in our portfolio. The partnership with Veolia România Soluții Integrate allows us to implement solutions that will further improve the sustainability parameters related to One United Properties' residential developments, in our effort to build green and feasible communities, with renewable energy for all the inhabitants. In recent years we have noticed an increasing interest of end consumers in safe and sustainable developments, and a higher awareness of the energy efficiency importance, therefore we aim to continue investing in geoexchange systems for all our residential developments that allow such implementations", said Andrei Diaconescu, co-CEO of One United Properties.
"We are more than pleased to extend the sustainable strategic partnership with One United Properties by designing and implementing one of the most innovative heating systems for residential parks: a geo-exchange heating and cooling solution. As a champion of ecological transformation is our job and responsibility to provide the appropriate solutions for our clients' decarbonization and energy efficiency. In fact, the improvement of our environmental footprint and that of our customers is central to our business and its economic model. The investments allocated for implementing these green heating and cooling solutions are EUR 3.1 million for One Lake Club and EUR 3.6 million for One High District", said Mădălin Mihailovici, CEO of Veolia Romania.
Geoexchange solution does not emit carbon dioxide, carbon monoxide, or other greenhouse gases that contribute to air pollution. In addition, since the geoexchange systems do not burn significant amounts of fuel such as gas, oil, propane, or coal, they operate at a lower cost and are much cleaner. Consequently, the costs for heating and cooling with geoexchange solution are lower than traditional solution and it will be predictable and long-term consumption autonomy. By implementing geoexchange solution compared with the traditional one, approximately 2,000 tons of CO2 emissions a year will be avoided, which represents the equivalent of 2,000 cars/year, considering that one new car emits approx. 100 g CO2/km and it runs 10,000 km/year. Geoexchange system is among the most energy-efficient solutions, environmentally clean, and cost-effective space conditioning systems available. Such solutions have already been implemented at One Peninsula and will also be implemented soon at One Lake District, as part of the agreement between One United Properties and Veolia.
One Lake Club is an exclusive residential development, which offers a unique real estate concept on the current Bucharest market: 7 towers located right on the shore of Lake Tei (5 towers of 16 floors and two towers of 8 floors), which will offer future residents spectacular views, reshaping the urban lifestyle close to nature. One Lake Club will comprise a total of more than 700 apartments, both studios and one-, two-, three- or four-bedroom apartments. In addition, the development also provides an exclusive collection of elegant apartments with private gardens and spacious penthouses with high ceilings, floor-to-ceiling windows and spectacular panoramic views of the lake, park, and city. 10 commercial spaces and a total of 853 parking spaces will complete the development, as well as various integrated facilities, such as shopping areas, swimming pool, spa, gym, or brasserie. One Lake Club has a gross building area of approximately 75,260 sqm. With a private park of almost 1ha and a generous opening of more than 150 meters to the lake, One Lake Club development will offer an exquisite perspective and unique opportunities for relaxation and recreation. With the panoramic views over Tei and Floreasca lakes, One Lake Club will be synonymous with a modern and exclusivist lifestyle in an urban world of sustainable design and in one of the most desirable residential communities in Romania.
One High District is a large-scale premium development with a gross building area of approximately 92,000 sqm aboveground and 16,000 sqm underground. It is a community-based real estate concept, offering residents more than just a living space. The development totals 786 apartments spread over three towers with 20 floors - which will thus become the tallest residential towers in the Lacul Tei area and among the tallest residential towers in Romania -, 28 commercial spaces and no less than 1,134 parking spaces. Located in the close proximity of Floreasca-Barbu Văcărescu area, on a plot of approximately 25,000 sqm, of which more than 30% are green areas, the development offers future residents a modern, sustainable urban lifestyle, with contemporary design apartments. The complex is located in an area very well connected to the main business and commercial districts, with excellent access to leisure facilities and infrastructure. From its spectacular geometry perspective and creative building placement, One High District offers One's community breathtaking panoramas of the city, with sweeping views of Lake Tei and the entire lakes network.
The partnership between One United Properties and Veolia is part of a larger sustainability strategy that the real estate developer began to implement at the end of 2021, following the decision to join the UN Global Compact, the world's largest sustainability initiative. Following the adherence to UN Global Compact, the company pledged to report on the sustainability progress annually.
--- This is a press release.
Normal