Japanese photographer reveals how he discovered Romania after the Revolution and fell in love with it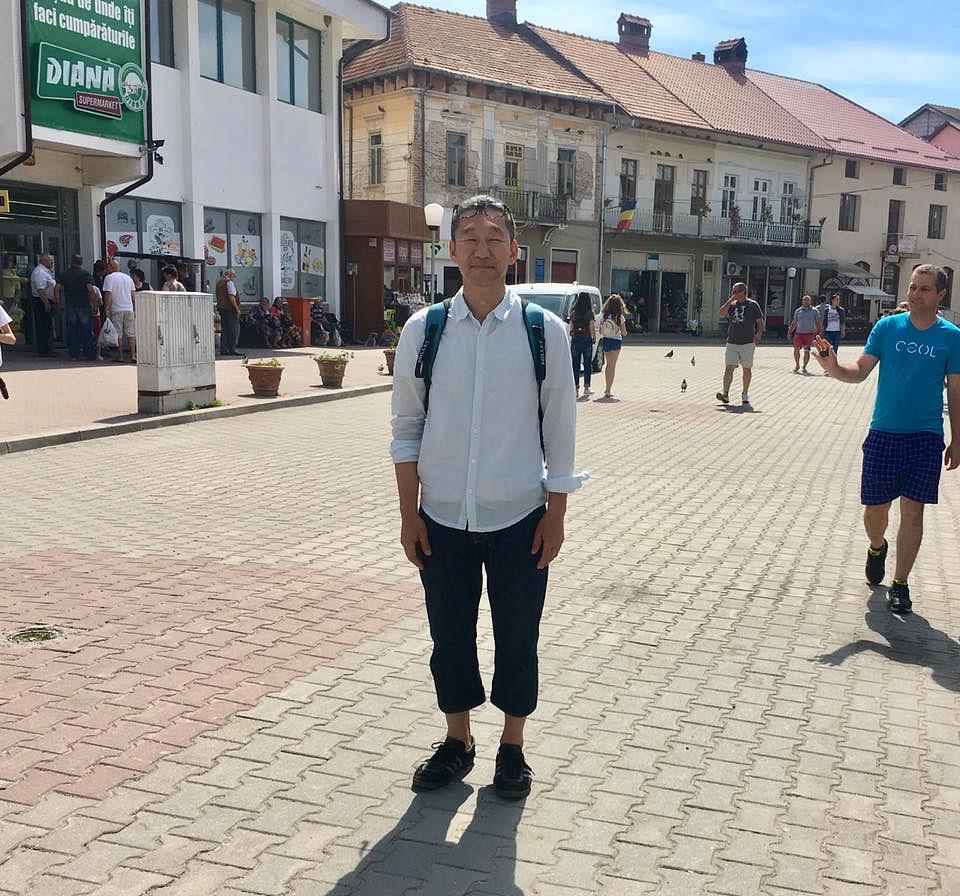 In the summer of 1990, Japanese student Norihiro Haruta was on his first visit to Romania. He came to Eastern Europe looking to see the region that had experienced a wave of revolutions a year before. After a first stop in Berlin, a three-day train trip brought him to Bucharest, a city he captured in its first post-revolution year. He tells Romania-Insider.com about his first visit to Romania and how he experienced the country during his visits.
Norihiro (Nori) Haruta started taking photos when he was a college student while traveling on holidays. Browsing photography books and magazines, attempting to replicate various works, experimenting were part of the learning process for him. "I did photography alone, learning, copying, pretending," he explains.
Reading a biography of photographer Robert Capa marked a turning point in his passion for photography. "When I finished reading the biography of Capa and looking at his photos, I ran to the second-hand camera shop near the place I lived to ask for a very cheap single-lens reflex camera. The man gave me an old one with 32,000 yen, which was the cheapest single-lens reflex one. I started taking pictures that day, at the age of 20. I was a student," he remembers.
At the end of 1989, Nori was watching TV news reports about the revolutions in Eastern Europe. He found that "thrilling, the people's revolution." Seven months later, in 1990, he took a break from college and flew to Eastern Europe on a small budget he had gathered while working. He had with him two cameras and 100 films. He first arrived in Berlin, where he remembers staying in hostels with other young people, mostly students, from all over the world.
Another TV news report, this time about demonstrations on the streets of Bucharest, prompted him to decide to come to Romania. "I must go to Romania now, Romania is still in the process of transforming," he remembers thinking. "I wanted to take a breath of that air." The following day he embarked on a train trip from Berlin to Bucharest.
He recalls a hard journey. "Chaos, hot, damp mass, dirty, loud" is how he describes it, but also photogenic. On the second day of the trip, at midnight, the train crossed the border from Hungary to Romania. "Something [in the] air changed, the border policemen, people, travelers were more calm, soft smiles," he says. The trip through Romania took another day, exposing a landscape of corn fields, farms, sheep, horses, houses and churches, Nori recalls.
After arriving at Bucharest's Gara de Nord train station, three days after leaving Berlin, he checked in at Hotel Marna, which was demolished in 2011.
The next day he began exploring the city. "I had already forgotten the reason I came to Romania. I was not interested in demonstrations and people's revolution anymore on that morning," he says. It all faded in the face of the "unseen, unknown place, modesty, smile of the people, nostalgic light, sound, smell."
After picking up a few words in Romanian, Nori set about exploring the city and taking photos. "I was just trying to walk according to my taste and feel. Even [though] I did not understand Romanian, I already knew 'bună ziua','mulțumesc', etc. […] and, of course, people spoke a little bit of English; then some people: 'faci mie poza', hey japonez, hey chinez, hei Bruce Lee, achoacho, karate, Jacky Chan, and so on," he remembers, when asked about the interaction with the people he was photographing.
He also had to take into account that he could only take 36-pictures on a film. "I had to save my film carefully; usually I spent one film one day, 36 photos in one day. After a while, I got Romanian Azopan films to use more than one film."
He remembers a city where the traces of the 1989 Revolution were still present. "After I walked into the center of Bucharest, Magheru street and Piața Universității, there were revolution marks, discussions about Romanian political and economic in future, free talks in Piața Universității; that meant [there was] still a period of transformation."
He knew little about the country before visiting. He had seen a documentary about the 1989 revolution and knew about gymnast Nadia Comăneci's win of a perfect 10 score at the 1976 Montreal Olympics. "I didn't imagine things about Romania, but when I arrived in Bucharest, in August 1990, comparing it with Berlin, Bucharest was very different. The only city in Europe I knew was Berlin, then the second was Bucharest; the three-day train trip was a kind of time trip and space trip, those two cities were totally different places, different worlds, different code, atmosphere, even time flew differently," he says.
In time, he visited other countries in Eastern Europe. "In the 1990s, when I came to Romania, I went to Budapest almost all the time, and one time to Poland, near the border, to Moscow only for 10 hours, Prague for a few days, Bratislava for one day, Sarajevo three times between 1995 and 1997," he says. He appreciates each city's and country's culture and history. As for the Romanians he met, he says they "were most warm, friendly; I could be relaxed; they are easy to communicate with […]."
Besides Bucharest, another Romanian city he visited was Horezu, which he describes as a "fantastic." He got there after meeting a junior high school girl from Horezu while in Bucharest. "She said Horezu was very beautiful. I asked her if there were any sheep in Horezu. She didn't know 'sheep' in English. I made a drawing of 'sheep'. Maybe she didn't understand my drawing but I understood that there were animals in Horezu. So I decided to visit to see the nature in Romania. And when I saw her, I remembered Heidi, the Japanese anime series."
After his first visit, he returned to Romania on several occasions, every few years. "Around 1995, Romania had changed by time on the surface. When I tried to take pictures, I felt not much remained of my nostalgic, exotic Romania, after 1995 especially."
So far, he has visited Maramures, Brasov, Timisoara and he would like to see other places as well, especially the west and northeast of Romania. During his visits, he says he was impressed with seeing the celebration of Easter, baptisms, or Ignat, when pigs are sacrificed before Christmas. "I think there are many Christian holidays in Romania, which is so good, you have vacations always; it's a break from the busy daily life, you can get away and move to a different state of mind."
Nori says he always recommends Romania to his friends, and the experience of staying at someone's home in the city, a small town or the village, and the opportunity to enjoy everyday life. One day he would like to organize a home-stay exchange project between Romania and Japan.
He would also like to have a photo exhibition in the country at some point. Tight finances and the lengthy process of scanning the photos taken between 1990 and 2000 have prevented such a project from taking off but he hasn't given up on the idea. "I am slow man … well, probably someone will invite me for an exhibition one day in the future."
(Photos courtesy of Norihiro Haruta)
Normal