Welcome to the dark side: Seven mysterious places in Romania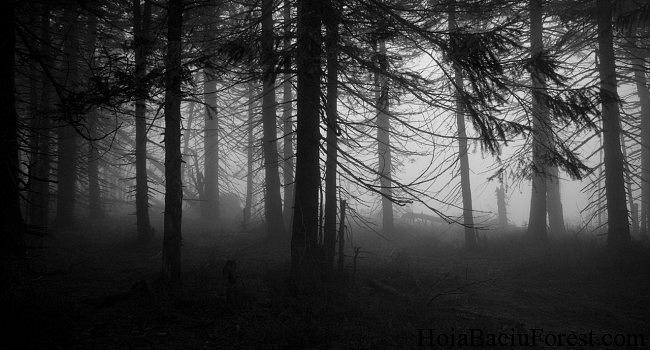 Besides its beautiful countryside and mountains, Romania also hosts some mysterious, spooky places. Alleged ghosts, unexplained phenomena, hidden treasures, locals and legends say you can find them all in Romania.
Here is a list of seven such places in Romania that adventure enthusiasts might want to visit.
The Hoia-Baciu Forest (in picture), also known as Romania's Bermuda Triangle, is situated near Cluj-Napoca and covers 250 hectares. It is one of the spookiest places in Romania, as several paranormal activities and unexplained events allegedly took place there: from ghost and other unexplained apparitions, to UFOs sightings.
Those who have entered the forest often reported intense feelings of anxiety and some of them said they had the feeling that someone was watching them. Locals are afraid to enter the forest because of the legends around it, but those who did returned with physical problems, including rashes, nausea, vomiting, migraines and burns. The local vegetation is also bizarre in appearance, with strangely shaped trees. The forest was included last year among five of the freakiest places on Earth in a ranking made by Movie Pilot. Read more about the forest here.
The Witches' Pond near Bucharest is a place filled with mysteries and bizarre phenomena. It is hidden in the Boldu-Creteasca Forest and has a diameter of only 5 meters. It is said that witches gather here sometimes, especially in special days such as the Sanziene day – the midsummer celebration in Romania, and perform various rituals. It is also believed that this is the place where Vlad The Impaler died beheaded. Animals don't drink water from this place, no matter how thirsty they are, and no creatures live in the water. Moreover, the pond never changes, doesn't dry, doesn't expand, whether it rains or there is a drought.
This particular place in Prahova county might be a perfect place for treasure hunters. The Devil's Precipice is located a few kilometers from the village of Poiana Treistii, in Cosminele commune. It is said to be haunted by evil spirits who protect a treasure buried many years ago by outlaws. They've put a spell on this treasure, so nobody can find it. Those who have tried to go after the treasure talk about terrifying creatures, with heads of bulls and human bodies. Stories say that some of those who have tried to dig up the treasure even lost their minds after going in this place, or have just wondered around for days, being found dozens of kilometers away, all scratched and with their clothes torn apart.
The Gugu Peak (the mountain that disappears)
The Gugu Peak in Godeanu mountains it is also known as the mountain that disappears, as it is not visible during certain hours of the day. Some say that this is the holy mountain of the Dacians, as Zalmoxis, the Dacian God, it is believed to have lived there. Paranormal researchers believe that this place is highly charged with energy. Some legends say that Decebalus, the last king of Dacia, had hidden part of his treasure here. The peak is located at an altitude of 2,291 meters, less than 30 km away from Poiana Marului in Caransebes.
The Bucegi mountains are some of the most visited places in Romania, as they host some of the most-well known resorts in the country, such as Sinaia, Busteni and Azuga. However, while tourists go there for the fresh air and the ski slopes in winter, the Bucegi mountains are also connected to a number of legends and mysteries. It is said that on the Bucegi plateau is a spot of one square kilometers where one's body never gets tired and everyone is suddenly refreshed. It is also called "the mouth of Heaven" and its exact location was never revealed. There is also a theory according to which the mountain is crossed by networks of underground galleries. Several legends surround these galleries. Some say they hide secret bases that nobody should know of, while others believe that they have something to do with aliens.
The Church under the lake in Belis, in Cluj county, comes out only during the hot, low-rainfall summers. Only then the old ruins of the church come out of the water and become visible. Belis is a village in Transylvania, at an altitude of 1,000 m, in Gilau Mountains. People find it a real miracle that the church still stands and that some of the old paintings that decorate the ruins have made it through time. Years and years ago, before it was drowned, the church was visible from any part of the village and the houses were arranged around it. The building was a landmark for the residents, who had to leave their homes when the water flooded the place.
Romania hosts one of the most unusual cemeteries in the world. The Merry Cemetery, located in the village of Sapanta, in Maramures County, became famous do to its colorful crosses and the satirical poetry that is written on them. It doesn't look like a normal cemetery, is all full of colors and kind of happy. This is definitely strange for a cemetery, especially because the colored crosses are accompanies by funny poems. It's one of Romania's main tourist attractions. It is less spooky than the other places on this list, but it can be somehow daunting as well, yet refreshing at the same time, to see death can be 'overcome' with laughter.
Irina Popescu, irina.popescu@romania-insider.com
Normal