Life in the Romanian countryside: How I work remotely from a village with my team in Bucharest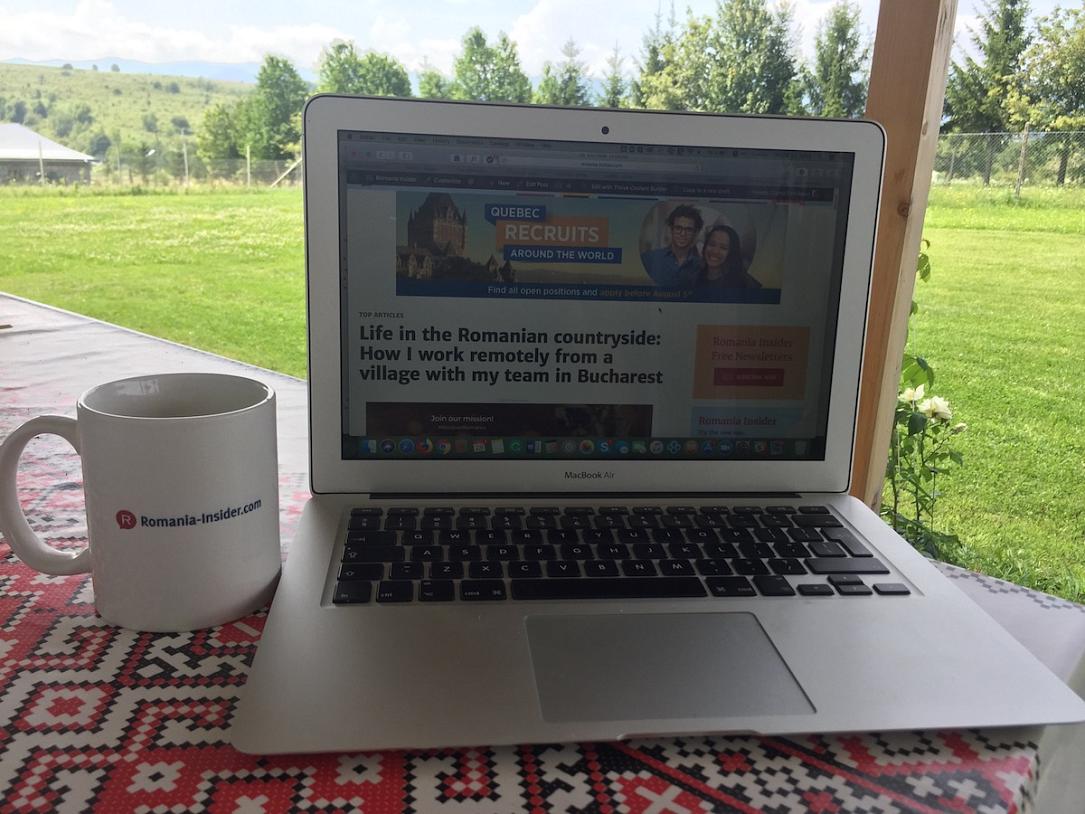 When I moved to the countryside a year and a half ago, I did not know for sure how things would go on the work front. I just knew I was not happy anymore in Bucharest, and I had to do something.  So after 20 years of living and working there, I took the plunge and left the city. Here's how I work now remotely with my team still in Bucharest, and the tools and system which help us. 
I had some things in place before leaving, a checklist of minimum criteria to be met, allowing us to live and work in a village in Northern Romania while our team was in Bucharest. The rest, we organized along the way.
This was my checklist at the time:
1.     Can my work be done remotely? For many years, I worked on the editorial side of our media project: I interviewed people, wrote news, went to press conferences. Meanwhile, my business partner took care of sales and business development. After my son was born three years ago, I had to remove myself from the continuous information cycle which I could not sustain anymore, so we agreed I would run the whole company: admin, project development, sales overview, marketing, while my partner covered the active sales part. All of my tasks can be done, some with some workflow changes, remotely. I was not the company's sales face, so my leaving did not have an impact on revenues. Yes, sometimes I wish I can attend some meetings face to face, but usually, video calls or phone calls successfully replace all these, if you explain the situation well. And sometimes I do travel to Bucharest for meetings, including business partner and team meetings.
2.     Do I have people I can trust in Bucharest? The answer was: absolutely. We have a small team, but we've been working together for many years, trust goes both ways and I knew I could count on them doing the things we needed done, without me being physically in the office to supervise. This was of the essence, and I partially tested it during my Bucharest time, when I was sometimes too working from home. Trust did not only cover day to day activities but more sensitive issues like representation at the bank, financial administration, and contract signatures. These are usually areas which Romanian entrepreneurs have a hard time delegating.
3.     Do my business partners understand and accept my move? Do I have their support? The answer here was again: Yes. At the time of the move, I had just one business partner, the second one joined after I had left Bucharest (and this was no impediment for him investing in our company, as things have been going very well). We discussed how it would work with me remotely and a few ideas I had to make sure things were running smoothly without me there all the time. This support was another important weight for my decision.
4.     How well do I know my team and communicate with them? Would our communication suffer massively with me away, or would it be just another stage in our work relationship? It was important that we had enough face time and physical presence to know each other and for a bond to be created, before moving to the remote work stage; for us, this helped quite a lot, as the team spirit was already formed. So I felt confident we could make it work, and I was happy they supported this change too, although I am sure they might have had some fears just as I did at the time. I did not have a definitive answer on this one when I moved, just the gut feeling our team work would not suffer. Later on, we made sure to have enough interactions and a few systems in place to make up for the lost face time. It also helped that each team member was good at and confortable with working on their own for most of the time.
5.     Do I have all the technical communication means in place in the village we wanted to move to? For me, this meant a good Internet connection, electricity, availability of courier services, easy enough access to train/bus stations or airport for business travels. The answer was also yes for all these counts. In the meantime, we discovered the high speed fixed internet that exists in the village could not be installed at our new place but the new mobile internet packages are very good and even if traffic is not unlimited, they cover quite well our needs. We have both internet packages that come with a router, and good mobile internet packages on our phones, which we can sometimes use as hotspots if needed. Sometimes we do have power outages, we've had quite a few in our first year, so there were a few days when I was not as connected as I wanted to the office environment. On those days, mobile telephony coverage was also bad – but I had a backup sim card from a network which turned out to work well. Overall, in our family, we have sim cards from all mobile telephony networks, as we did not know which one would work best in our new home setting.   For power outages, we have a generator, and for our devices, we try to have high power external power banks charged at all times. So even when there's a power outage, I have enough power and good enough internet to continue work.
To prepare for my working remotely, we've started a few new things in our company, and I think these have helped us a lot. I wish I had these ideas back when I was still in the same office with all my colleagues, they would have helped then too. I feel that I am a lot more interested now in team morale and communication than when I was sharing an office environment with everyone.
Daily meetings 
We're always starting our days with a brief call, 15 minutes maximum, from 9.45. There a call for the sales, marketing & admin team (which we generically call commercial team), and a separate call for the editorial team (where they discuss stories to cover on that day usually, I am not involved in that). In our commercial call, which is very structured (we use an excel for it, everyone has their area to write down their tasks etc), each team member takes their turn in sharing a few pieces of information.  The main one is the day's promise – the main task each wants to accomplish on that day. This way, we make sure that each team member does at least one important thing on that day. Everyone has their decision making on it, sometimes we feedback each other on the promise if we think something else more important needs to get done, but usually, each colleague is responsible with setting their daily promise – and fulfilling it! We're also responsible with how we express it – meaning if we're concrete enough with describing the task so that we can then mark it as done (we also trust each other on this, but sometimes do check). We've had some learning in the beginning with it but now it all goes well and this helps us very much be very result oriented and effective.
Then everyone has a list of other things they plan on doing on that day, some get dragged one day to the next when we aim for too much; but this way, everyone on the team knows what everyone else is planning on doing on that day, so it's easier to collaborate, give new ideas, calibrate our team work. Each of us also has some key numbers they're looking at daily (I, for example, like to check the Romania Insider traffic from the previous day, another colleague checks and shares the value of overdue invoices and days overdue, another one, our social media & newsletter signups status, and a fourth one, the number of sales pitches sent out and closed sales). We also say where we need help on that day and from whom, and mention whether the previous day's promise was done, partially done or not done.
The daily promise status is tied to a sort of incentive system we've improved in time. We have certain rules and the person with the best daily promise result over a month receives a prize (lately, this was cash which can be saved and when we decide, redeemed against a product or service; sometimes the prize is a day off). We've also had penalties, mostly for partially done tasks, we try not to make them too harsh and rely on each person's desire to have a good overall performance within the team. Penalties are sometimes things to do in the office or losing half a day off. They're rarer these days. We have more penalties during very busy periods when we fail to see which is really the day's most important task - which ends up getting done, even if it was not our promise - or when things take a lot longer than anticipated.
Our daily call is also a video one – we use Zoom for it; I think it's important and I insist a lot on it – we should see each other every day. Sometimes if we're in good moods, we have a bit of fun on the call before we go into topics, commenting on haircuts, glasses, weather or something that happened recently, while other times, we're just practical and speedy.
Online communication & storage systems
We've implemented communication via Slack about a year ago and it was a good decision, for all departments. We strive to have as many things as possible in writing and do fewer things on the phone so that everyone who should have a piece of info has access to it. We started with a few channels but added more on the way, project-based. It's our main means of communication for work now. The editorial team has access to their own private channel, and no access to any commercial information, as we are strict in separating editorial from advertising activities.
In the past, we had a hard time figuring out on what channels we could reach each other easiest when we were not in the office, so we used to text/facebook message/whatsapp each other for things. Now, not only we have Slack as our main mean of communication for work-related topics, but we also know when our colleagues are working (they appear online in Slack). We can also add guests for project-based communication. We're still learning our ways with Slack and sometimes we're bugged by many messages on many channels, but it gives us access to all info, at our own pace and times.
We also use Google Drive and Dropbox for file storage, and Pipedrive for our sales pipelines – no pitch or sale goes without an entry in Pipedrive. We've created some automations which deliver leads from our sites directly to Pipedrive, so it's relatively easy to know who will take care of what - though we're still fine-tuning it. We also started using Beterproposals this year, so we can check our beautiful sales proposals before being sent. It's easy to send around links to files in Slack, and give feedback on them. The tools above are used by our commercial team, while our editorial team mostly works with Google Drive and their own private Slack channel, unavailable to the commercial team.
Fridays work from home
We've recently started this, as I wanted my colleagues to enjoy the same type of work environment as I do, and level the field for one day, at least. It was a good decision I think. We still keep our daily video call except everyone is at their home. My colleagues in Bucharest can sometimes choose to go to the office on Friday if they have something to do in the city or something which ties them to the office (a meeting for example), but I insist that it does not happen very often.
These are in brief our systems which allow me to work remotely, far from Bucharest, while our team and office are in the capital, and with good business results overall.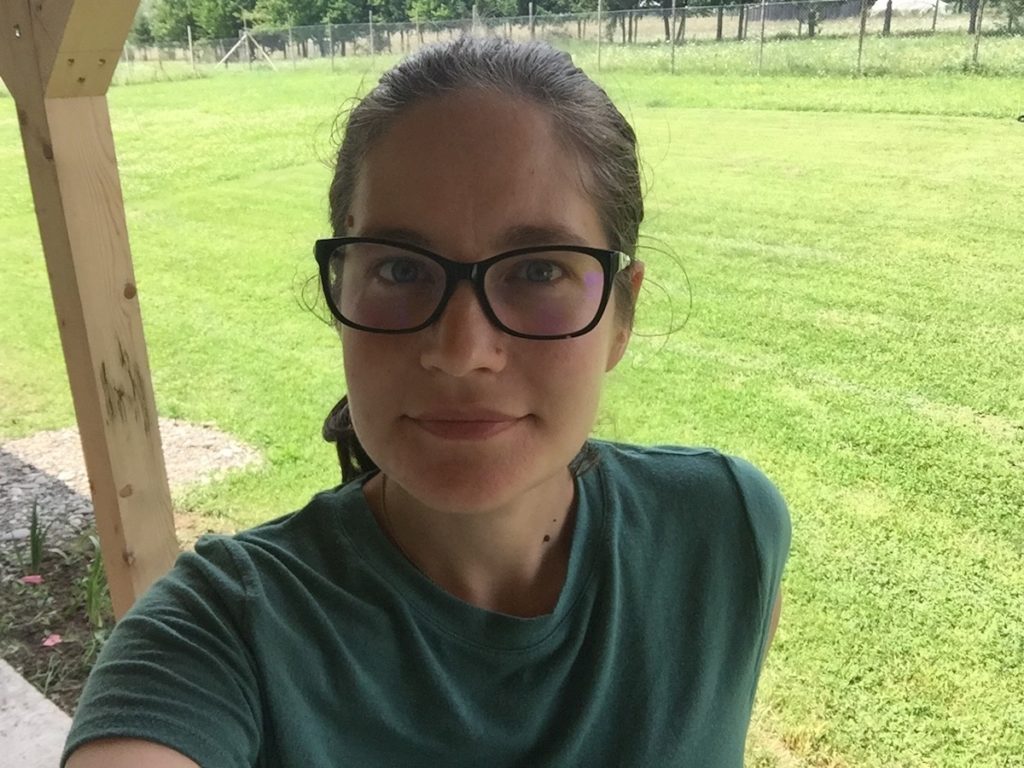 On good days, I like to work on the porch, it gives me clarity and fresh ideas.
Next up, on how it is to travel across Romania, North to South, for business, using different means of transport, in 2018.
Check out the previous stories in this series:
Life in the Romanian countryside: How I left Bucharest to build a house and garden far away
Life in the Romanian countryside: Rediscovering nature from our remote village, after 20 years in the city
Corina Chirileasa, corina@romania-insider.com
Photos: Corina Chirileasa personal archive
Corina is the founder of Romania-Insider.com and currently the managing partner and a shareholder of our media group, City Compass Media. She has been running the business for the last three years. Previously, she was a journalist for over ten years, five of which at Romania-Insider.com.
Normal