Romania's last king dies at age 96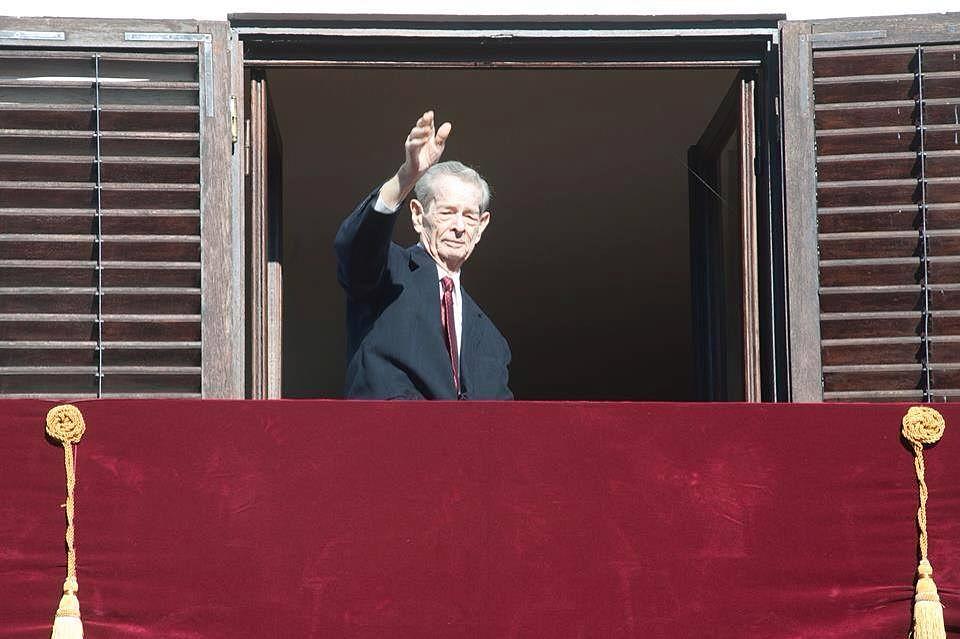 King Michael I, Romania's last monarch, died on Tuesday, December 5, at his private residence in Switzerland. He was 96 years old.
The Royal House announced almost one month ago that the king's health has worsened. He was seriously ill, suffering from cancer.
The detailed program of the funerals is to be announced in the coming days. The Royal House announced in a press release that King Michael's body will be brought to the Peles Castle in Sinaia, and then will be moved to the Royal Palace in Bucharest. The king will be buried at Curtea de Arges.
Books of condolence will be open starting December 6 at the Peles Castle in Sinaia, the Royal Palace in Bucharest, and the Elisabeta Palace, also in the capital.
The Royal Council announced King Michael's retirement from public life in March last year, after he was diagnosed with metastatic squamous cell carcinoma and chronical leukemia. That was also the moment when His Majesty announced that he passed to his daughter, Princess Margareta, the responsibility to represent Romania's Royal House.
His health problems also kept him from attending the funerals of his wife Queen Anne, who passed away on August 1, 2016. The Royal Family officially announced that his health condition has seriously worsened at the beginning of November this year.
King Michael's last public appearance was in November 2014 when he invited 12 former Presidents for dinner to celebrate 25 years from the fall of Communism. His daughter, Princess Margareta, has been representing the Royal House in public events in recent years.
King Michael I was born in Sinaia, Romania, on October 25, 1921. He is the son of King Carol II and Queen Mother Elena.
After King Ferdinand's death in 1927, and because Prince Carol gave up the status of crown prince, Prince Michael was proclaimed King. Since he was still a minor, a regency was established at that time, made of Prince Nicolae, Patriarch Miron Cristea, and the President of High Court of Cassation, Gheorghe Buzdugan. However, on June 8, 1930, Prince Carol returned to the country and took back the throne. Michael I received the title of Grand Prince of Alba Iulia.
Ten years later, on September 6, 1940, following the abdication of his father, Michael I became King once again. Starting 1944, King Michael I opposed the instauration of the communist authority. However, he was forced to abdicate on December 30, 1947.
He met his late wife Queen Anne one month earlier, in November 1947, when he was in London for the wedding of Princess Elizabeth and Philip Mountbatten. Their marriage took place on June 10, 1948, in Athens, Greece, when the King was already in exile. They chose to face the hardships of the exile together, an exile that lasted five decades. But their love and marriage were longer than that, as they've stayed married for 68 years, being the longest royal couple in Romania's history.
Queen Anne and King Michael visited Romania for three days in 1992. However, from 1993 to 1997, King Michael was refused entry to Romania. Thus, during these years, Queen Anne visited the country several times representing her husband. After 1997, the restrictions were removed and the Romanian Government put at their disposal the Elisabeta Palace. They were even able to recover some properties, including Savarsin and Peles Castles.
King Michael and Queen Anne lived in Aubonne, Switzerland since 2004. However, they used to spend Christmas holidays in Romania, at the Savarsin Castle or Elisabeta Palace. In October 2011, on his birthday, King Michael I gave a historic speech in front of the Romanian Parliament.
The Royal House of Romania currently has only a symbolical status as the country is a republic ran by the President and Parliament.
Irina Marica, irina.marica@romania-insider.com
(photo source: Casa Regală a României on Facebook)
Normal