German president: Romania's place is in the Schengen Area, our support will continue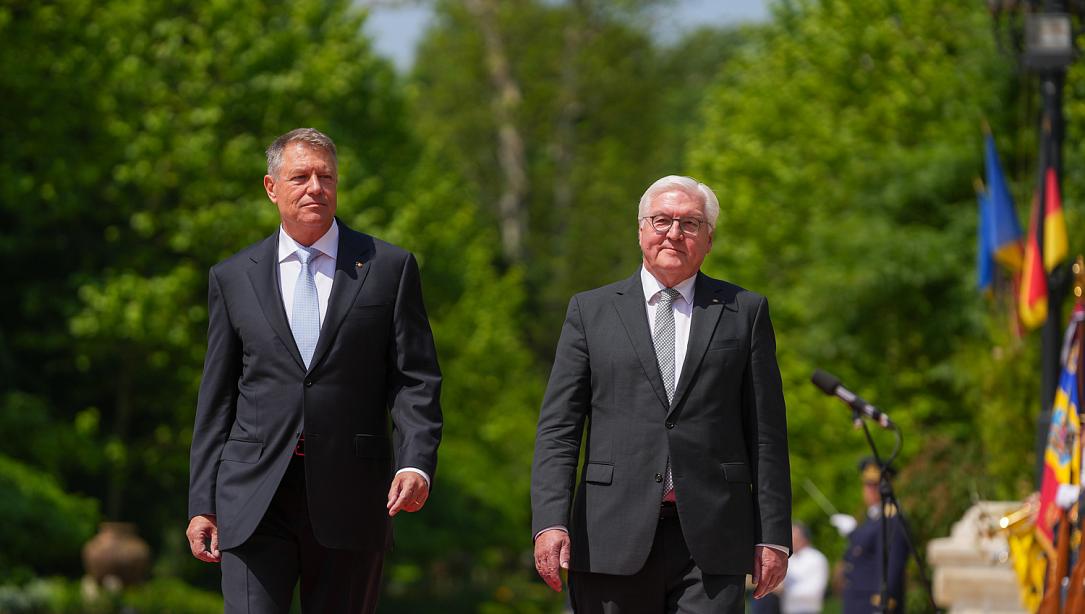 The president of Germany, Frank-Walter Steinmeier, has begun a state visit to Romania on Wednesday, May 24, and has already had official talks with his Romanian counterpart at the Cotroceni Palace in Bucharest. During his meeting, Steinmeier reiterated Germany's support for Romania's Schengen bid.
Klaus Iohannis and Frank-Walter Steinmeier discussed the development and deepening of Romanian-German cooperation in several areas - political, security, and economic. They also sent a message of solidarity and support for Ukraine and the Ukrainian people in the face of brutal aggression by the Russian Federation.
The two leaders also discussed the strong support and assistance of the two countries for the Republic of Moldova, as well as the security situation and the strengthening of defensive capabilities on NATO's eastern flank in preparation for the Vilnius Summit.
"Germany has been Romania's top trading partner for many years. Last year, bilateral trade reached over EUR 40 billion. With over 25,000 German-invested companies and a capital contribution of over EUR 5.5 billion, Germany is the second-largest investor in the Romanian economy. I welcome the fact that president Steinmeier is accompanied in Romania by a delegation of businesspeople. I want to reaffirm our shared interest in intensifying the excellent relations between our countries, both bilaterally and within the European Union and NATO. Only together can we strengthen European unity in these turbulent times, marked by Russia's aggression in Ukraine, geopolitical changes, and the multiple crises of past years," Klaus Iohannis said.
President Iohannis also expressed his appreciation for Germany's firm support regarding Romania's accession to the Schengen Area. He also expressed his hope that Romania's accession to the free movement area will be finalized.
The president of Germany, in turn, emphasized that Romania's place is in Schengen.
"Last year, you dealt with a very large number of Ukrainian refugees. I have the utmost respect for Romania's commitment to accommodating refugees. Romania is also crucial in terms of exporting grains from Ukraine. I am grateful and would like to express my respect. […] We have long believed that Romania's place is in the Schengen Area, and our support will continue," the German president said.
Frank-Walter Steinmeier is conducting a state visit to Romania from Wednesday to Friday, at the invitation of president Klaus Iohannis. The visit extends over several days and is not limited to political and diplomatic discussions, as the German president is accompanied by businesspeople.
Frank-Walter Steinmeier has meetings in Bucharest with the president and prime minister, and in the following days, he will visit Sibiu and Timișoara.
(Photo source: Presidency.ro)
Normal