Former FBI director defends wanted Romanian investor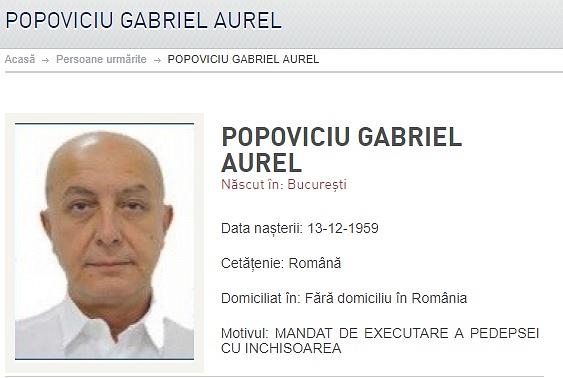 Powerful Romanian investor Gabriel Popoviciu, who was sentenced to seven years in prison earlier this month in a fraud and corruption case, has hired former FBI director and former federal judge Louis J. Freeh as a lawyer.
Popoviciu is now wanted by the local authorities. The Police went to his house in Bucharest after the Court ruled the prison sentence, but they haven't found him there. The businessman is believed to have left the country before the sentence was issued against him, as he had no interdiction in this sense.
Louis J. Freeh defended the Romanian investor in a recent statement, saying that the "sentence and conviction are not supported by either the facts or the law."
He explained that, last July, he was retained to conduct an independent review of Popoviciu's conviction before the Romanian Court of Appeals. He conducted the review with the assistance of a team consisting of former federal prosecutors and former FBI Special Agents, one of whom speaks Romanian fluently.
"Our team thoroughly reviewed the evidence presented against Mr. Popoviciu at trial, including documentary evidence and surreptitious tape-recordings of his conversations.  That review documented numerous factual and legal deficiencies in the case against Mr. Popoviciu," reads the former FBI director's statement, cited by PRNewswire.
"For example, the prosecution's main witness, who repeatedly but unsuccessfully attempted to make Mr. Popoviciu incriminate himself using secret recordings, admitted in court that he was not bribed by Mr. Popoviciu - with the alleged bribe including two bottles of liquor and corporate promotional materials (such as a pen, notebook, and calendars). The former Minister of Education, as well as other witnesses, testified that the Baneasa land parcel was never a publicly owned asset and therefore cannot support the legal charge of abuse of position. Many other serious factual and legal deficiencies, inconsistent with fundamental principles of the rule of law, were also highlighted in my report."
The lawyer said at the end of his statement that he hopes that the courts and the authorities would review Gabriel Popoviciu's case and "decide that justice and the rule of law demand another result."
In early August, Popoviciu, who is one of the owners of the Baneasa Shopping City mall in Northern Bucharest, was sentenced to seven years in prison, no parole, in a fraud and corruption case over how he received the 224-hectare land on which he built the mall and other real estate projects. The High Court's judges reduced the conviction initially ruled by the Bucharest Court of Appeal, of nine years in jail.
Irina Marica, irina.marica@romania-insider.com
Normal