Young German runs for mayor of Timisoara: I love this city too much to stay away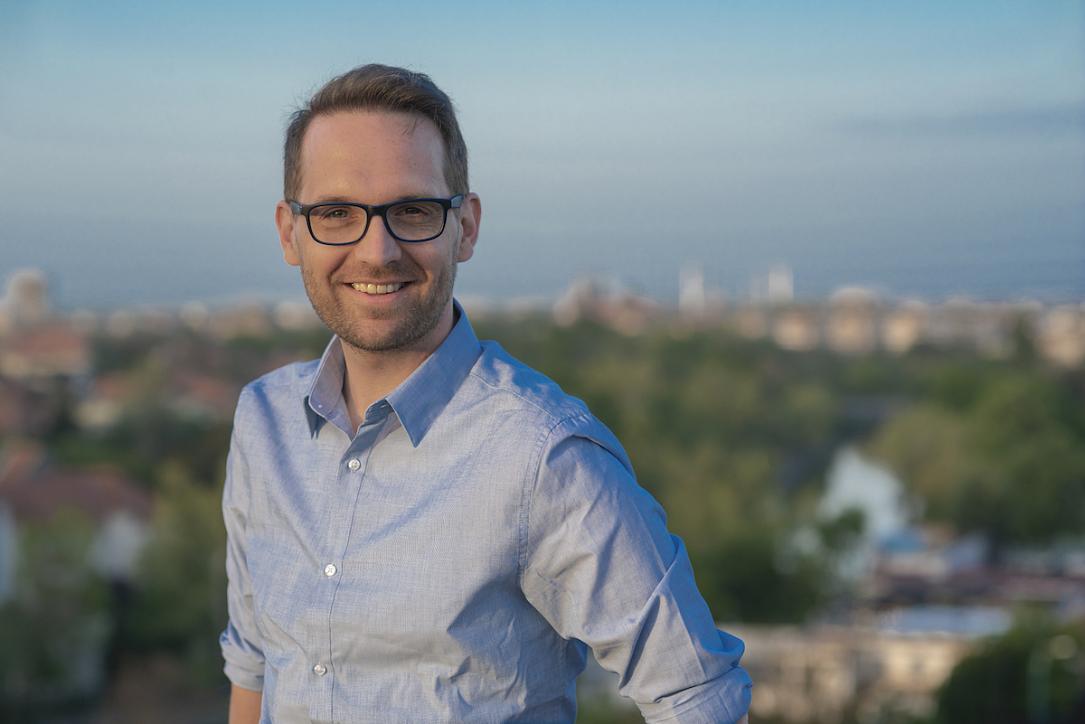 Back in 2003, the experience of volunteering in Timisoara changed young German Dominic Samuel Fritz. Now, he hopes to change Timisoara for the better, from the mayor's seat.
"Timisoara helped me grow up." That's what Dominic Samuel Fritz, 36, wrote on his personal blog. He is the candidate of opposition party Save Romania Union (USR) for mayor of Timisoara, the biggest city in the region of Banat, in Western Romania. But how did he get here?
Dominic Samuel Fritz was only 19 years old when he first came to Timisoara, as a volunteer. He worked with children from a local orphanage for a year, an experience that, as he told Romania-insider.com, made him more humble. He returned to the city in 2006, when he got involved in another social program, this time for adults with intellectual disabilities.
He continued to come to Timisoara regularly over the following years and, at some point, he decided to combine his love for the city with his passion for music and found the Timisoara Gospel Project and the TGP Cultural Association, which aims to break social barriers through music projects. It was 2015 when he also decided to buy an apartment here.
2017 started with the massive anti-corruption protests in Romania. Also unhappy with the way things are being done in Romania, Dominic also participated in the protests. He then decided to do more and join one of the new political parties in Romania – USR, hoping to change things from within the system.
As for his life outside Romania, Dominic studied political sciences at universities in Germany, France, and the UK, and then took a job as advisor to the German Agency for International Cooperation (GIZ) in 2009. In the last four years, he was the chief of staff of former German president Horst Köhler.
Dominic Samuel Fritz talked to Romania-insider.com about his childhood, his Romanian experience and what made him get into politics:
Tell us, briefly, about your childhood in Germany. How much did growing up in a village, in a large family, influence your path?
I grew up in a village in the Black Forest mountains, where I learned to love nature and traditions. At the same time, the protected, orderly and predictable rural life made me want to see the world, to discover what I didn't know and what I didn't understand.
And I believe that being the third of eight children made me a politician without realizing it: my childhood was a constant negotiation between the personal needs of each and the goals of the small community I was part of - my family. I learned to say what I think but also to respect the views of my siblings. I think that from a very early age I realized that a "compromise" is not a bad thing but a precondition for living well together. But everyone has to listen if we want to find a compromise that is sustainable and does not lead to new conflicts. I think this is a principle that underlies my political thinking at the moment.
You were 19 when you first came to Romania. How did it happen? Did you choose to do volunteering in Timisoara?
After finishing high school, I felt like taking at least one year to gain some practical life experience, to learn new things from people with completely different perspectives. I applied for a volunteer program with locations in several countries in the world, and that's how I got to come to Timisoara, more or less by chance. I knew absolutely nothing about Eastern Europe, about Romania, about the region of Banat. I think I came here with a lot of preconceptions. And I found a world with a history and a culture that made me understand, for the first time, what Europe is.
How was that first year in Timisoara and what made you return in 2006?
Back in 2003, less than 15 years after the revolution and before joining the EU, Timisoara was a city full of contrasts, with a great thirst for progress but also with a high level of poverty, with a brilliant history but a hard legacy of communism. I was fascinated by this mix between the future and the past, the orientation towards the new Europe, and the legacy of those who contributed to the transformation of the Banat region into a bastion of Central-European civilization.
I don't hide the fact that I was deeply marked by the children I worked with at the orphanage: seeing the challenges that these orphans faced from the day they were born made me, a guy who grew up in a wonderful family, a more humble person. I also met many people who were fighting for the dignity of the marginalized and I couldn't stay away. I returned here regularly starting 2005, and in 2006 I stayed for seven months to do an internship at the Pentru Voi Foundation, an NGO for adults with intellectual disabilities. That's also when I started the gospel music projects, which have been growing by the year, and so I never really left Timisoara ever again.
You are passionate about music and you've been involved mainly in social projects in Timisoara. What made you get into politics and why did you choose a relatively new party in Romania? How long have you been a member of USR?
Timisoara is the only city in the world where I really feel part of a community - a creative, welcoming and lively community. Timisoara has a huge potential, which is currently evaporating due to an administrative and political system that remained in the last century. I love this city too much to stay away. And starting with the 2017 anti-corruption and pro-justice protests, in which I participated actively, I realized that my professional life in the German public administration and my involvement in Romania no longer had to be two separate things.
Why USR? The big parties are the ones that brought Romania and Timisoara where they are today. Our only hope is a profound reform of the political class, and this can only be done with new people and new parties. I joined USR a few months ago, like many others, out of a desire to change the rules of the game. We are tired of being led by a vulgar, incompetent and corrupt political class. I notice that increasingly more Romanians feel the same and find the courage to get involved politically to change the system from within.
How would you describe the politics in general and the Romanian politics in particular?
I was chief of staff of a former president of Germany in the last four years and I can say I've seen a lot. Politics includes many power mechanisms and games, some of them inevitable because without power you cannot change anything. I've always been more interested in how politics affects – but mainly how it can improve – people's lives rather than in political games. Politics decides the rules by which we live together in society. That's why it's important to get involved politically, to not let a small group decide what these rules are.
In Romania, a political class captured the state in their own interest, and they managed to play so dirty and make people so disgusted with politics that very few people with good intentions had the stomach to enter politics. I'm glad to see that this is changing and that people understand that change for the better can only come if good people don't stay away.
How do you divide the time between the job and life in Berlin and the projects and life in Timisoara?
In recent years, I worked in Berlin but I spent almost all holidays and many weekends in Timisoara. I realize that this life between two worlds, a long-term commute, is normality for many Romanians. For me, the productive contrast between the two places has been a continuous source of inspiration. But I want to be 100% focused on Timisoara now, so I quit my job in Berlin and in the coming few weeks I will become a full-time resident of Timisoara.
Please name three positive things that define Romania today, but also three negative things (which should be changed or improved).
Romania is a deeply European country, a reality that stands out when we look at the political trends in other Eastern European countries, which flirt with a new kind of anti-European authoritarianism. It is also a country with a huge natural beauty and heritage, and a country with people who are more innovative than ever, including in the political area.
On the negative side, Romania is defined by the exodus of over five million citizens who have lost confidence that they can still have a good future in the country. This lack of confidence caused by a political class corrupted both financially and morally is the main factor that needs to be addressed to have a change for the better.
Please tell us three favorite places in Romania (or even beautiful experiences here).
As I said, I grew up in a mountain area surrounded by nature. Maybe that's why I love Cheile Nerei (Nerei Gorges) in Caras-Severin county so much, a place I visited a few years ago with a friend. We didn't have a plan where to sleep but every night we found locals who invited us into their homes – a touching experience of hospitality. But my favorite places are in Timisoara: Piața Maria, a small square that seems modest but is the place where the 1989 Revolution started – every time I go here I think about the courage of those who gathered here at that moment. And you can't call yourself a resident of Timisoara if you don't love Piața Unirii with its 19th-century charm, which for me, as a Roman Catholic, also has a special significance due to the impressive Dome where I played the organ in many liturgies.
Tell us a few words about your future plans
My plan is to win the local elections in 2020 and open a new chapter in the story of the city.
The original interview was in Romanian.
Irina Marica, irina.marica@romania-insider.com
(Photo: courtesy of Dominic Samuel Fritz)
Normal