TV series Django, filmed entirely in Romania, to premiere in several EU countries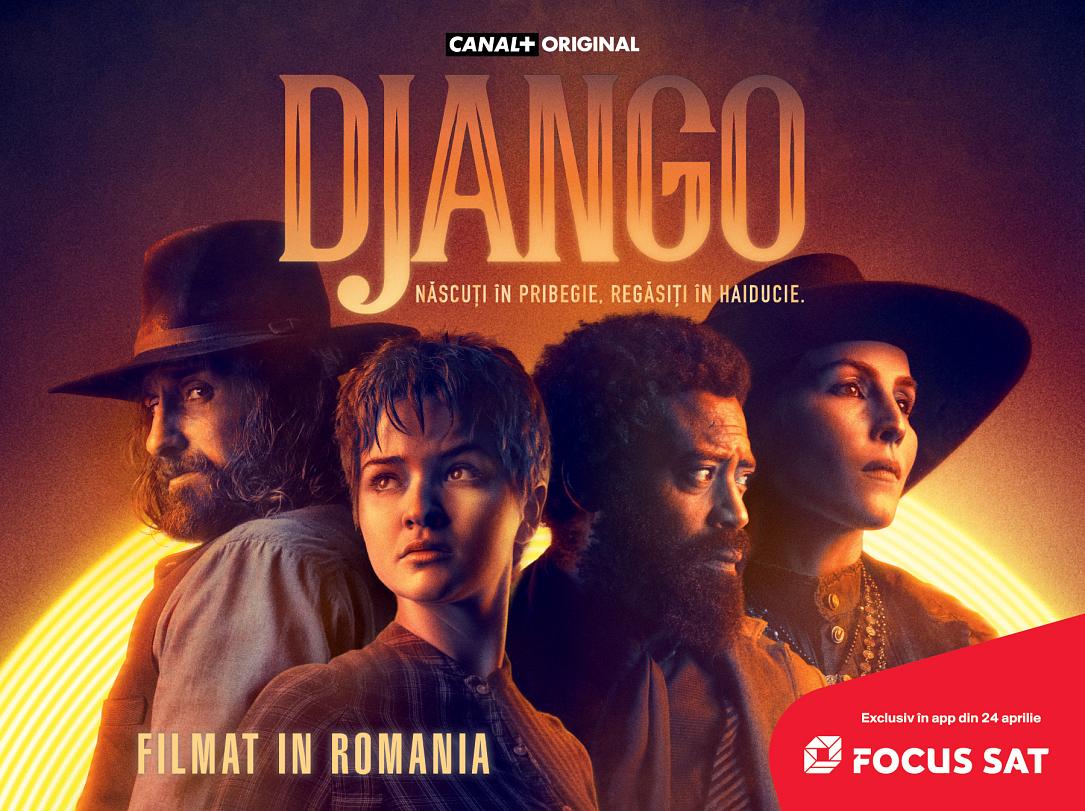 After the successful premiere in France on CANAL+, the new western TV series Django will premiere in other European countries in April, including Romania on Focus Sat. The series was filmed entirely in Romania.
The action in Django takes place in the Wild West (between 1860-1870) and tells the story of Django, a taciturn and enigmatic gunslinger who arrives in New Babylon, a city of outcasts where all races and creeds are accepted.
Haunted by the murder of his family eight years ago, during the Civil War, Django learns that Sarah (his daughter) is still alive and has survived the massacre. She had been rescued by John Ellis, the town's founder, a black man, who has raised her along with his three sons. But Sarah, now a grown woman, asks her father to leave. She fears that his presence endangers her new family and her new town. However, Django has no intention of losing his daughter again.
A co-production of Sky Atlantic and CANAL+, Django is inspired by the Italian movie of the same name directed by Sergio Corbucci (1966), a spaghetti western that launched the career of the Italian actor Franco Nero and inspired Quentin Tarantino to create Django Unchained (2012). The production is an original western with an inclusive cast that boasts famous names such as Matthias Schoenaerts, Noomi Rapace, Lisa Vicari, and Nicholas Pinnock.
The series is directed by Francesca Comencini ("Gomorrah"), David Evans ("Downtown Abbey"), and Enrico Maria Artale ("Romulus"). They imagined Django as a psychological, feminist, and contemporary western.
After the launch in France on CANAL+, the 10 episodes will also premiere in other European countries, such as Romania, Hungary, Belgium, the Netherlands, and more.
Beginning on April 24, the series will be available to the Romanian public in the Focus Sat App and on Focus Sat TV (two premiere episodes on Mondays and Thursdays, from 21:30). Those who are not yet Focus Sat customers can watch the series by testing the Focus Sat App for free, for 7 days.
The 10 episodes were filmed entirely in Romania, between May and November 2021, in numerous regions of the country: the area of ​​Brașov (in the crater of the extinct volcano from the village of Racoș), Râșnov, Zărnești, the Castel Film Studios, Frame Studios, and Buftea Studios, in Dobrogea (the Măcin Mountains, Cheile Dobrogei, the Black Sea shore), at the Muddy Volcanoes, but also near Bucharest, at Potigrafu and Călugăreni.
The shooting lasted for 27 weeks (153 days and nights) and sets were built in 20 completely natural locations (including 54 houses). The crater of the Racoș volcano was transformed completely into the western town of New Babylon.
Django is an impressive production with 7,000 extras and an international team of over 600 technicians, production people, and European actors (from Romania, Belgium, Sweden, United Kingdom, Germany, France, Italy, Ukraine, Croatia, USA, and Canada), representing a total investment of EUR 40 million.
(Photo source: Focus Sat)
Normal