Dirty Harry's Irish Pub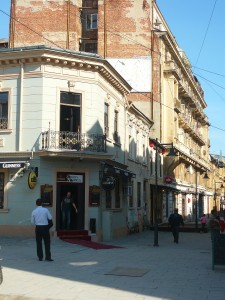 Dirty Harry's Irish Pub is one of the newly opened placed in the old part of Bucharest. In fact, there are so many new places in the area opening after a long winter that just one walk on the little streets mid-town will not be enough for you to get an idea of your entertainment possibilities there.
Back to Dirty Harry's, you might have heard of the movie whose name I think inspired the owners – the classical Clint Eastwood movie (1971), with Eastwood playing Harry, a cop who's not playing by the rules all the time. But this place seems to play by the rules of the area – for those of you who have not seen the Lispcani area over the winter, it is now a combination of nice, revamped places and the still derelict houses inhabited by who knows whom. Dirty Harry's renovated corner location on Franceza street allows you to see both the good and the bad of the area. It spreads over three floors – ground floor, first floor and cellar. The balcony table at the first floor gives you a nice view of the area, but be prepared to find beauty in derelict areas. It's still a work in progress out there.
The place itself feels cozy with its dark wooden furnishings. The black and white pictures on the walls give it an artsy spin and you might even be able to admire the pictures as it is not yet too crowded.
We were surprised to see how courteous and helpful waiters are – we were used to the generally bad quality of Romanian food and beverage services but things have changed in the meantime. Or maybe we were just lucky.
Be prepared for slightly higher than average prices, but not much higher than anywhere in the area, which is, obviously, expected to shape as more of a touristic one.
Our standard pricing & comparison list:
*Carlsberg beer – RON 9 (330 ml) to RON 49 (3,500 ml)

* Coca – Cola – RON 7

* Guiness - RON 9 to RON 13

* Alcoholic cocktails – RON 15 and RON 16

* Johnny Walker – RON 13

*Jack Daniels – RON 15

* Highlight- beer cocktails (we haven't tried any of them but it was a novelty on the beverages menu)
Food is also available – the pub kind of food, don't expect anything fancy, just the fish and chips type of food, but some combinations were quite interesting. Bring cash because they're yet to implement the card payments system.
Normal