Comment: A day out to Mogosoaia, a place in the sun near Bucharest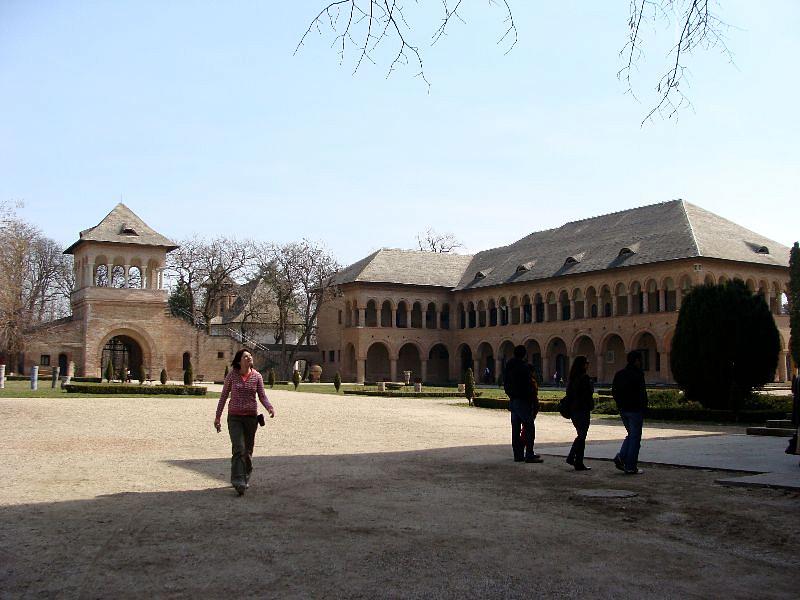 My day out to Mogosoaia! Wow, it makes me sound like a prison resident! But when you have no family in Romania and the long weekend is dominated by family celebrations, then for an expat like me, getting out of the apartment was an absolute joy. Especially in such agreeable weather.
This was my first time visiting Mogosoaia, although before, I had been told by a fair few people that it was a great place to go and considering it was on Bucharest's doorstep, there really is no excuse not to. I even asked my friends, whom I went with; "What is there to do at Mogosoaia?". The response came quickly and without faltering; "Relax, see a beautiful palace and enjoy the sunshine, of course!"
Well, ok then! So off we went. Windows wide open, the warm April air flowing in and good music played at an obscene level! It really felt like summer had really arrived or, at least, was knocking on the door.
After a little research, I found that Mogosoaia is literally only 10km from Bucharest. Seriously? I really should have come here sooner.
The main attraction in Mogosoaia is the Mogosoaia Palace. Built between 1698 and 1702 by Prince Constantin Brancoveanu and the architectural style by which it is modeled is the Brancovenesc style. A true symbol of Romanian resilience; the palace has been through a multitude of events that could of destroyed the beauty of this site. From the Ottomans executing Brancoveanu and confiscating the family's riches to the Germans bombing it in WWI. Not to mention the Communist regime nationalizing the palace and it's grounds leading to a number of precious artifacts going missing.
As I walked around this historical site, it was hard to imagine all that had gone before. If only these walls could talk, I wondered, the tales would be lofty and enthralling. On such a beautiful day, the only activity that best fit the Mogosoaia Palace was to laze in the sun and talk about life.
And that is exactly what we did!
We watched as the water of the lake (fed by the Colentina River) came alive at random intervals with fish enjoying themselves whilst we bathed our faces in the warm sun. It seemed a lot of people had the same idea as us to visit Mogosoaia today as we were definitely not alone. The grounds were packed with people picnicking, strolling and taking their dogs for a walk.
And here is another reason why I enjoy Romania; it was so pleasant. There was nobody making a scene, nobody drunk, everyone cleaned up after themselves and, most blissfully of all, nobody was shouting. It was exactly how parks should be. Relaxing, clean and safe. I'll always love my dear Britain, but if you go to a park on a sunny day, I can pretty much guarantee that you'll find the complete opposite at some point or another.
That was enough of the lake, so we decided to take a walk back through the rest of the park but take a different route. With our stomachs rumbling and in dire need of something to quench our thirst, we went on the hunt for a nice terrace to enjoy some Romanian food and perhaps a beer or two. Due to the popularity of Mogosoaia today, we had no luck in finding a vacant table. We weren't to be beaten just yet! "There must be another place near enough", we thought. After a brief discussion with a security guard, we were told to exit the park, walk to the end of the road and we would find a restaurant. Perfect! However, when we arrived at the intersection, there was indeed a restaurant but a "side of the road, truck stop" type restaurant.
Not what we were particularly looking for.
We found our car after following the main road back to the park and after a heated 'brain-storming'  session as to where to eat, we eventually found ourselves back in Bucharest at Piata Romana! To our credit though, we did try a place nearby called Doi Cocosi to sample some traditional food, however, they weren't particularly ecstatic about the idea of having pets in their restaurant. Although they let us in and sat us down, we had Edgar, the French Bulldog with us so we thought it best to leave. So we enjoyed a beautiful garden terrace behind Carturesti and caught the last of the evening sun.
All in all, a distinctly enjoyable and spontaneous day. An impeccable mix of astonishing sites, magnificent weather and exceptional company.
Not bad for a Monday.
Please do like, share and leave your thoughts in the comments below.
By Ashley Parry, guest writer 
Normal