Winter special: Best Christmas markets and fairs in Romania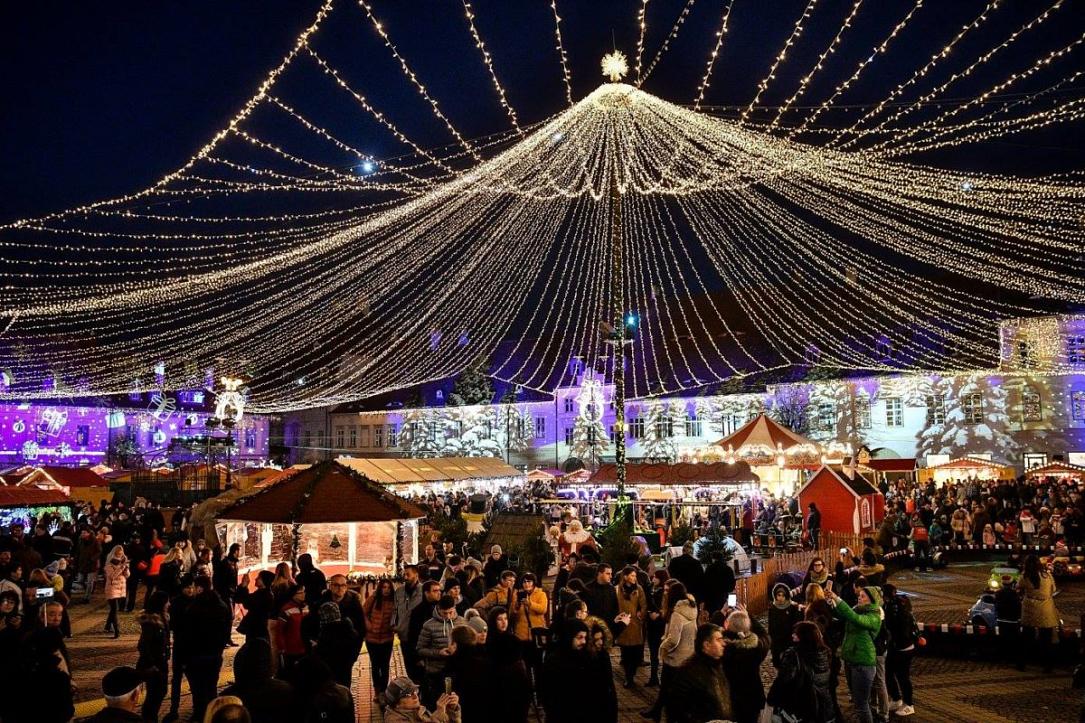 Christmas is said to be the most wonderful time of the year, and the perfect gift will for sure make the Christmas day unforgettable. If you happen to be in Romania in this period, you should know there are many markets and fairs where you can find the best gifts for your loved ones while also having a good time.
Here's a list of Christmas fairs in Romania that can make you the best Santa Claus this year:
Bucharest
The Bucharest Christmas Market opens on December 1 this year, in Constitutiei Square. Over 100 booths with traditional Romanian products, toys, and clothing can be visited as part of the fair, which also showcases a 30-meter tall Christmas tree, an ice-skating rink, daily concerts and activities for children. Find out more here.
Meanwhile, the third edition of Alt.Craciun, a Christmas fair organized at Arcub, opens on December 12. The fair will showcase clothing and jewelry crafted by Romanian designers, various locally-made design objects, and a selection of beverages such as hot chocolate, tea, mulled wine and coffee. Free-access concerts will be organized every evening. Read more about it here.
The 2017 edition of the Christmas Trees Festival will be organized on December 7. This is an annual fundraising auction of special Christmas trees created exclusively for this occasion by some of the best-known local designers. The event supports the educational projects carried out by Save the Children Romania. More details here.
The IWA Charity Christmas Bazaar will also return with a new edition this year, on December 10 at Romexpo. For this event, the international community unites in the spirit of giving to raise funds for Romanian charities. More than 40 countries, represented by their diplomatic missions, business sponsors and volunteers will be present at the special fair. Find out more here.
Noblesse Palace Christmas Fair will also await visitors with a wide variety of gifts and decorations. The program will also include a charity ball and a Christmas party. The event will take place between December 8 and December 10. More information here.
Romexpo, the biggest exhibition center in Northern Bucharest, will also host a Christmas fair between December 6 and December 10. The offer includes decorations, sweets, coffee and tea, corporate gifts, toys, jewelry, clothing items, and footwear. More details here.
Other Christmas fairs in Bucharest you may be interested in:
German Christmas Market - December 8, between 16:00 and 20:00, at the German Embassy
Christmas Bazaar Gifts of Our Lady of Mercy - December 6, between 10:00 and 13:00 at Radisson Blu Hotel
Christmas Vintage Bazaar – December 16-17 at Wahaka Street Food Park. More here
Christmas Artizan Gift fair – December 18-22 at Sema Parc. Further details here
Dichisar in Bucharest - Christmas Fair with Fun, Food & Sisterhood – December 9-10 at Impact Hub Bucharest. More information here
Bucharest's biggest shopping malls also organize Christmas events and fairs in this period.
Sibiu
The eleventh edition of the Sibiu Christmas Market (opening picture), one of the best-known Christmas markets in Romania, opened on November 17. This year's edition gathers over 90 exhibitors from Romania and abroad, the highest number in the fair's history. Its program includes various events, as well as attractions such as The Santa Claus Workshop, visited each year by over 3,000 children, or The Santa Claus Park, an entertainment park for children featuring a merry-go-round especially built for the event. Read more about it here.
Cluj-Napoca
Cluj is one of the most beautiful cities in Romania, and its 2017 Christmas market should definitely be on the Santa Claus' list. The winter market opened on November 24 this year and will stay open until December 31. It's located in the city's Unirii square. Find the event's program here.
Timisoara
This beautiful city in Western Romania will open its Christmas market on December 1. Now in its 11th edition, the event will be organized in the city's Victoriei Square. More information is to be posted here.
Oradea
There will be two Christmas fairs in Oradea: one in Unirii Square (November 30 – December 31) and the Oradea Citadel (December 8-17). For the first time, besides the Christmas tree, the authorities in Oradea will also install a giant 16-meter high wheel in Unirii Square. The program will include a series of activities and events specific to winter holidays, such as carols concerts and children's workshops. Find the full program here.
Other large cities in Romania that host beautiful Christmas fairs are Brasov, Arad, Iasi, Satu Mare, and Craiova.
Happy holidays!
Irina Marica, [email protected]
(Photo source: Targul de Craciun din Sibiu on Facebook)
Normal