Carturesti Carusel, newest concept bookshop in Bucharest's Old Town, highly popular after launch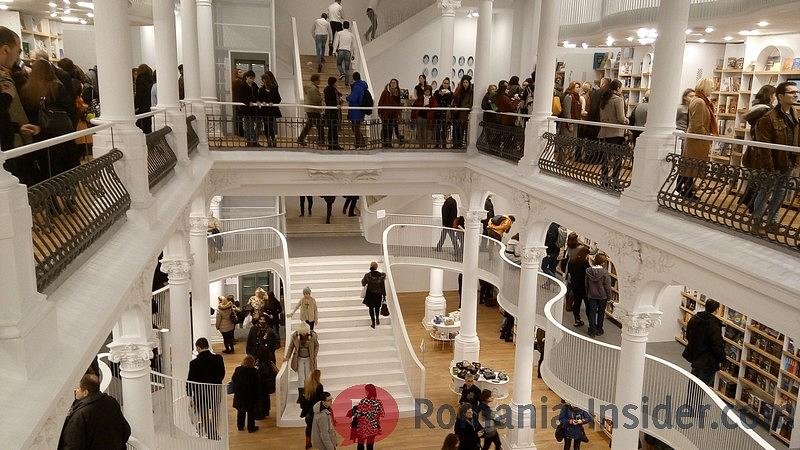 Romanian bookshop chain Carturesti opened its Carturesti Carusel concept store in a historic building downtown Bucharest earlier this week, after a fitting project which cost EUR 400,000. Located in an 1860s building on the famous Lipscani street in Bucharest's Old Town, the place, also nicknamed the Carousel of Lights, now accommodates a 1,000-sqm bookshop with 10,000 books, and a bisto - tea house on the last floor.
The building created a hype long before the opening, most of which thanks to the history and the architecture of the place. In the early 1900s, it used to host the Chrissoveloni bank, founded by Nicolas Chrissoveloni, who bought the building at an auction. When the bank closed down in 1948, a men's clothing store opened, and then, during the Communist period, a store called Familia /The Family was housed in the building. The current building owner, Jean Chrissoveloni, is the great-grandson of the 19th century banker. He invested some EUR 1 million in renovating the building, before leasing it for 10 years to the Carturesti chain, according to Romanian media.
On six floors, including a basement, the bookshop seems to be one of the new attractions of the Old Town, and has welcomed a big flow of visitors in the first days after the February 12 opening. The bookshop owners were expecting some 1,000 visitors a day, and forecast sales of EUR 1 million a year from this bookshop only.
For the Carturesti chain, this is the biggest investment in a bookshop, after the Carturesti Verona downtown Bucharest, also housed in a historic villa. The Carturesti Carusel, which became a concept store, is the 16th bookshop, and the second biggest in the Carturesti chain. The company estimates a EUR 15 million turnover this year.
editor@romania-insider.com
(photos by Andrei Chirileasa for Romania-Insider.com)
Normal