RI+
The Medical Doctors' Caravan: A treatment plan for Romania's underserved areas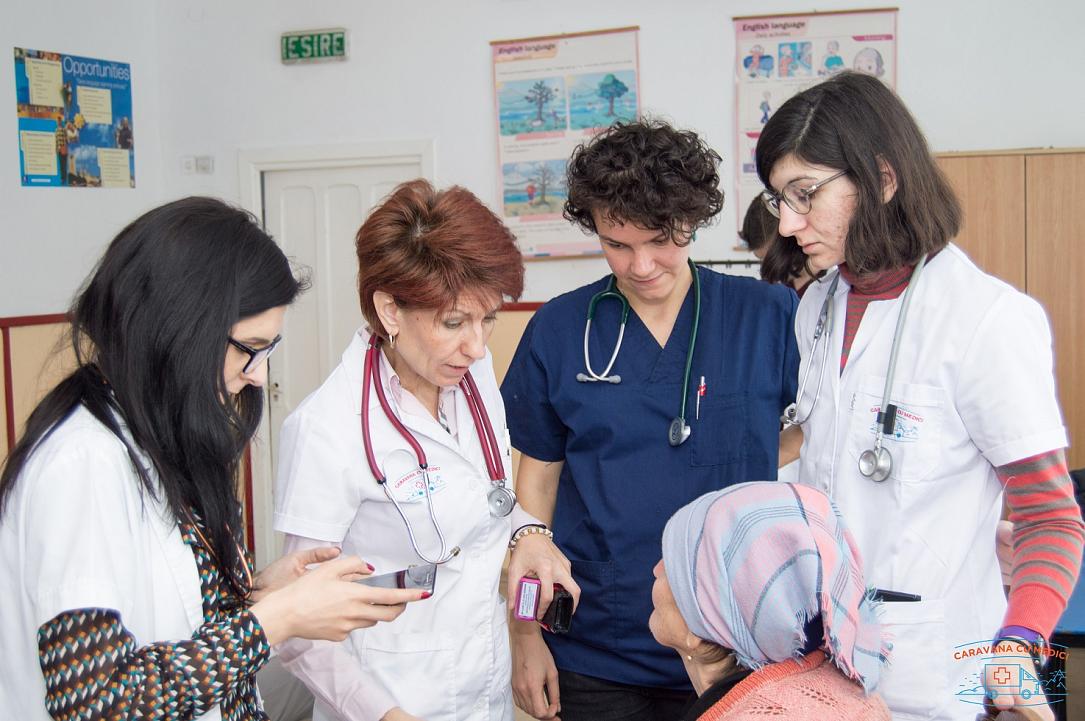 Caravana cu Medici (The Medical Doctors' Caravan), an NGO taking volunteering doctors to offer medical services in remote, rural areas of the country, has come up with a telemedicine-oriented format to make up for the impact of the pandemic and plans to continue its mission to improve access to basic healthcare through interventions at the level of the communities.
Caravana cu Medici was established in 2015 by five medical residents who set about to tackle the absence of basic medical services in rural areas.
Although the country's population is split relatively evenly between urban and rural areas (54% of the population lives in urban areas, according to 2020 data from the National Statistics Institute INS), the health services are concentrated in urban areas. The medical system is also hospital-centered, with most of the healthcare expenses going to the hospital environment, the organization explains. Neglecting the state of health further results in an increase in the incidence of chronic illnesses. Hence the project to reach the residents living in rural areas with the help of a caravan traveling to underprivileged areas to deliver primary care and promote prevention services.
Several times a year, a multidisciplinary team of doctors encompassing specialists, residents, and medical students goes to underserved localities to evaluate the health of the population free of charge. In addition to basic medical care, the Caravan works to raise awareness of the importance of screening tests and prevention.
Since its establishment in 2014, the Caravan expanded its scope and reach, now counting five national branches and adding more specialties and an educational component.

___STEADY_PAYWALL___
"Our mission started timidly, with only a handful of people in Bucharest, and so far, it has grown nationally to five teams in Bucharest, Iași, Cluj, Brașov, and Timișoara. Besides being able to develop at a national level, we manage to offer more medical screening and prevention services compared to the beginnings of the caravan. At the same time, with the support of the Synevo laboratories, we offer free medical tests, Pap smears, and so on. Our activity also developed at the educational level, through the medical education department, which offers first-aid classes to pupils in rural but also urban areas. Our dental medicine department accompanies us in all of our pediatric caravans, offering dental hygiene lessons for children and minor dental interventions. Last but not least, because of the current epidemiological context, we will start what we call tele-caravans," Alina Jîjie, president of Caravana Cu Medici, explains.

In 2019 alone, the Caravan reached 25 villages in 12 counties, a record number of editions against a growing number of requests for the service and the development of the association's teams, according to its annual report. The teams of the caravans provided 919 general consults in the internal medicine caravan, it saw 462 patients in the women's health caravan and 1,644 kids in the children's caravan.

Jîjie also notes that the caravan-type activities are now regulated by law. "If, in the beginning, there was no law to regulate our activity, we managed after six years to have two law articles regulating the caravan-type activities and the Law of Mobile Units. To sum up, we now offer more medical services, we have a legislative framework, and we look to the future with the help of telemedicine."

Last year, the law establishing a framework for specialist doctors to provide services through medical caravans was adopted by Parliament and was promulgated by president Iohannis, a step further to increase the access to medical services for vulnerable communities.

The first caravan was organized in Năeni, in Buzău county, but for Jîjie the first caravan happened a bit later. "It was in 2016, while I still was a third-year [e.n. medical] student. I took part in a caravan in Cireșoaia, in Bacău county. After taking part, I realized I wanted to see the project in Moldova as well. Half a year later, together with four colleagues, all of them students, we ventured to create the Iași branch. The first caravan we organized was in Țibănești, in Iași county. We were called by the local authorities and the representatives of a local NGO - Generation Țibănești. This made our work easier because as people were so willing to receive our help, they offered us everything we needed in the locality: the school, the classrooms, accommodation, meals, and so on."

Outside the logistical effort, it is a rewarding learning experience. "The pleasant surprise was, and still is, the joy, despite the tiredness felt at the end of the caravan. After receiving many thanks, you realize that your gesture matters a lot for these people who rarely see a doctor, although they are 60-70 years old. The caravan is not just about giving but also about receiving- we learn a lot, from medical knowledge from senior colleagues to how to extend compassion and be better listeners."

The first caravan was funded with the salaries of the founders and, as the project expanded, it received various sponsorships or support from individuals and businesses.

"From the stories of my colleagues who were there at the start of the project, I know that the five who established the organization each put up their first salary as a resident doctor for his. At the time, that meant around RON 1,000. Since then, the caravan received sponsorships from entities such as Bayer, Synevo, Vodafone Foundation, ING, as well donations from individuals who redirected 3.5% of the income tax and companies who redirected 20% of the profit tax."

But the challenge is having the doctors to support the caravan and coordinating among the schedules of 20 – 30 specialist doctors to establish the team. "The most difficult aspects have been and continue to be the ones related to the human resources. The activity of the caravan is based on volunteering, but many times it is difficult to get specialist doctors to join us as they already have several full-time commitments, and their spare time is limited. In order to organize a caravan, we need to constantly have specialist doctors, which is difficult to achieve as their time is limited, they work a lot, and they have little free time. It is not easy to put together a team of 20-30 doctors for one day."

With its five branches, the Caravan tries to cover the entire country and goes where it is called, with few instances of returning to the same place.

"Because we have five branches we can say we try to cover the entire country; we try because we cannot go to all the localities in the country; this is why we go to where we are requested through the form on the website, through other NGOs, through volunteers who know localities which might need us, and sometimes through county councils. Depending on the order of the requests, we try to meet them all. There were localities where we went with targeted internal medicine caravans, and we returned for the pediatrics part, but these situations were few. We try to prioritize and find the community's most acute problems, otherwise, large queues would form among the communities that ask our help," the president explains.

The team of a caravan is made up of 30-35 volunteers, around 15 students, and the rest of doctors- specialists and residents. "Sometimes we have smaller teams, of 15-20 people. The number depends a lot on how many beneficiaries will be and how many doctors answer positively to our invitation."

There are three main types of caravan, covering internal medicine, women's health, and pediatrics. "In the past, one caravan encompassed them all, but logistically and from the point of view of the human resources, it was hard to synchronize them in one weekend, so we chose to adapt to the local needs, as the authorities know better the needs of their community. The Internal Medicine Caravan is the most complex because it involves not only cardiologists but also gastroenterologists, neurologists, diabetes specialists, ophthalmologists, and doctors of many other specialties. We think the formula we work in now is the most efficient as it allows us to organize more caravans and approach the acute problems of the communities."

One of the situations the Caravan members often encounter is that of people unable to reach a doctor, either because there is none in the proximity or they don't afford to go to the nearest hospital.

"We often see messages from patients telling us that they were never seen by a doctor, no one had the patience to listen to them, the family doctor is many kilometers away or not at all. The needs of the people start with not having someone to listen to them, they don't have the money to reach the nearest hospital or medical center to undertake yearly checkups."

Telemedicine meets caravan

As the project developed, the tests and investigations offered also diversified. After the pandemic put the project on hold for fears of unwillingly spreading the illness to remote areas, this year the organizers plan to hold several tele-caravans, giving consultations using a laptop.

"In time, the requirements became higher because we wanted to offer people in the villages we reach an experience as close as possible to a one-day admission. We kept adding to the services we offer tests, investigations, various specialties, or support for the patients who needed investigations we could not perform. We constantly adapt as we wish to increase the quality of the medical act. Still, the current epidemiological context has sidelined us since March of last year. We have tried to help without becoming vectors of the illness, but we could not just sit out this new challenge the pandemic represents; we are trying to organize tele-caravans. They entail traveling with a van with three-four volunteers and giving consultations with the help of a laptop."

Last year, even though they could not organize caravans, the NGO still helped, either with funds for other NGOs, equipment for hospitals, or by aiding in the construction of modular hospitals.

"We had started 2020 promisingly, and by March, we had already four caravans organized and two 90% ready, but we had to stop our activity as we risked being vectors for the illness in isolated communities. What we did was donate money to grassroots NGOs, take part in the building of modular hospitals, and donate equipment for hospitals in the country and the Republic of Moldova. There was a positive side effect though – we had been thinking about the idea of a tele-caravan for a while, but we did not know exactly under which form and, as it turns out, the pandemic answered this question."

More caravans are planned for this year, provided the epidemiological situation is favorable. "For this year, we are already planning several caravans. We will start with the women's health ones and then with tele-caravans. In April, we plan to have internal medicine caravans, with a lower number of patients. Our plans still depend on the infection rate in every locality, and they can be postponed at any moment."

Asked about the project's long-term development and its role, she says the Caravan can bring current medical services to the communities that need them and can help detect a range of conditions. "The caravan wants to be first of all a best-practices example and prove, with every edition, that through local collaborations, we can bring 21st-century medical services to the heart of the community, and village residents can benefit from consultations even though they are far from a hospital. The caravan can treat but cannot follow the patients closely, it can detect incipient neoplasias, it can discover treatable pathologies, it can discover people who need certain investigations, and it can make a patient's route to the specialist doctor more efficient. But the caravan is also limited by the fact that all the effort is one done voluntarily in the doctors' limited free time and cannot cover all the country's localities."

The current governing program references the development of the existing legislative framework to have the caravan services provided by specialist doctors and residents covered by the national health insurance house CNAS. This would bring the Caravan closer to its mission, its representative explains.

"The caravan's dream was always to show that basic medical services can be offered not just through hospitals, but interventions can also be done locally, at the level of the communities in rural areas. We have our part of contribution to this legislative proposal – we hope it materializes because in this way the mission of the caravan would be accomplished."

(All photos courtesy of Caravana cu Medici)

simona@romania-insider.com

Normal

-->